We hope everyone is enjoying the nice summer weather! June and July are typically slower months for the American auction houses, but because of the current pandemic, many of them are finally presenting their postponed sales from the spring season. This should keep each and every art lover very busy!
Shapiro Auctions will be featuring their Important Fine and Decorative Art Auction on July 25th, a 510 lot sale which will include everything from fine art, decorative arts and jewelry.
Some of their highlights include lot 90, an oil on canvas of a riverbank by French Post-Impressionist painter Maximilien Luce (1858-1941), estimated at $125,000-$175,000, and lot 106a, a rare collection of 1,740 early photographs of strongmen and athletes, estimated at $80,000-$120,000.
Lot 86, Le Pho, Cueilleur de fleurs, Oil on canvas; Estimate $40,000-$50,000
The highlights of the Asian Art categories include a fine selection of paintings by Vietnamese-French artists Vu Cao Dam (1908-2000) and Le Pho (1907-2001). Both of these artists are extremely popular in today's market, with their works extremely sought-after in Hong Kong and South East Asia.
Vu Cao Dam and Le Pho led very similar careers paths. They both studied at the École des Beaux-Art l'Indochine in Hanoi and then moved to Paris to continue their education. Whereas Vu Cao Dam settled in Paris and never returned to Vietnam, Le Pho went back to his homeland to teach for five years before permanently moving to Paris.
The styles of both artists are heavily influenced by European Post-Impressionism and Fauvism, but their subject matter is often based on traditional Vietnamese and Chinese traditions.
Lot 87, Vu Cao Dam, Jeune musicienne de lune, 1969, Oil on canvas; Estimate $45,000-$55,000
In Shapiro Auction's lot 87, Vu Cao Dam's Jeune Musicienne de Lune (Young Musician of the Moon), the artist reinterprets the East Asian trope of a young female beauty playing an instrument into one that incorporates modern Western aesthetics. The lines are quick and fluid, the colors resemble pastel, and there is a sense of a floating, dream-like state to this painting. This painting is estimated at $45,000-$55,000.
In lot 86, Le Pho's Cueilleur de Fleurs (Gathering Flowers), we are presented with two Vietnamese ladies in an orchard. With the warm palette and verdant colours, what should be a very quotidian scene becomes one that entices all the senses. The auction estimate for this work is $40,000-$50,000.
Lot 485, a Japanese Gilt Iron Censer, 1877; Estimate $6,000-$8,000
In the more traditional Asian works of art category is lot 485, a Japanese gilt iron censer. Dated to 1877, this censer is magnificent in its detail and casting. One side depicts a noble phoenix, while the other showcases autumn foliage, all enhanced with gilding. The body of the censer is supported on three mythical-beast heads, and the top is surmounted by a model of a shishi (lion dog).
This censer was reputedly displayed at the First Domestic Exposition in Tokyo. Held at Ueno Park, these exhibitions were based on French Salons and International World Fairs. They promoted a modern Japan by showcasing the latest in technology, industry, fine art and decorative art. Artwork was judged and winning submissions would represent Japan on the international level. This impressive censer is estimated at $6,000-$8,000.
Lot 84, A Chinese White Jade Figure of Buddah Shakyamuni; Estimate $12,000-$18,000
Finally at Shapiro Auctions is lot 84, a white jade figure of Buddha Shakyamuni. Shakyamuni is the historical Buddha and is seen here seated in lotus position, with hands in the gesture of meditation. The figure is well-carved and enhanced by the desirability of the white jade material. In addition, the Buddha is fitted on a gilt bronze stand enhanced by cloisonné enamels emulating lotus petals. This rare figure features an estimate of $12,000-$18,000.
View the full catalog of Shapiro Auctions July 25th sale of Important Fine and Decorative Art Auction.
Don't have a Bidsquare account? Sign up here!
Be in the know about upcoming auctions and exciting post-sale results by following us on Facebook and Instagram.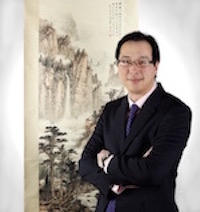 Anthony Wu is an Asian Art consultant, researcher, writer based in Toronto, Canada. After working eleven years as the Asian Art specialist at two of Canada's largest regional auctions, he started his own art advising firm where he consults for various auction houses, museums, and private clients in Canada and the USA. He is a certified Chinese Fine Art appraiser with the Appraisers Association of America.