Skinner's tradition of notable Americana sales continues with auctions on August 12 & 13 and an online auction August 6-14. The two-day and online sales comprise nearly 1500 lots of fine American folk art, furniture, ceramics, and maritime antiques. Day 1 kicks off the auction with two outstanding collections, the Collection of Gail and Don Piatt and the Arthur & Sybil Kern Collection of American Folk Art, Part I. The Piatt collection features a delightful array of fine country antiques with an emphasis on early New Hampshire painted furniture, samplers, lighting, decorative arts, and painted miniature smalls. Highlights include:
• Rare cupboard/watch hutch (Lot 28, Estimate $4,000-$6,000)
• Needlework Sampler "Ruhamah Dearborn," Portsmouth, New Hamphsire (Lot 68, Estimate $2,000-$3,000)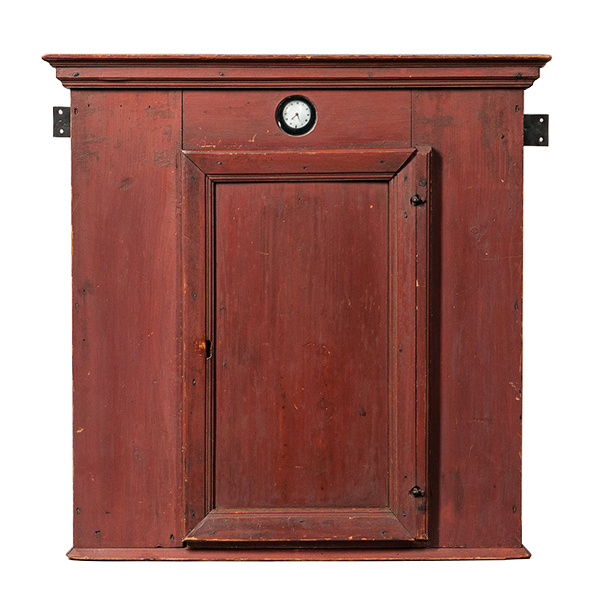 Lot 28, Rare Early Red-painted Pine Hanging Cupboard with Glazed Watch Window and Silver Pocket Watch; Estimate $4,000 - $6,000
The Kern collection is encyclopedic in its representation of New England folk art. Featuring numerous works by Jane A. Davis, James Sanford Ellsworth, Ruth Whittier and Dr. Samuel A. Shute, Rufus Hathaway, and Erastus Salisbury Field, to name just a few, the collection offers the connoisseur an unparalleled opportunity to acquire seldom-seen works. The Kerns were indefatigable researchers as well as discriminating collectors. Their scholarship expanded the knowledge and awareness of itinerant folk portraitists and helped to give them their rightful importance in American art history. Highlights include:
• Pair of Jane Davis watercolor portrait miniatures (Lot 265, Estimate $4,000-6,000)
• Watercolor Lipe-Lambert Family Record, William Murray, Vermont, 1806 (Lot 278, Estimate $6,000-$8,000)
Lot 278, Watercolor Lipe-Lambert Family Record, William Murray, Vermont, 1806; Estimate $6,000 - $8,000
Day 2 of the August Americana auction includes over 400 richly varied lots featuring painted furniture and early small decorative items from the Collection of Robert Cooney, hooked rugs and painted boxes from the Collection of Ronnie Newman, and a colorful array of mocha and dipped wares from the Collection of Jonathan Rickard. In addition, the sale offers several rare weathervanes, colorful game boards, folk portraiture, unusual quilts, a rare Oregon Women's suffrage banner, an Indian maiden tobacconist figure, and maritime items.
Lot 910, Carved and Painted Indian Maiden Tobacconist Figure; Estimate $15,000 - $25,000
• Penwork-decorated Tea Caddy, England, 19th century (Lot 577, Estimate $400-$600)
• Tiger Maple Carved Chest-on-Chest, Massachusetts or Southern New Hampshire, late 18th century (Lot 732, Estimate $6,000-$8,000)
• Pearlware Shouldered Slip-decorated Jug, attributed to Enoch Wood, Burslem, Staffordshire, England, 1820 (Lot 746, Estimate $1,500-$2,500)
• Carved and Painted Indian Maiden Tobacconist Figure, 64 ½" tall (Lot 910, Estimate $15,000-$25,000)
• Spectacular Polychrome Double-sided Parcheesi/Checkers Board, America, 19th century (Lot 795, Estimate $15,000-25,000)
• Abigail Scott Duniway Oregon Equal Suffrage Association Silk Banner, Portland, Oregon, 1912. Duniway (1834-1915) (Lot 872, Estimate $8,000-$12,000)
On August 11, Skinner will host a lecture by Suzanne and Michael Payne, long-time friends of Arthur and Sybil Kern discussing highlights from the Kern Collection and the adventures they shared finding and researching American folk art. The reception begins at 5PM and the lecture at 5:30pm.
Previews for the August Americana auction will be in our Marlborough, MA gallery on Thursday, August 9, 12PM – 5PM; Friday, August 10, 12PM – 5PM; Saturday, August 11, 12PM – 7PM; and Sunday, August 12, 9AM – 10AM. Free and open to the public, department specialists will be available to answer questions about the material and participating at auction.
Christopher D. Fox | Associate Deputy Director of American Furniture & Decorative Arts and Specialist of Historic Arms & Militaria