Sarasota Estate Auction held their two-day sale of Fine Art on April 28th and 29th. The first day featured over 150 Asian Art objects from China, Japan and the Himalayan region, and included snuff bottles, porcelain, paintings, export wares and Buddhist art.
The most impressive object by far was lot 140, a Finely Enameled Chinese Famille Rose Plaque; conservatively estimated at $400- $800, bidding exceeded $231k.
Lot 140, A Finely Enameled Chinese Famille Rose Plaque; Sold for $231,800
The plaque depicts a bucolic landscape with mountains in the background and a lush forest and lonely hut in the foreground. Stylistically, it is painted in qianjiang enamels, 淺絳彩, which literally means 'shallow light-brown'. This term is taken from traditional literati scroll paintings from the Yuan Dynasty (1279-1368) where darker colours (including browns and blacks) are used to denote voluminous objects such as mountains, trees, houses and shadows. Lighter colors are used to depict larger spaces like water and grass.
The top of the plaque contains a poem that delineates the virtues of the landscape. It is also inscribed with the cyclical date of the xinyi year, 辛已, which correlates to 1881, and bears the name of the master porcelain painter Cheng Men 程門 (active 1850's – 1908). The two seals to the left of the script reads Cheng Men (程門) and his scholarly alias Xueli (雪笠 ).
Cheng Men was one of the most famous porcelain painters of the Late Qing Dynasty. Known mostly for his qianjiang paintings on porcelain, he was also renowned for his depictions of floral and fauna. Like many of the qianjiang artists of the time, he treated his porcelain paintings as if he was working on paper.
Cheng Men's work was extremely important and influenced the qianjiang style to later literati porcelain painters of the Republican Period. However, few examples of his work actually exist today due to the porcelain's fragile nature and the delicacy of the painted enamels.
Lot 139, A Finely Enameled Chinese Famille Rose Plaque; Sold for $48,800
In the same sale, Sarasota Estate Auction sold another porcelain plaque for a significant amount. Lot 139 was similarly titled a Finely Enameled Chinese Famille Rose Plaque, and hammered for $40,000 against an estimate of $400-$800.
This particular plaque is inscribed Wang Yeting 汪野亭 (1884-1942), one of the most important porcelain painters of the early Republican Period. It also contains a red seal bearing his studio name pingshan, 平山.
Wang Yeting is most renowned for his landscape paintings on porcelain. Similar to the works by Cheng Men, his paintings contain multiple perspectives, lush colors, and fine details in the trees, waters and mountains. He was a member of the Zhushan Bayou 珠山八友 (Eight Friends of the 'Pearl Hill'), the most famous group of porcelain painters during the early 20th Century.
Click here to view the full results of Sarasota Estate Auction's April 28th sale.
Click here to view the full results of Sarasota Estate Auction's April 29th sale.
Don't have a Bidsquare account? Sign up here!
Be in the know about upcoming auctions and exciting post-sale results by following us on Facebook and Instagram.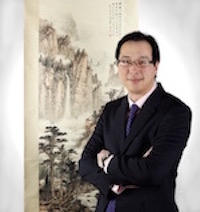 Anthony Wu is an Asian Art consultant, researcher, writer based in Toronto, Canada. After working eleven years as the Asian Art specialist at two of Canada's largest regional auctions, he started his own art advising firm where he consults for various auction houses, museums, and private clients in Canada and the USA. He is a certified Chinese Fine Art appraiser with the Appraisers Association of America.