It has never fully satisfied me to hear how mountain ranges like the Alps or Sierra Nevada's came to be. The Alps, for instance, began forming 65 million years ago when African and Eurasian tectonic plates blindly pushed against one another in an unrelenting, upward act of crushing determination. While a scientist could continually explain how and why this happened, a profound disconnection remains. How could such an enormous calamity unfold to then exist in relative silence? For when you approach a beautiful mountain, all of the random, shattering violence has already occurred; they are simply there for us to admire and absorb in grand totality. Accepting and scaling this idea should make ones heart beat harder.
The same sentiment is felt when faced with the sculptural work of John Angus Chamberlain. How exactly does a several-ton vehicle come to be rearranged, crushed and erected with such ease and grace? For the viewer, a battle between logic and wonderment transpires - was it always this way?
On June 2nd, Palm Beach Modern Auctions will offer a handsome selection by John Angus Chamberlain as lot 224, in their Modern Art & Design sale. The 19" wide, chromed and coppered steel form is offered with a provenance from the personal collection of Xavier Fourcade of Xavier Fourcade Gallery in New York, NY.
Lot 224, John Angus Chamberlain, Sculpture; Estimate $250,000 - $450,000
John Angus Chamberlain was born on April 16, 1927 in Rochester, Indiana., the son of a saloonkeeper, five-generations in succession. His parents would divorce early on, leading his mother to uproot young Chamberlain to Chicago, often leaving him in the care of his grandmother. After a stint in the Navy, where he served in the Pacific and Mediterranean, Chamberlain would eventually enter the School of the Art Institute of Chicago. However, his first taste of an education in the arts wouldn't last long. Chamberlain withdrew just under the two-year mark due to stifling disagreements with his instructors.
It was at Black Mountain College in North Carolina where Chamberlain would connect with a range of creative processes and individuals. Exposure to poets such as Robert Creeley, Charles Olson and Robert Duncan would leave a lasting impression on Chamberlain. His poetry can be detected through cluttered titles like "Colonelgargle" and "Awesomemeatloaf," and seen in his linguistic approach of sculpting by fitting parts together like the assembling of one great dimensional message.
As is the case with many experimental artists, a pivotal act of desperation drove him (literally) toward his game-changing material. In 1957, while staying with the painter Larry Rivers, Chamberlain, antsy to create something, pulled the fenders off of Rivers' 1929 Ford and repeatedly ran them over. Sculpture, as we knew it, would never be the same.
The basic manipulation of pliant, readymade objects would prove an inexhaustible theme for Chamberlain for nearly half a century. Beyond his notable use of scrap metal, car parts and steel, soft materials were also employed in similar ways; aluminum foil, brown paper bags and foam all tied, twisted and crumpled to a degree of intellectualism hardly even understood by the artist himself.
Lot 224, John Angus Chamberlain, Sculpture; Estimate $250,000 - $450,000
Chamberlain's boredom and frustration with the critics who insisted his work (specifically when using car parts) be boiled down to an unambiguous "meaning" kept Chamberlain's dialogue with materials interesting. They had nothing to do with car accidents or the dismantling of American culture - the colossal expression of pressure, color, form and process was enough for Chamberlain and more than enough to sustain a revolutionary role in the cannon of postwar American art.
Lot 224, John Angus Chamberlain, Sculpture; Estimate $250,000 - $450,000
John Angus Chamberlain passed away in 2011 at the age of 84 having been represented, exhibited and collected by renowned institutions, galleries and museums all around the world including the Museum of Modern Art, New York (1960), the Venice Biennale (1964), Leo Castelli Gallery (1976), the Museum of Contemporary Art (1967) two major retrospectives at the Guggenheim Museum (1971, 2012) the Kunstmuseum Winterthur, Switzerland (2005), Dia: Beacon in upstate New York as well as while accepting a myriad of prestigious awards spanning six decades.
Browse the full Palm Beach Modern Auctions, Modern Art & Design sale coming up on June 2nd. Additional highlights will include Pablo Picasso ceramics, Paul Evans furniture, rare designs by Gio Ponti, a large Willow sculpture by Harry Bertoia and much more.
Don't have a Bidsquare account? Sign up here!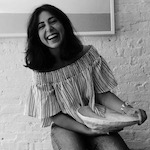 Jessica Helen Weinberg | Senior Content Editor at Bidsquare
Be in the know about upcoming auctions and exciting post-sale results by following us on Facebook and Instagram.