There is such a thing as the right place at the right time, between the right people. It is the potency of these ''right'' moments that vary in directional degree and spin on with unpredictable torque - sometimes fast tracks can open up.
When Jim Walrod was sixteen years old, he crossed the Hudson River from New Jersey to find a summer job in New York City - Bloomingdales would decline to hire him as their stock boy. That same day, the ambitious, redheaded boy wandered down the street thinking of how and who to ask next; a question that the magnetism of Manhattan would take care of for him.
While passing by the original Firorucci shop, Andy Warhol would spot an unemployed stranger (Jim Walrod) and decide to offer his recommendation. That''s right, Andy Warhol. Known for striking up conversations with attractive young men, Warhol devised a plan to help Walrod land a summer job at Firorucci, the hippest fashion boutique in the city (regulars of Studio 54 rotated their racks). So, Warhol stood at the window and waved, as a motion of endorsement, on behalf of Walrod whom he instructed to mention that Andy himself believed that they should hire him. He got the job.
Jim Walrod in his Chinatown Apartment / wright20.com
Some believe that New York City has a way of spitting people out. If this is true, than surely so is the opposite. A biological osmosis would fuse Jim Walrod to the creative cloth of New York City''s counterculture like a generous incubator of knowledge in all things design.
Jim Walrod was an autodidact. Having skipped out on college, Walrod held magazines and art books in the highest regard and credited the "do-it-yourself" attitude of New York in the 1980s for branding him with an accessible yet edged verse of intellectualism. He ran a vintage-design store, Form and Function, which focused on mid-century modern furniture and attracted clientele such as David Bowie. He designed million dollar spaces with longtime collaborator and hotelier André Balazs, wrote for Apartemento, curated exhibitions at R & Company and Patrick Parrish gallery, and advised Mike D from the Beastie Boys, who coined his signature nickname "Furniture Pimp."
He revered and pushed for design movements like Memphis well before anyone cared, and knew exactly how to backup why he felt the way he did about it. Jim Walrod embraced difficult and ugly objects in the name of originality.
Lot 161, Superstudio, Passiflora table lamp, Italy, 1966; Estimate $2,000 - $3,000
His untimely death on September 25, 2017 dealt a heavy blow to the design world and certainly altered the heart chakra of New York''s downtown spirit. The sale of Jim Walrod''s personal collection of artworks and furnishings, straight out of his coveted Chinatown loft, could not have found a better venue. Wright, a Chicago based auction house specializing in 20th century design, will host the aptly titled sale, Furniture Pimp: The Collection of Jim Walrod on May 3rd.
Lot 100, Lapo Binazzi, MGM table lamp, UFO, Italy, 1969; Estimate $7,000 - $9,000
The catalog itself is a catalyst for envy amongst lovers of radical design. The first item to open the sale will be a powder blue, enameled steel lamp in the shape off the floating MGM ribbon by Italian designer Lapo Binazzi for UFO, estimated between $7,000 - $9,000. Lamps, a common thread throughout the collection, transform into a metaphorical language fluently spoken by Jim Walrod. They appear as distinct hieroglyphics that happen to plug into sockets to illuminate ideas, opposed to being practical sources of light for lighting''s sake.
The category of lighting alone will represent designs by Stilnovo, Katie Stout, Studio Rossi-Molinari, Ennio Lucini, Superstudio, Mario Bellini, Michele De Lucchi, George Sowden, Ettore Sottsass and many others.
Lot 233, Gaetano Pesce, Feltri chair, Cassina, Italy, 1987; Estimate $5,000 - $7,000
Two designers will stand out as Walrod''s favorites; Gaetano Pesce and Ettore Sottsass. If either of these visionaries strikes your interest, you will be simply galvanized to jump into the bidding wars that are bound to take place over their iconic pieces. Gaetano Pesce''s rebellious, resin poured ''Nobody's Perfect'' series will be represented, as well as vases, clocks, centerpieces, chairs and tables that speak to the "punk rock" style which fed Walrod''s attraction to the unattractive. Candy colored ceramics, mirrors and lamps by Ettore Sottsass, the father of Memphis design, are also crossing the auction block - some holding attainable estimates with bids starting at just $100.00.
Lot 108, Peter Halley, Black Prison, Acrylic, fluorescent acrylic and Roll-A-Tex on two attached, 2015; Estimate $30,000 - $50,000
It''s not at all surprising that two fluorescent paintings by Peter Halley, a Neo-Expressionist and follower of Minimalist methods, will be at the forefront of Jim Walrod''s fine art collection. Both of the featured paintings, lot 108 and lot 120, were acquired directly from the artist - an easy exchange to imagine seeing that Peter Halley made a name for himself in New York''s East Village Art scene in the 1980s.
Lot 229, Nicola L., La Femme Commode, Vrej Bashoomian, France, 1969/1993; Estimate $7,000 - $9,000
There isn''t a dull moment to be had in the "Furniture Pimp" catalog. When discussing the role he played in advising his clients, Walrod relished most in the moments when they would question why they''d hired him at all - it confirmed a transfer of confidence, twisting tastes and an independent passion to call their own. He shared his knowledge with all tiers of the design community and left so many interested parties with a tiny piece of his talent. This auction is an unpretentious celebration of the life and private collection of one of New York City''s greatest tastemakers. He advised that collections should express freedom and personal style, something undeniably felt when browsing Wright''s catalog. During a recent panel on the history and future of boutique culture, Walrod eloquently stated, "Just because you can buy something, doesn't make you fu**ing cool."
Click here to browse the full catalog, Furniture Pimp: The Collection of Jim Walrod coming up at Wright on May 3rd.
Don't have a Bidsquare account? Sign up here!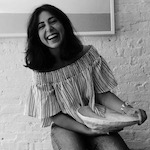 Jessica Helen Weinberg | Senior Content Editor at Bidsquare
Be in the know about upcoming auctions and exciting post-sale results by following us on Facebook and Instagram.