The spring auction season has officially begun! When our seas are populated with a bounty of items as rich as this, we start hooking unforgettable (sometimes unusual) items, from a multitude of genres, to admire. With our auction antennas operating on full blast, we're reeling in lots that are anything but ordinary.
In this week's Bidsquare Picks, the wild things are calling:
Lot 687, Andy Warhol, Endangered Species, 10 Screenprints, 1983; Estimate $30,000 - $50,000
The auction floor is going to be quaking! Rago's Post War & Contemporary sale on May 5th, welcomes a vibrant stampede of prints by Andy Warhol in a slew of subjects. Featured as lot 687, the recognizable neon overlay, for which Warhol is best known, depicts a portfolio of 10 endangered species including a Zebra, Panda, Monarch Butterfly and the American Bald Eagle, amongst others. Warhol's untamed style made our first pick a 'natural selection.'
Click here to browse all works by Andy Warhol coming up on Bidsquare.
Lot 155, Gaetano Pesce, Nobody's Perfect Cabinet, Zerodisegno, Italy, 2002; Estimate $15,000 - $20,000
It was nearly impossible to only choose one item from the catalog, Furniture Pimp: The Collection of Jim Walrod, coming up at Wright on May 3rd. The element of "wildness" can be used to unanimously describe Jim Walrod's entire collection of radical designs. Gaetano Pesce, an artist similarly charged by unconventional methods, conceived lot 155 by pouring resin without a uniform mold to follow. This aptly titled series, 'Nobody's Perfect' is an ironic critique of the creator himself and of his art making process of which "imperfections" are purposely made as a tool of asymmetric inspiration.
Click here to view all works by Geatano Pesce coming up on Bidsquare.
Lot 223, Dan Face Mask; Estimate $6,000 - $9,000
The West African region between Cote d'Ivoire and Liberia cuts across several ethnic groups, including the Dan, Wee, Kran, and Grebo. In Dan society, where this mask originates, dangerous forest spirits are translated into the forms of a human face mask to be worn or crafted as spiritually charged sculptures. This striking example has a hinged lower jaw, an exaggerated beak, pierced eyes with red cloth attached across the sockets and fiber coiffure with animal hair attached as a moustache.
View Skinner's upcoming American Indian & Ethnographic Art sale on May 5th.
Lot 180, John Wayne Gacy, Pogo the Clown, Oil on canvas board; Estimate $1,000 - $2,000
Sticking to the subject of masks and evil sprits - this one is no joke. John Wayne Gacy is more famously known under his other name, The Killer Clown, which he literally earned. Convicted of 33 counts of murder in the 1970s and eventually executed by lethal injection in 1994, John Wayne Gacy had frequently dressed up as "Pogo the Clown" (seen in this painting) to entertain at fund-raising events, parades, and children's parties. Apparently, he also used his spare time to paint a picture or to!
This wicked piece of history will be available in Material Culture's Fine, Folk & Outsider Art sale on April 22nd.
Lot 128, Hans J. Wegner, Ox Chair and Ottoman, Erik Jorgensen, Denmark, 1960 / 2004; Estimate $5,000 - $7,000
You would have to peel and squeeze us away from this chair! Out of the hundreds of chairs made by Danish designer, Hans Wegner, the Ox Chair remained a top favorite of his throughout the course of his prolific career. Inspired by Pablo Picasso and noted for its commanding, horn shaped headrest, this seat is stitched with an instinctual edge for comfort and style.
Click here to view all designs by Hans Wegner coming up at Wright's Scandinavian Design sale on April 26th.
With new auctions added daily, we're always ripe for the pickin! Be sure to check into 'Bidsquare Picks' each week for a speedy look at our upcoming selections!
Don't have a Bidsquare account? Sign up here!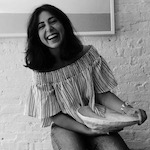 Jessica Helen Weinberg | Senior Content Editor at Bidsquare
Be in the know about upcoming auctions and exciting post-sale results by following us on Facebook and Instagram.