The surrealist, the classicist, the craftsman, the strategist; four designers deeply dedicated to their distinct methods and ideologies. However, despite their differences, these four (soon to be named) characters equally effected and swayed society's understanding of modern design. Grappling with the role and function that furniture played in peoples everyday lives was a fertile topic - quite literally "on the table" for 20th-century designers like Meret Oppenheim, T.H. Robsjohn-Gibbings, George Nakashima and Pierre Jeanneret.
On May 20th, Rago Auctions in Lambertville, NJ unified these four influencers, amongst many others, in their Modern Design sale rich with fresh-to-market pieces and privately owned selections. The well-established network of collectors participating online from the Bidsquare platform secured several important lots that day, including five supreme examples from each of the previously specified creators.
Here are Bidsquare's top 5 wins at Rago's May 20th, Modern Design sale:
Lot 2463, T.H. Robsjohn-Gibbings, Rare Large Mesa Table; Sold for $64,000
The Classicist: Terence Harold Robsjohn-Gibbings (or "Gibby" to friends) proclaimed that modern design should "stem from the very ancient," as he admired the rationality and elegance seen on Greek vase paintings and bronzes - an observation and sentiment that would be the basis of his entire career. In 1946, Robsjohn-Gibbings was invited to manifest his ideals by the Widdicomb Furniture Company, of which lot 2463 (pictured above) was manufactured. His furniture was immediately recognized as a triumph by House Beautiful and featured in the Good Design exhibit of 1951 at the Museum of Modern Art in New York.
Standing in stark opposition to utilitarian modernists such as Le Corbusier, Ludwig Mies van der Rohe and Marcel Bruer, Robsjohn-Gibbings urged a new generation of Americans to value classicism and organic line over the rigidity of mass produced items. The mesa table, resembling a solidified oil spill, is a sleek example of his sophisticated and sculptural brand of modernism.
Lot 2417, George Nakashima, Double Pedestal desk​​​​​​; Sold for $24,320
The Craftsman: A master woodworker and architect, George Nakashima, is considered the leading light of the American Studio furniture movement. His craft-based approach to design and reverence for wood set Nakashima apart from many of his peers who relied on industrial methods of making. Handcrafted and poetic, Nakashima's furniture embodies the "soul" of the tree - bold grain, burly knots and natural edges that command material integrity. Above all, George Nakashima believed in giving a "second life" to the trees he used in the form of modern design.
Lot 2210, George Nakashima, Lounge Chair with Arm, Sold for $10,240
Another notable piece by George Nakashima was awarded to Bidsquare during Rago's sale - lot 2210, a classic lounge chair which surpassed its high estimate of $6,000 for a handsome total of $10,240.
Lot 2254, Pierre Jeanneret, Sofa from Punjab University; Sold for $19,200
The Strategist: In recent years, the sensuous and relaxed designs by Pierre Jeanneret (the cousin of Le Corbusier) have become increasingly sought-after and regarded as fine achievements in their own right. Largely over shadowed by his cousin's colossal career, Jeanneret shined for many years as Le Corbusier's business partner and head collaborator.
This teak and chenille piece, sold as lot 2254, was created in Punjab, India - the place where Pierre Jeanneret created his most noteworthy designs and lived until his final years in life.

Lot 2282, Meret Oppenheim, Traccia table; Sold for $12,800
The Surrealist: You cannot un-see Meret Oppenheim's iconic, fur-lined teacup titled "Object" for which she is best known. The sensory reaction elicited by its uncomfortable and contradictory pairing put the Swiss born artist in the inner Surrealist circle alongside May Ray, Andre Breton, Marcel Duchamp, and Max Ernst. In addition to sculptures, paintings, drawings, jewelry and books, Oppenheim also translated her dream-state narratives through design.
Her first traccia table was designed for Leo Castelli's edgy Paris gallery in 1939. However, in the 1970s this bird-leg design was put into limited production by the Italian firm Simon Gavina, seen as lot 2282, pictured above. Oppenheim's witty nod toward classical claw-feet furniture is elevated by her weightless touch of fantasy and femininity.
Through all of the differing approaches that were spearheaded during the 20th century, it is clear that the true luxury lies within the consumer's choice to appreciate all modes of modern design equally. It is most obvious, when seen in a catalog like Rago's, that no one style has had the last word.
Click here to view the full catalog of auction results for Rago's May 20th, Modern Design sale.
Don't have a Bidsquare account? Sign up here!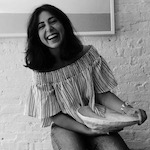 Jessica Helen Weinberg | Senior Content Editor at Bidsquare
Be in the know about upcoming auctions and exciting post-sale results by following us on Facebook and Instagram.