Saturday, July 29 will be a Red Letter Day for fans of Art Deco sculpture, when two of the movements leading lights offer work in two separate sales on Bidsquare! Cowans Auctions Fine & Decorative Art sale will feature a stunning piece by Romanian Demétre Chiparus, while over at Antique Place, Must see Auction Number 8, Chiparus will be joined by German Ferdinand Preiss, who has a number of finely crafted pieces selling.
Art Deco is a style of visual arts, architecture and design that first appeared in France just before World War I. It was hugely influential, shaping the design of buildings, furniture, jewellery, fashion, cars, trains, ocean liners, and everyday objects such as radios and vacuum cleaners. Most of the sculpture of the Art Deco period was, as the name suggests, purely decorative; it was designed not for museums, but to ornament office buildings, government buildings, public squares, and private salons.
The sculpture by Demétre Chiparus is considered by many to be the real standout piece of Cowans Auctions Fine and Decorative Art sale. Selling as Lot 259, this piece capturing a fashionable woman and her two devoted hounds is typical of Chiparus, who left his native Romania in1912 to attend the Ecole des Beaux Arts in Paris and never went back. As he matured, Chiparus work was heavily influenced by an interest in Egypt, a passion he developed after the highly publicized excavation of Tutankhamens tomb.
Many of Ferdinand Preiss most famous works depict modern, naturalistic 20th-century women from the sporting and theatrical world. Lot 22 in Antique Place, Must See Auction Number 8 keeps faith with this notion, depicting an elegant woman reclining on a chaise. The piece comes mounted on a green onyx base.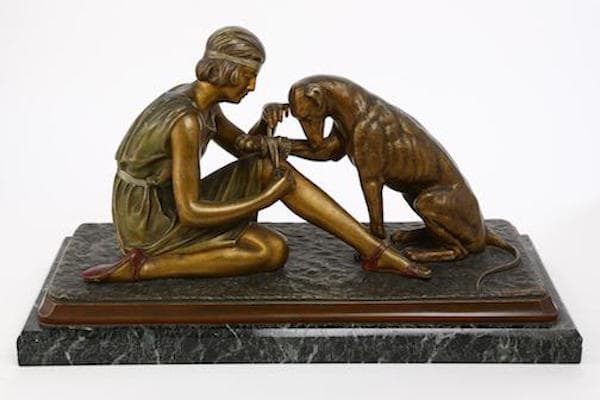 Lot 187 in the Must See Auction Number 8 sale is another by Romanian master D.H. Chiparus. Titled "Accident de Chasse" (Hunting Accident), it depicts a bronze figure of a seated lady attending the paw of a Bozi hound. Chiparus, who died in 1947, made most of his renowned works between 1914 and 1933.
For Lot 23 in the same sale we return to the work of Ferdinand Preiss, the German sculptor who started a carving apprenticeship at aged 15, shortly after the death of both his parents. This finely crafted piece, once again set on an onyx base, presents a nymph-like snake charmer delicately working her craft.
Lot 21A & Lot 21 are also by Ferdinand Preiss. The first is titled "Diana The Huntress," with her bow at the ready and a sword strapped to her front - mounted on a green onyx and black marble base. The later, titled "Child with Keys," is a cold painted bronze figure of young girl wearing a dress and bonnet.
Cowans Auctions, Fine & Decorative Art sale kicks off at 10:00am on Saturday, July 29 and contains 375 lots. Antique Place, Must See Auction Number 8 gets under way at 4:00pm the same day and boasts a depth of over 330 lots.