Revolutionary craftsmanship should never be taken for granted, even after 250 years of practice.
What happens when artistic achievements appear so effortless that they set a new industry standard? In the case of Josiah Wedgwood, the founder and pioneer of the renowned English manufacturer known as Wedgwood, it was exactly this keen sense of precision and progress that exposed the modern world to the exquisite mastery and industrial expansion of both decorative and fuctional ceramics.
When grouped together, the extent of Wedgwood's accomplishments quickly come to life; one can appreciate ancient poetic narratives, everyday functionality, bright color palettes and wild sculptural feats spanning hundreds of years in the making. It is the vivid imagination and meticulous detail of Wedgwood (no matter which century it was produced) that makes its imprint in the vast timeline of pottery making known. However, it is essential not to become desensitized to how these objects came to be, for it truly is a luxury to feel accustomed to such beauty.
Lot 284, Pair of Wedgwood Majolica Wine and Water Ewers, c. 1862; Estimate $1,500 - $2,500
Now, this may sound a bit dramatic, but in an era where one can simply 3D print complicated works of art, prosthetic limbs, spacecraft parts and chocolate portraits of your Grandma's dog, one should consider the depth of knowledge that resides within a bespoke piece of Wedgwood.
Born in 1730, to a humble family of potters in the provincial town of Burslem, England, Josiah Wedgwood would have been the last person his peers expected to lead the economic rise of Britain's industrial Age of Enlightenment; after all, he wasn't even formally educated. However, there was a fierce determination within Josiah Wedgwood that would help him transform an otherwise humdrum industry into a global phenomenon.
During his apprenticeship, much of Josiah's attention was turned toward the aesthetic design and technological advancement of pottery production, due to a crippling impairment in one of his legs after contracting small pox as a child. Although unfortunate, this twist of fate would force Josiah to expand his business talents and the scientific mechanics of working in ceramic. Eventually, his extreme refinement of the medium would reach a level of genuis that even the likes of Queen Charlotte could not deny.
Lot 399, Wedgwood Solid Light Blue Jasper Michelangelo Potpourri Vase and Cover, 19th Century; Estimate $1,200 - $1,800
After establishing his own company in 1759, located amongst the other potteries in Staffordshire, Wedgwood would gradually gain recognition for his high quality, beautifully proportioned works. Most desirable was his cream colored glaze, named 'Queen's Ware', after Queen Charlotte expressed her enthusiasm for the tea and coffee service gifted to her by Josiah Wedgwood. This gesture, publically marketing himself in connection to British royalty, was an entrepreneurial tactic that had also never been done before. Knowing that this would create a ripple effect in aristocratic tea circles, Josiah would have to consistently achieve this desirable cream color - reinforcing his remarkable patience and natural knack for chemical exacting. The testing of stable formulas that reacted properly to Wedgwood's kiln firing methods would become a major differentiator between his works and the other local potteries - pushing Wedgwood to the top of his field.
Lot 231, Wedgwood Encaustic Decorated Black Basalt Volute Krater Vase; 18th Century; Estimate $1,500 - $2,500
Eventually, Josiah progressed from inventing dazzling glazes to complex molds and entirely new clay bodies. The matte white figurines that elegantly adorn, uphold and stretch outward from his pale blue vases stand out as the most recognizable of Wedgwood's signature innovations - Jasperware. The blue unglazed stoneware, similar in color to Jasper stone, is thought of as the most important development in the history of ceramics since the Chinese discovered porcelain nearly 1,000 years prior. He then went on to create Black Basalt, a fine black porcelain, which enabled him to produce impressive copies of ancient Etruscan pottery. Even more, Josiah went on to develop a revolutionary heat measuring instrument that would significantly improve timing for firing pottery on a massive scale.
Another impressive technique that defines the glory of a Wedgwood vase is the use of a potters lathe. The spinning lathe, similar to those used in woodworking studios, allows a highly skilled technician to carefully carve away at a thick, hand thrown clay form. When done properly, without accidentally breaking or over shooting proportions, a striking silhouette appears. This specific method, handed down through five generations of Wedgwood workers, has become so rarified that only two experts remain performing this designated position today.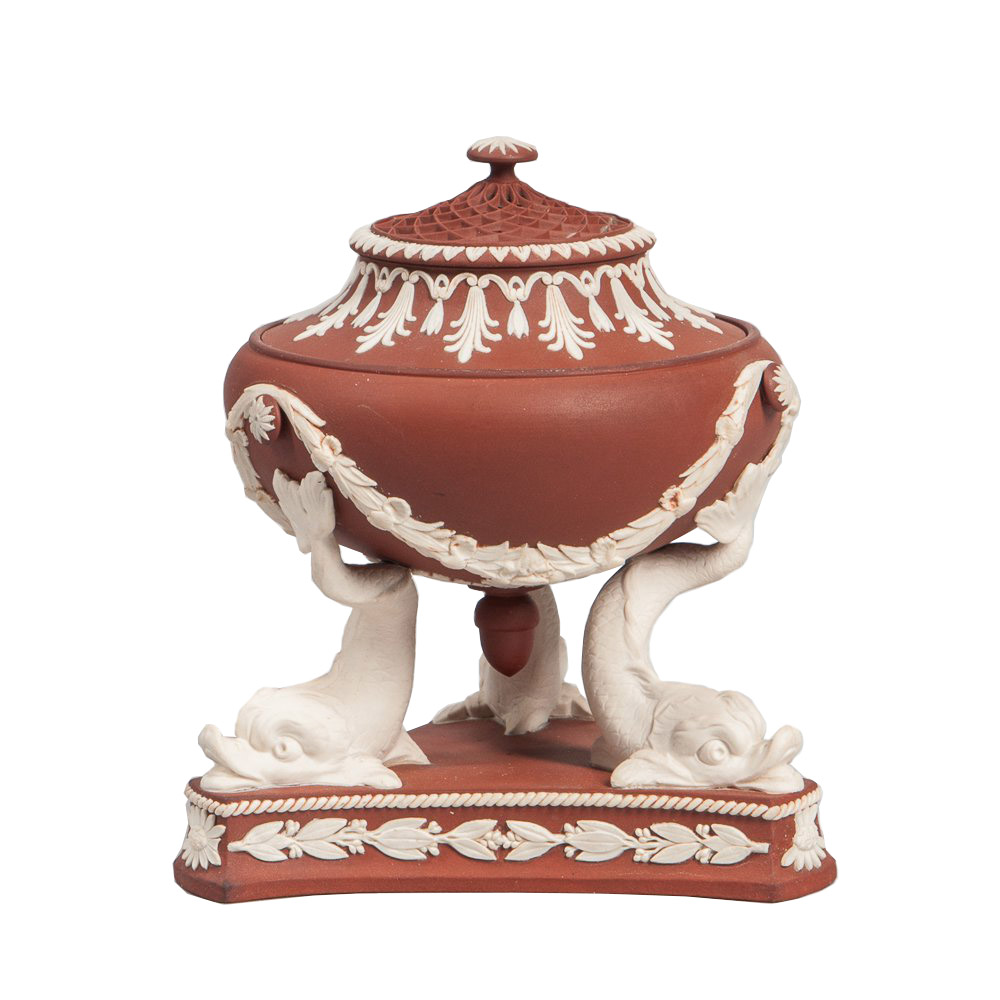 Lot 237, Wedgwood Rosso Antico and White Terra-cotta Incense Burner and Cover, 19th Century; Estimate $700 - $900
In 1766, Josiah Wedgwood, in partnership with Thomas Bentley, would open Etruria Hall, an industrial-scale factory in Staffordshire complete with its own canal system, making transporting Wedgwood throughout Europe and America much faster. It was here that thousands of orders would be filled for Kings, Queens, and nobles for centuries to come.
The early works produced by Wedgwood are ripe with wonderment and philanthropic significance. Owning a piece (or several pieces!) of Wedgwood not only highlights the quintessential Britishness of technical elegance but, it also preserves the legacy of a man who pushed the limits of social class, global trade and artistic prestige through the intimate knowledge of a single craft.
If you are looking to expand your existing collection of Wedgwood or would like to begin mixing and matching these fabulous objects immediately - Skinner will be offering over 100 works by Wedgwood in their European Furniture & Decorative Arts sale coming up on July 14th. Register today to bid live, online with Bidsquare!
Don't have a Bidsquare account? Sign up here!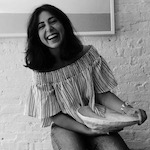 Jessica Helen Weinberg | Senior Content Editor at Bidsquare
Be in the know about upcoming auctions and exciting post-sale results by following us on Facebook and Instagram.