When Judy Kensley McKie starts planning her next furniture piece, she begins by loosely drawing on a "lousy" piece of paper, knowing that it will surely be thrown away. A meditative state is required, something that she achieves through studious contemplation, sitting and sketching fast. She can sense when the marks are getting her somewhere and eventually, she settles on a direction in the midst of her remedial scraps. McKie's process is not only unconventional, it is as unplanned and humble as her furniture-making career - but why question a good thing when it works?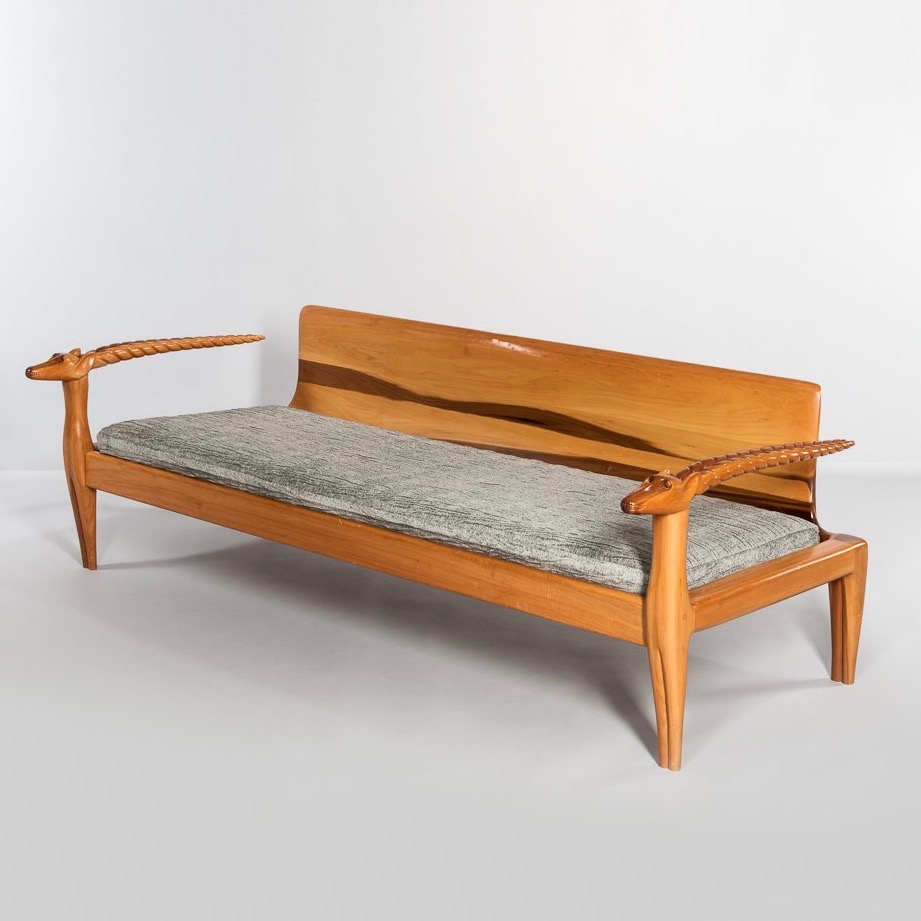 Lot 170, Judy Kensley McKie Studio Furniture Antelope Sofa; Sold for $31,980
You can't tell by looking at it, but even something as refined as Lot 170, Judy Kensley McKie, Studio Furniture Antelope Sofa, recently sold to a bidder through the Bidsquare platform in Skinner's 20th Century Design sale on June 21st, was too planned in this relaxed mental state. This imaginative wooden lounge, which sold well above its high estimate of $18,000 for a total of $31,980 - is flanked by elongated and poised, hand carved Antelope. Its sleek decorative forms, low resting frame and rich wooden tone combines all of the wanted elements one can hope to find in McKie's work.
Lot 170, Judy Kensley McKie Studio Furniture Antelope Sofa; Sold for $31,980
After receiving her B.F.A in painting from the Rhode Island School of Design in 1966, Judy Kensley McKie found herself living in a bleak, unfurnished apartment with her future husband Todd. In agreement that they both disliked the factory furniture available at the time, but unable to afford anything better, Judy decided to purchase basic woodworking materials and lumber so that she could affectionately knock together a table and give it to Todd as a present.
Judy Kensley McKie working in her studio | fineworkworking.com
This charming tale is not to be understated in artistic value, or seen as a popsicle stick project - this "reason" for making furniture reveals the important thread of honesty that permeates through McKie's work. It is arguably the force that has enabled her to toggle between and basically avoid critical theories surrounding decorative art vs. functional design, of which she was nonchalantly unaware. McKie continued making simple furnishings for herself and gradually introduced the craft as a day job creating functional pieces for friends and other people who might need items such as bookcases or kitchen cabinets for their homes - then, something changed.
Around 1975, it dawned on McKie that adding decorative elements such as carvings and paint marks would "personalize" her work more. Similar to the sentiment of making little gifts for loved ones, McKie drew inspiration from folk art. She gravitated toward delicately painted Pennsylvania Dutch boxes that masterfully inscribed the name, date and details of the persons who owned them. Making work as if it were a thoughtful gift, opposed to following the rigid guidelines found in critical theory is a profound route to take. Pure love, attention to detail and outside cultural influence would awaken her drive toward becoming an unplanned prominent figure in the American studio furniture movement.
Virtually self-taught and clearly excelling as a craftsman, Judy Kensley McKie would begin morphing backrests, arms and legs into the motifs of indigenous cultures and the primitive, totemic animals of Pre-Columbian, African, and Native American art. Either carved into the wood or painted upon the surface, her decorative furniture is also often cast in bronze, marble, resin, and stone - a choice that she states gives her work, " a sense of permanence with age."
Lot 170, Judy Kensley McKie Studio Furniture Antelope Sofa; Sold for $31,980
Considering the stylistic impact that Judy Kensley McKie has made on bespoke American studio furniture as well as the continuation of feminine influence in the realm of decorative art makes this "Bidsquare win" a particularly exciting one.
Other exceptional lots awarded to the Bidsquare platform during Skinner's sale include; Lot 118, Gustav Stickley, Director's Table; Sold for $6,150 | Lot 14, Philip and Kelvin LaVerne, Coffee Table, Sold for $5,843 | Lot 175, Claude Conover, Studio Pottery Vessel; Sold for $5,228 | Lot 30, Silas Seandel, Bronze Table; Sold for $5,228 | Lot 117a, George Montague Ellwood and J.S. Henry Brass and Bronze Inlaid Mahogany and Fruitwood Secretary; Sold for $4,613 | Lot 369, Philip and Kelvin LaVerne Orange Moon Ming Coffee Table; Sold for $3,690
Click here to view all of the past auctions results from Skinner's 20th Century Design sale on June 21st.
Don't have a Bidsquare account? Sign up here!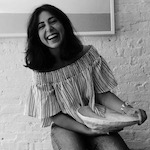 Jessica Helen Weinberg | Senior Content Editor at Bidsquare
Be in the know about upcoming auctions and exciting post-sale results by following us on Facebook and Instagram.