The time is now. Abstract artist, Sam Gilliam, best known for his draped, frame-free canvases, seems to be attracting more attention than usual. His experimental approach to paint has been influencing the course of art history since the '60s and '70s - however, collectors and museums are just now emphasizing the liberating beauty and lyrical approach that the African American artist has been underscoring for decades.
Sam Gilliam completed his Masters of Arts degree in Fine Arts at the University of Louisville in 1961. After moving to Washington D.C. in 1962, where he has remained ever since, a movement known as the the Washington Color School began taking shape. As with most movements, the artists included weren't fully aware of the developing definition - they just went on bending the rules. Other artists identified with this movement include Kenneth Noland, Morris Louis, Thomas Downing, Anne Truitt, Paul Reed and Gene Davis.
Sam Gilliam's work might feel fresh and new, but his career is well established. After all, he was the very first African American artist to represent the US at the Venice Biennale in 1972, and his ongoing forte for pubic commissions began way back in 1975, when a massive environment of painted fabric titled, Seahorses (1975), adorned the two exterior walls of the Philadelphia Museum of Art - how's that for obviousness?
Sam Gilliam, 10/27/69, 1969 | Image: MoMA.org | (Drape Painting)
Perhaps, the auction market is just catching up to the "father of the draped canvas." Eleven out of twenty records were broken in 2017, his current highest being $684,500 for Rays (1971), a large acrylic on canvas that surged past its high estimate of $150,000 at Sotheby's. Just to put things into perspective, fellow Washington Color School painter's Morris Louis's and Kenneth Noland's auction records are over the $3 million dollar mark.
Two added bonuses during the artist's resurgence include, David Kordansky Gallery's proud installation of Yves Klein Blue (2017) outside of The Central Pavilion at the 57th Venice Biennale in 2017, as well as Gilliam's first one-man show in Europe at the Kunstmuseum Basel, The Music of Color, curated by Dr. Jonathan Binstock and Dr. Josef Helfenstin in 2018.
Lot 800, Sam Gilliam, Rear Side of the Moon, Mixed Media, Oil paint and lacquer on wood with geometric cut-out, 1999; Estimate $14,000-$17,000 | Available on Bidsquare in Alex Cooper Auctioneers, January 24th, 2019 sale.
It's clear that Gilliam's suspended curtains of canvas put him on the map, but oddly enough, the artist didn't stick to the 'a-ha!' formula that most would have expected. He stopped making them. At the height of his drape paintings in 1975, Sam Gilliam changed directions and began work on his "beveled-edge" or "slice" paintings.
Lot 807, Sam Gilliam. Abstract Collage, Mixed media, Acrylic on handmade, ripped paper, 1976; Estimate $6,000-$8,000; From the Collection of Evangeline "EJ" Montgomery, Washington, DC | Available on Bidsquare in Alex Cooper Auctioneers, January 24th, 2019 sale.
Now, in his later years, Gilliam employs paper, gel, thick layers of acrylic paint, yards of canvas, enamel and just about anything that awakens his curiosity for ever-changing outcomes. He likes, even encourages, that the majority of his paintings can never hang exactly the same way, and that a flurry of colors can change with the simple addition of a fold.
In the spirit of the suprising and long overdue spark of interest in Gilliam's work, Bidsquare is proud to host Alex Cooper Aucitoneer's upcoming sale, Fine and Decorative Arts on January 24th featuring nine works by the artist. Many of the works are from the esteemed, private collection of the artist and curator, Evangeline "EJ" Montgomery. (Click here for full press release).
Don't have a Bidsquare account? Sign up here!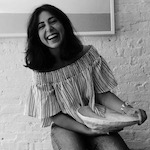 Jessica Helen Weinberg | Senior Content Editor at Bidsquare
Be in the know about upcoming auctions and exciting post-sale results by following us on Facebook and Instagram.