When a potter opens their glaze kiln, after several days of waiting, a great many findings can occur. Color combinations that should have gone one way can easily go another, hairline cracks can split into the width of a peace sign "V" and runny glazes may seal the fate of a beloved vessel by bonding it to the kiln's shelf. That is why, when pots are unloaded, many makers go silent with anixious optimism, having already come to terms with the hoops and hurdles that their process can present.
This month, Bidsquare has the pleasure of hosting Rago's, Modern Ceramics & Glass sale on January 20th. This sensational catalog is a feast of forms, textures and techniques. In the clay category, one can enjoy all levels of refinement, from heavenly Celadon Pottery to earthenware 'Frog cream puff' conceptions.
The following five selections were most likely met with a smirk when they were lifted out of their clay ovens, baked to perfection and saying so much.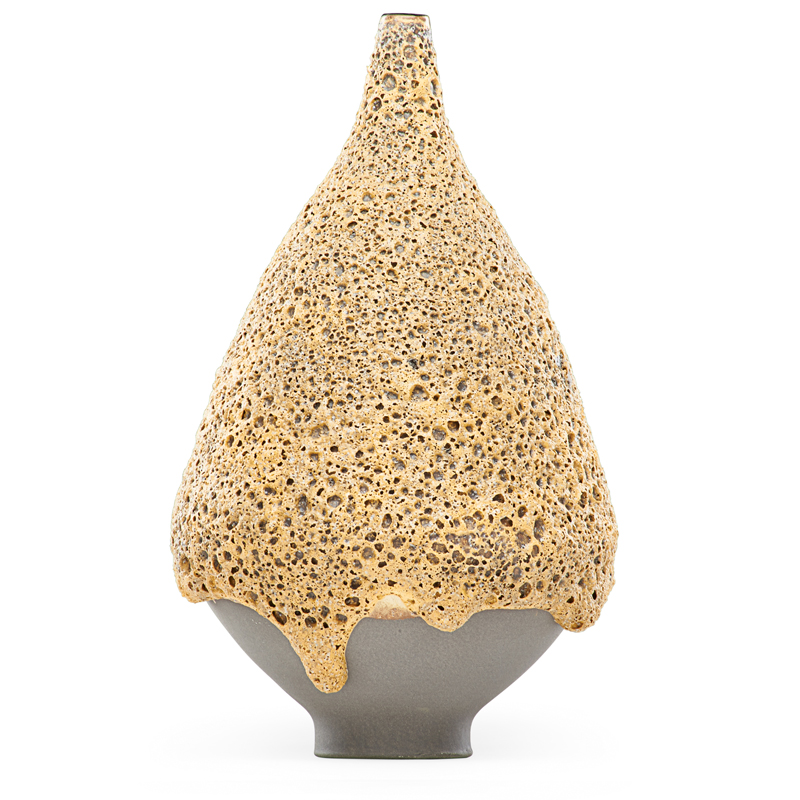 Lot 2056, James Lovera, Exceptional teardrop-shaped vase, flowing volcanic glaze, San Francisco, CA, 2007; Estimate $4,000-$6,000
James Lovera expertly demonstrated the beauty of glaze behavior in this volcanic vase. By developing an intimate knowledge of application and firing time, through decades of trial and error, Lovera's pots have landed in a highly desirable position. Lovera left just enough room at the bottom of this form for his lava-like glaze to melt down and elegantly stop short. Any further and this vase would have been stuck to the shelf - masterful control and intention are at play. Known for his deep, porous surfaces and thin throws, Rago strongly represents the Californian ceramicist in Lot 2053, Lot 2054, Lot 2055 and Lot 2056.
Lot 2141, Cliff Lee, Fine carved celadon vase with peaches on branch on stand, Stevens, PA, 1992; Estimate $3,000-$4,000
Contemporary artist, Cliff Lee, who originally studied medicine and lead a successful career as a neurosurgeon before dedicating his life to pottery, has captured the attention of several prestigious ceramic collections. Lee's intricate hand carving skills and renowned reputation for re-creating Chinese Song and Ming dynasty glazes has mystified collectors since the early 90s. This catalog will offer eight works by Lee, some cloaked in crystalline glazes and others in Imperial yellow, oxblood and celadon luster. His work has been purchased by the Renwick Gallery, Mint Museum of Craft + Design, Racine Art Museum and the White House Collection of American Crafts.
Lot 2007, Harrison McIntosh, Covered jar with teardrop pattern and curved finial, Claremont, CA, late 20th C; Estimate $1,500-$2,000
There are some ceramics that make one instantly think, "That's so mid-century!" During its prominence, studio pottery cultivated aesthetics much like those seen in the works of artists such as Harrison McIntosh. McIntosh prolifically created rustic, nearly unbreakable works that blend perfect proportions with matte glaze patterns. Rago will present twenty pieces by McIntosh from covered jars, vases, bowls, plates and sculptures - all displaying one-of-a-kind graphic designs. Harrison McIntosh's works can be found in over 40 museums from the Louvre to the Smithsonian.
Lot 2113, Betty Woodman, Early pillow pitcher, Tang-style glaze, New York, 1970s; Estimate $2,000-$3,000
Elizabeth "Betty" Woodman, launched her ceramic career in the 1950s as a production potter and gained recognition in the 70s. Notable elements in Woodman's works include colorful, painterly glaze strokes and striking forms inspired by the ancient world. As seen in Lot 2113, Woodman's "pillow pitcher" is a nod to Egyptian, Greek and Etruscan sculpture, as well as Italian architecture and Chinese glazes via her use of a Tang dynasty palette. Betty Woodman's works can be found in the collections of the Museum of Fine Arts in Boston, The Museum of Modern Art in New York, the National Gallery of Art in Washington, D.C., and the Victoria and Albert Museum in London, among others. Rago's catalog will feature six lots from the American icon, two of which are groupings of three pieces in one lot.
Lot 2101, Beatrice Wood, Small vase, fine multi-color iridescent glaze, Ojai, CA, 1980s; Estimate $1,000-$1,500
If the kiln that fired Beatrice Wood's pots happened to be struck by a beam of sunlight during the unloading process, one would think they discovered a glowing portal of treasure. Known for her iridescent surfaces as well as her extraordinary life, Beatrice Wood started her ceramic career at the age of 40 having at had endeavors into painting, drawing, writing, and theatre. As a potter, Wood focused much of her energy to the study of luster glazing techniques and understood the vessel as fine art, opposed to functional ware - this conceptual tutoring was relayed while briefly studying with master potters Getrud and Otto Natzler, whose works are amply available in this catalog. There are six lots by Beatrice Wood up for grabs including two drawings and a self-portrait painting.
Other noteable ceramic lots include, Lot 2086, Hans Coper, Vase with interior cylindrical stem-holder, England, 1970s; Estimate $15,000-$20,000 | Lot 2085, Hands Coper, Corseted vase, England; Estimate $9,000-$12,000 | Lot 2093, Glen Lukens, Exceptional and large bowl, crackled and curdled white glaze, Los Angeles, CA; Estimate $8,000-$12,000
Register to bid live, online for all five of Rago's auctions coming up this month on Bidsquare.
Click here to view the full Rago, Early 20th C. Design sale coming up on January 19th.
Click here to view the full Rago, Mid-Mod sale coming up on January 19th.
Click here to view the full Rago, Modern Design sale coming up on January 20th.
Click here to view the full Rago, Lost City Arts: 36 Years of Collecting sale coming up on January 20th.
Click here to view the full Rago, Modern Ceramics & Glass sale coming up on January 20th.
___________________________________________________________________________________________
Don't have a Bidsquare account? Sign up here!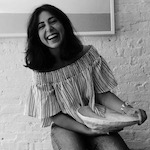 Jessica Helen Weinberg | Senior Content Editor at Bidsquare
Be in the know about upcoming auctions and exciting post-sale results by following us on Facebook and Instagram.