We know how exciting it feels to dive, high estimates first, into a new auction catalog to admire upcoming showstoppers - it's how you know what to watch out for during the live sale! However, if you only browse the big shots you could accidentally overlook the little steals hiding in the back.
In this week's Bidsquare Picks, we're plucking fresh finds with estimates of $500 or less:
Lot 314, Lancaster County, Painted Plank Seat Chairs, 19th Century; Estimate $400 - $500
If you're looking to update your dining room but don't want to completely redecorate, swapping out your chairs might just do the trick! These antique, floral painted, plank seat chairs are featured in Pook & Pook Inc's upcoming The Ruth Bryson Collection, Quarryville, PA on April 14th. Graze the best Lancaster County, Pennsylvania German folk art paintings, furnishings and collectibles on the market.
Lot 113, Mose Tolliver, Self Portrait, Painting on Board, c.1955; Estimate $300 - $500
With outsider art on the rise, you might want to jump into the game while you can. Collecting artists that already have a strong following, like Mose Tolliver, is a wise choice! The upcoming Material Culture sale, Fine, Folk & Outsider Art on April 22nd, is full of whimsical (and affordable) options to choose from.
Lot 150, Modern, Stackable Wine Rack, Molded Plastic, 1980s; Estimate $200 - $400
Orange you glad we found this? Create a high-rise building of bottles or separate the sections into different rooms - it's up to you! Featured in Leslie Hindman Auctioneers, Modern Design sale on May 7th, you have plenty of time to add this and a lot more to your Watchlist.
Lot 85, George Nelson for Modernica, Bubble Lamp, 20th Century; Estimate $150 - $300
Float over to Cowan's Auctions, Modern & Contemporary Art + Design sale on April 20th to catch this bubble lamp before someone else does! Be mindful of the modern money savers; lamps, tables, chairs, ceramics and more!
Lot 74, Berenice Abbott, Jean Cocteau, Paris Portraits Series, Gelatin Silver Print; Estimate $300 - $500
Don't doze off when this comes across the block! Taken by Berenice Abbott, the American photographer who was known for bridging the gap between Paris and New York during the 20th Century, captured a myriad of iconic subjects. This peaceful image of poet and artist, Jean Cocteau, sleeping with a masked figure is as equally intimate as it is cryptic.
Click here to browse Bruneau & Co. Auctioneers, April Antiques & Fine Art Estate Auction coming up on April 14th.
Lot 408, Carl Aubock II, Salt and Pepper Shakers, Austria, 1950; Estimate $300 - $500
Elevate the way you season your sustenance! These cone shaped salt and pepper shakers are uniquely carved out of horn and designed to rest in tandem, inside a petite teak vessel. Click here to view all of the designs by Carl Aubock II coming up at Wright's Art + Design sale on April 19th.
With new auctions added daily, we're always ripe for the pickin! Be sure to check into 'Bidsquare Picks' each week for a speedy look at our upcoming selections!
Don't have a Bidsquare account? Sign up here!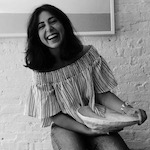 Jessica Helen Weinberg | Senior Content Editor at Bidsquare
Be in the know about upcoming auctions and exciting post-sale results by following us on Facebook and Instagram.