The March edition of Asian Art auctions just wrapped up and there were many astonishing pieces on display! This season saw the sale of major items from China, Japan, Korea, India and the Himalayan region, all offered through Bidsquare.
Artwork from China continues to be the top sellers, but there were many surprises from other Asian regions. By far the biggest highlight was a Korean Eight-Panel Folding Screen, Yojiyeondo, presented as lot 514 at Skinner's Asian Works of Art Auction on March 16th.
Lot 514, Eight-panel Folding Screen, Yojiyeondo, Korea, 19th century; Sold for $405,900
With a conservative estimate at $5,000-$7,000, this screen sold for over 80 times its low value at $405,900! It depicts a scene of the Queen Mother of the West, Seowangmo, and various deities gathering for a large birthday banquet. This story is Chinese Daoist of origin, but it has been transposed for a Korean audience.
The quality of this screen is exceptional for its bold colors, numerous figures and detailed landscape. It is one of the finest examples of Korean painting to reach the market in recent years making this an exceptionally desirable piece for collectors and museums.
Lot 163, Three-tiered Square Metal Censer and Cover, China; Sold for $11,685
Another highlight from the Skinner sale was lot 163, a Chinese Three-Tiered Square Metal Censer and Cover. Despite carrying an estimate of $500-$700, it sold through Bidsquare for $11,685. The casting is exceptional and it contains numerous fine details including the immortals on the cover, and the calligraphy in regular and ancient bronze script on the exterior.
Lot 516, Eight-panel Table Screen, China, Late 19th/Early 20th Century; Sold for $7,995
Another win for the Bidsquare platform at Skinner was lot 516, a Chinese Eight-Panel Table Screen that sold for $7,995. With a low estimate of $1,000-$1,500, this object drew much attention for its well-carved depiction of a Daoist scene. In fact, the story is exactly the same as the Korean screen mentioned above, as they both depict the birthday celebration for the Queen Mother of the West.
Because of its birthday theme, this table screen would probably have been a gift to an official when he turned sixty years old. The scene would have been exceptionally pleasing to look at it with its detailed relief carvings of the immortals, heavenly landscape and fantastic palace.
Lot 76, Xing Tong, Wang Xizhi's Shi Qi Tie Calligraphy in Cursive Script; Sold for $266,200
Leslie Hindman Auctioneers also had outstanding results from their Asian Works of Art sale on April 26th. The top selling item was lot 76, twelve calligraphy scrolls of Wang Xizhi's Shi Qi Tie Calligraphy in cursive script by Xing Tong (1551-1612).
This set of Chinese scrolls is part of a group of over 125 paintings hidden from the public for the past fifty years. They belonged to the collection of Ms. Yuan Jiayin and Mr. Li Guoyin, and their life-story took them from China, to Indonesia and finally to the USA. See our in-depth blog, The Yuan Jiaying and Li Guoyin Collection of Important Chinese Paintings, about this collection.
This important set of scrolls was the Ming Dynasty painter Xing Tong's homage to Wang Xizhi of the Jin Dynasty (265-460). The latter was considered the most important calligrapher in Chinese history. With an estimate of $60,000-$80,000, the set of twelve scrolls sold for $266,200.
Lot 338, A Carved White Jade Ruyi Scepter, 18th/19th Century; Sold for $193,600
Chinese jade carvings still sell well as evidenced by lot 338 at Leslie Hindman. Here, a Carved White Jade Ruyi Sceptre from the 18th/19th Century fetched $193,600 despite a low estimate of $6,000-$8,000.
In addition to its large size and exceptional pale celadon color, this is the third birthday-themed Asian Artwork from this report! This type of sceptre is known as a ruyi, which translates to wish granting. They are typically given to someone who has turned 60 years old to bless them with many more years of longevity. The design is filled with auspicious symbols that pertain to longevity and happiness such as the shou characters and double catfish.
Lot 204, Pair of Wucai Porcelain 'Dragon and Phoenix' Bowls; Sold for $32,760
On the Chinese porcelain side of the Leslie Hindman sale was a splendid Pair of Wucai Porcelain 'Dragon and Phoenix' Bowls that sold for $32,760. They originated from the Daoguang period (1821-1850) and contain an attractive design of a dragon and phoenix thus representing the emperor and empress. These types of wucai (five-colour) bowls are extremely rare, so to see them sold as a pair adds to their desirability.
Lot 182, A Rare Delft-Style Blue and White Porcelain Jar; $6,048
Finally, a Rare Delft-Style Blue and White Porcelain Jar sold at Leslie Hindman for $6,048 through the Bidsquare platform. Dated to the Kangxi Period (1662-1722) the jar contains Chinese stories of morality, which is highly unusual since it was produced for the Dutch market. This jar originally sold through Sotheby's London in 1993, making it attractive for prospective buyers and allowing it to sell within the $5,000-$7,000 estimate.
Don't have a Bidsquare account? Sign up here!
Be in the know about upcoming auctions and exciting post-sale results by following us on Facebook and Instagram.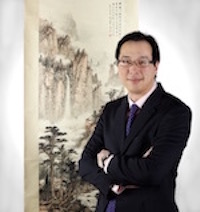 Anthony Wu is an Asian Art consultant, researcher, writer based in Toronto, Canada. After working eleven years as the Asian Art specialist at two of Canada's largest regional auctions, he started his own art advising firm where he consults for various auction houses, museums, and private clients in Canada and the USA. He is a certified Chinese Fine Art appraiser with the Appraisers Association of America.