Close your eyes and spin.
Hammer down on the globe to see where you'll go first; Ukraine, Egypt, Paris, England, Sweden, Boston, Gabon? The official mode of travel for Bidsquare's first Themed Auction, Passport to the World, is by fingertip! We've conveniently ditched packing, flight delays, currency exchange and jet lag with a "click!" Puddle jump across lots and discover items from some of the finest New York dealers in a curated collaboration of Travel-Inspired Art, Antiques and Collectibles.
Lets start by unbuckling the hatch of your Louis Vuitton trunk. The vintage, Parisian suitcases and wardrobes in this catalog all hail from the Manhattan, family owned business, A Second Chance. The boutique has been supplying the Upper East Side with divine, luxury goods from their Lexington Avenue location since 1993.
Lot 7, Louis Vuitton Vintage Monogram Rolling Trunk with Insert BHW, Stamped, France; Estimate $10,000 - $15,000
Widely used as decorative accent pieces, Louis Vuitton trunks were once strapped to the back of Bentleys for weekend trips and flown across Europe to accompany aristocrats on fashionable African safaris. As seen in Lot 7, Louis Vuitton Vintage Monogram Rolling Trunk with Insert BHW some exceptional pieces still sport their original travel stickers, offering a clue into the boarders it blazed through as the choicest travel companion.
Lot 43, A terra-cotta figure of a seated greyhound, English, Circa 1930, Estimate $3,000 - $4,000
Plotted across the catalog from Barbara Israel Garden Antiques in Katonah, NY is an impressive array of garden ornaments ranging from classic Asian motifs to curious European objects. The nineteenth century, farmhouse that Barbara Israel Garden Antiques resides, is reminiscent of the tranquil garden at the Palace of Versailles. Brush past the hedges to find graceful bronze cranes, stone urns adapting into bird baths and an obedient terra-cotta greyhound awaiting you along the blooming pathway.
Lot 21, Edmund Quincy, The Red Church, Boston, Oil on Canvas; Estimate $25,000 - $35,000
Crossing graceful greenery isnt exclusive to royal backyards. Established in 1634, a waltz through Boston Common Park will lead you down shady intersections that kiss the feet of Revolutionary War era cobblestones, historical graveyards, public sculptures and early churches. Thought of as a true son of Boston, artist Edmud Quincy studied at Harvard and the Boston Museum School of Art. Quincy colorfully captures the The Red Church from the perspective of a backstreet inhabitant, a personal eye which is expected in his breadth of cityscapes. Quincy was a traveling artist who recorded aging architecture throughout Europe as well as America with the tenacious tip of his paint brush.
Lot 33, Pair of 1950's Moroccan Inspired Brass Lamps; Estimate $1,200 - $1,800
Plugging us into distant lands, is BURDEN LLC, located in Long Island City. Run by Jonathan Burden, a pioneer and influencer in the antique and decorative arts business since 1999, BURDEN offers an array of travel inspired objects, from Japanese travel guides to African Sculptures. Truly embracing the role of a seasoned antiques dealer and local tastemaker, the gallerys new showroom and workshop combines a display of local artisanship and handpicked antiques as well as offering top-tier restorations done expertly on the premises.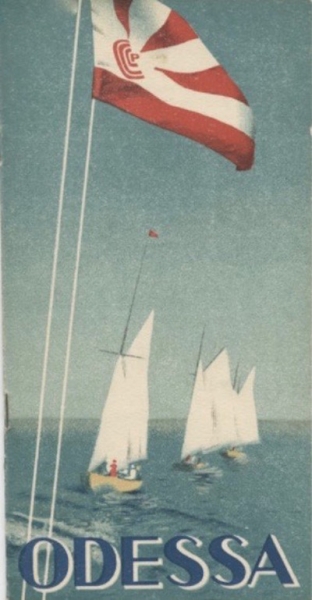 Lot 8, An Illustrated Travel Guide to Odessa, Published by Intourist, 1930's; Estimate $80 - $120
Skim across the pages of Odessa, Ukraine and ride the woven waves of a charming, 1930s travel guide. Through the direction of Emil Allakhverdov, Rare Paper, Inc. specializes in sourcing vintage maps, posters, literature and photographs from the fibers of Eastern European culture. Allakhverdovs passion began with an intimate collection of postcards from his birthplace, the city of Baku, Azerbaijan. His hobby has now turned into a never ending quest for find rare and important paper works from around the world.

Lot 23, Well-sized Swedish Karl Johan Style Oval Center Table; Estimate $4,000 - $4,800
Roll out your maps and guides on the surface of one of many tables featured by Combray Gallery, located in Hudson, NY. Dealing in European continental antique furniture, decorative arts and 20th Century design with a concentration on Swedish neo-classicism, all of Combray Gallerys inventory is sourced abroad and restored in the United States.
This particular furnishing is detailed with an ogee edge and thick apron decorated with beaded lip molding. Rising by way of a column pedestal with double ring plinth and resting on a quadripartite base on four "S" scroll shaped legs. The color is that of a rich, flame birch veneer throughout, designed Karl Johan (Biedermeier) style from the 1920s.
Discover the full Bidsquare, Passport to the World, Themed Auction from March 16 - March 30th catalog by clicking here.