Isador Kauffman is considered the most important Jewish artist of the 19th Century. Born in Hungary, he studied in Budapest and at Vienna's imperial Academy of Imperial Arts. Kauffman was devoted to his art, with an especial fascination with his Jewish roots, and in 1894 began taking annual summer trips through Eastern Europe, attracted by regions where Jewish life and Jewish feeling vibrated most strongly.
The life and work of Isador Kauffman comes under notice on Saturday, December 10 when Shapiro Auctions sell Lot 250 in their Important Fine Art & Antiques sale. Titled A Business Secret, it shows the artist's mastery of line and color, and his keen eye for costume, interiors and architectural details. Note the painting will be sold at end of auction, no earlier than 5:25 PM NY Time, in order to sell after Shabbos ends in New York.
The sale should start with a bang when Rue a Ivry, a canvas by troubled French painter Maurice Utrillo, goes under the hammer as Lot 1. Utrillo, son of the artist Suzanne Valadon, is best known for his cityscapes and speculation concerning the identity of his father, with contenders including heavyweights Renoir and Degas.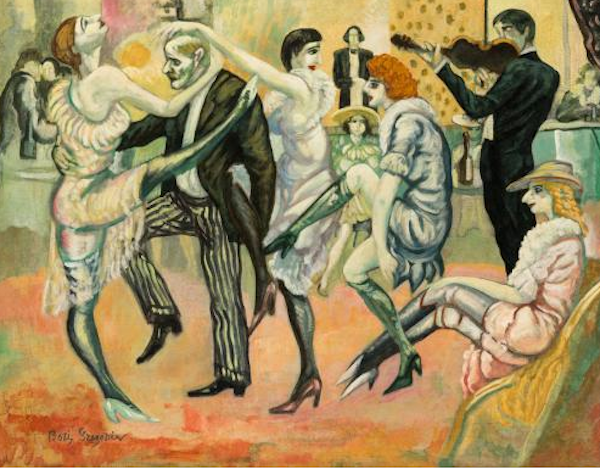 Lot 78 should tempt those inspired by the merriment of the festive season. Titled Dancehall, it is by Boris Grigoriev, a Russian painter who studied at the Imperial Academy of Arts in Saint Petersburg before traveling to Paris, where he was strongly influenced by the great post-impressionist Paul Cezanne.
The sale features two works by the oustanding Polish-born painter Moise Kisling. Selling back-to-back as Lot 5 & Lot 6, they present a wonderful opportunity to sample the work of the gregarious Kisling, who became a French citizen in 1915 after serving and being wounded with the French Foreign Legion in World War I.
Lot 3 is a vibrant harvest scene by French artist Jean Dufy, who made his name painting Parisian society, country scenes, circuses, horse races and orchestras. Dufy was born in Le Havre but settled in Montmarte, where he experimented with cubism and rubbed shoulders with the likes of Picasso, Apollinaire and Derain.
Shapiro Auctions Important Fine Art & Antiques sale is set down for Saturday, December 10 and contains almost 250 expertly curated lots. Look now at the full catalog.