Pook & Pook's, Online Only Decorative Arts sale took place on January 14th and featured over 700 objects. This Bidsquare exclusive auction showcased a diverse range of categories including furniture, decorative arts, carpets, prints, old books, folk art and Asian art.
Lot 1222, Chinese Cloisonné Urn; Sold for $126,000 on Bidsquare
By far the highlight of this auction was Lot 1222, a simply titled 'Chinese Cloisonné Urn'. The description was concise as it only listed the height (22 inches), condition (one side with 1 ¾ inch dent) and estimate ($100-$200).
However, after a competitive bidding battle taking place over 403 bids, the urn realized a final price of $126,000 from Bidsquare - 1,260 times the original estimate!
So, what made this urn so enticing to the bidders? Chinese cloisonné enamel vessels were produced as early as the Yuan Dynasty (1279-1368). It involves affixing metal wire designs on top of a bronze body. These wires form compartments and were then filled in with different colored enamels to create scenes including florals, landscapes and animals.
The majority of cloisonné enamel vessels found today were produced during the 20th Century. These were mostly used for household decoration or were copies of existing designs from the 16th to 19th centuries.
Lot 1222, Chinese Cloisonné Urn; Sold for $126,000 on Bidsquare
This particular cloisonné enamel urn is well constructed and stylistically resembles top imperial examples from the first half of the 18thCentury. It contains two large and ferocious red dragons chasing the flaming pearl of wisdom amidst heavenly clouds.
The shape of this urn is especially large and has an auspicious design. Chinese dragons are heavenly beasts that represent the emperors. The shape of the vase is also highly symbolic. It is called a tianqiuping (天球瓶) which literally translates to 'heavenly sphere vase.'
18th Century cloisonné enamel vessels similar in design to the Pook & Pook urn are extremely rare. One of the finest examples dated to the Yongzheng Period (1723-1735) was sold at Sotheby's Hong Kong on October 3 2017 for HKD 14.5 million (approximately USD 1.856 million) against an estimate of HKD 6 to 8 million (approximately USD 768,000 to 1.024 million).
View all post-sale auction results for Pook & Pook's, Online Only Decorative Arts sale from January 14th.
Don't have a Bidsquare account? Sign up here!
Be in the know about upcoming auctions and exciting post-sale results by following us on Facebook and Instagram.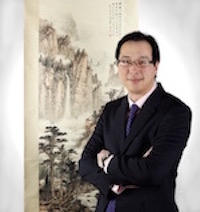 Anthony Wu is an Asian Art consultant, researcher, writer based in Toronto, Canada. After working eleven years as the Asian Art specialist at two of Canada's largest regional auctions, he started his own art advising firm where he consults for various auction houses, museums, and private clients in Canada and the USA. He is a certified Chinese Fine Art appraiser with the Appraisers Association of America.