Day 1 of the 'Winter Antiques Sale' at Litchfield Auctions took place on February 22nd and featured just over 600 lots of decorative arts from around the world. This included lighting fixtures, musical instruments, photography, glassware, and Asian Art.
The highlights of this auction were from the Asian Art category with lot 62 leading the way. Conveniently titled 'Two Chinese Ring Neck Vases', this grouping conservatively estimated at $150-$300 sold for $25,350.
After an intense battle of 82 bids, the winner from Bidsquare acquired the two vases for 169 times the low-end estimate.
Lot 62, Two Chinese Ring Neck Vases; Sold on Bidsquare for $25,350 over a $150-$300 estimate
What's so special about lot 62? Even though the shorter vase is attractive in itself, it is a modest 20th Century copy of Chinese Guan vases from the Southern Song Dynasty. In today's market, correct examples of Guan vases with established provenance would sell in excess of $2 million.
The buyer must have been attracted by the taller of the two vases. This particular object was a flambé glazed bottle vase that closely resembles examples from the 18th Century. It's elegantly proportioned with a bulbous body rising from a short foot. The neck contains four well-spaced raised ribs the continues upwards to a funnel neck. The attractive flambé glaze covers the whole surface with splashes of purple, sky blue and white.
Lot 62, Flambé glazed bottle vase
The flambé glaze was developed in the early 18th Century as an homage to the famous Jun glazes found on stoneware vessels during the Song to Early Ming Dynasties. Using copper as base element, the glaze also contains iron and other metals to create the different splashes of color.
This type of glaze was much beloved by the Yongzheng Emperor (reign 1723-1735), and was continuously used to decorate porcelain vessels throughout the rest of the Qing Dynasty (1644-1911).
Lot 62, Flambé glazed bottle vase, base
The central section of vase's base has been drilled, suggesting the vessel was transformed into a lamp during its lifetime. However, we can still discern the reign mark daqing Qianlong nianzhi 大清乾隆年製, which suggests that the vase was 'made during the Qianlong reign (1736-1796) of the Qing Dynasty'.
18th Century flambé vases similar to the Litchfield example are extremely rare and highly desirable by collectors and museums. One bottle vase of similar form and glaze while bearing a Qianlong reign mark sold at Sotheby's London on 12 May 2010, lot 126, for £481,250 (approximately $717,688) against an estimate of £60,000 – £80,000 (approximately $89,500 - $119,300).
Don't have a Bidsquare account? Sign up here!
Be in the know about upcoming auctions and exciting post-sale results by following us on Facebook and Instagram.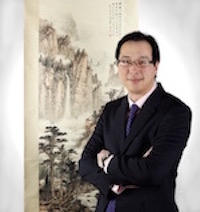 Anthony Wu is an Asian Art consultant, researcher, writer based in Toronto, Canada. After working eleven years as the Asian Art specialist at two of Canada's largest regional auctions, he started his own art advising firm where he consults for various auction houses, museums, and private clients in Canada and the USA. He is a certified Chinese Fine Art appraiser with the Appraisers Association of America.