Is there a better time than the first week of December to hold a quality jewelry auction? With Christmas trees going up and stockings in desperate need of stuffing, it's the perfect time to present bidders with a catalog filled with the best in quality jewelry.
Good thing then that Heritage Auctions is staging their Fine Jewelry sale on Monday, December 7. Featuring over 440 lots filled with a vivid array of exotic stones and designs, this is a gift-wrapped opportunity to anyone looking to snare that special piece for someone close at heart.
Yellow diamonds are always a big hit with collectors, and Lot 54395 is sure to be one of the highlights of the sale. Featuring a rectangular cut-cornered fancy yellow diamond enhanced by trapeze-cut diamonds, this ring, which is already creating its share of buzz, has an estimated value of $300,000-$400,000.
Those looking for something a little more traditional should have already circled Lot 54373 in their catalogs. A platinum ring featuring an emerald-cut diamond enhanced by tapered baguette-cut diamonds, this classically set piece comes from the esteemed house of Tiffany & Co., meaning it's sure to garner plenty of attention.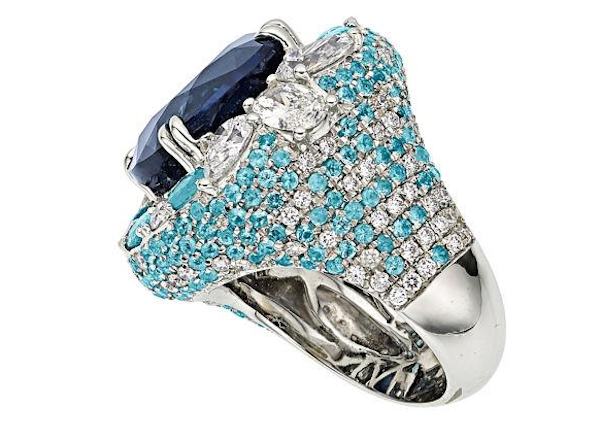 Lot 54331 is a white gold ring featuring an exquisitely cut oval-shaped 19-carat sapphire, enhanced by pear and oval-shaped diamonds, and accented by oval-shaped tourmaline. A truly unique piece of jewelry, this is a ring sure to leave Christmas party rivals gnawing chicken bones in envy!
Lot 54400 - a sapphire, diamond & platinum necklace by Bvlgari
Heritage Auctions' Fine Jewelry sale is 441 lots strong and features a stunning selection of exclusive jewelry, including many from the industrys most esteemed names.