August is typically a quiet month for Asian Art amongst the regional auction houses, but not at Alex Cooper Auctioneers in Townson MD! On August 25, they will be featuring their sale of Fine Rugs, Fine and Decorative Art, Furniture.
Included in their 533 item sale is a choice selection of Asian artworks from China, Japan, India and the Himalayan region covering the categories of export and domestic porcelain, ceramics, religious objects, paintings, woodblock prints and metalwork.
Lot 1219, Bronze Oni Planter, Japan; Estimate $2,000-$3,000
In the Japanese section is Lot 1219, a large bronze oni planter. At 17 inches high, this sculpture is both impressive in its size and realism. The base features a well-detailed Japanese oni (demon) with a ferocious expression while it is supporting a large vase. This piece is a stunning example of late Meiji Period craftsmanship and would have been exported to the Western market in North America or Europe. It carries an estimate of $2,000-$3,000.
Lot 1305a, Pair Export Famille Verte Chargers, China; Estimate $8,000-$10,000
Lot 1305a is an extremely attractive pair of Chinese export famille verte chargers. Made during the Kangxi period (1662-1722), these chargers would have been most likely exported to the British or Dutch markets.
At first they appear to represent a garden courtyard scene, but in fact, they contain many Chinese auspicious symbols. The deer and the crane are both symbols of longevity - thus bestowing long life to the chargers' owner.
The three different plants found in the jardinières also have symbolic meaning. From left to right, they are prunus blossoms, bamboo and pine. Together, they make up the 'three friends of winter', which is an important Chinese scholar motif. During the cold, dark months, these three plants notably maintain their leaves and color which symbolizes the Confucian ideal of perseverance and immutability. The pair of chargers are estimated at $8,000-$10,000.
Lot 1306a, Pair Export Imari Basins, China; Estimate $6,000-$8,000
Also in the export art category is Lot 1306a, a pair of Chinese export Imari basins estimated at $6,000-$8,000. Similar to the pair of famille verte chargers, these were also produced during the Kangxi period for the European market. With the bold use of oranges, navy blues gold paint, these basins can easily be mistaken for Japanese Imari pieces.
However, the stylistic elements of these basins are strictly Chinese. They are also useful in demonstrating how East Asian regions influenced (and copied) each other on highly marketable designs during the 17th Century.
Lot 1275a, Silver, Jade and Hardstone Wine Vessel, China; Estimate $6,000-$8,000
Finally the Alex Cooper sale contains two very notable objects used for Buddhist rituals. The first is Lot 1275a, a Chinese silver, jade and hardstone wine vessel. This extravagant vase has a bulbous silver body ornately decorated with stylized lotus petals and monster handles, with multiple jade and semi precious hardstone inlays throughout. The neck is fitted with three large cylindrical jade tubes.
This vessel would have been made for the Mongolian market, and most likely used to decorate a Buddhist shrine or altar. It can have numerous functions including a water or wine container, or simply just to hold flowers.
Lot 1354a, Thangka, Tibet; Estimate $6,000-$7,000
The second impressive Buddhist ritual object is Lot 1354a, a Tibetan thangka. This painting depicts the wrathful female deity Palden Lhamo - with three eyes and ferocious expression while holding onto a skull cup.
Palden Lhamo is one of the principal protectors of the Gulag sect of Buddhism and symbolically viewed as the female guardian of Tibet. She is often seen mounted on a three-eyed donkey (the third eye is located on the animal's rump). This is a particularly rare depiction since it is painted on a black ground. The estimate is $6,000-$7,000.
Click here to view the full catalog of Alex Cooper Auctioneers August 25 auction.
Don't have a Bidsquare account? Sign up here!
Be in the know about upcoming auctions and exciting post-sale results by following us on Facebook and Instagram.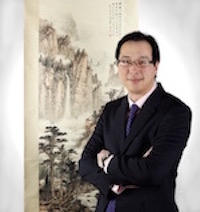 Anthony Wu is an Asian Art consultant, researcher, writer based in Toronto, Canada. After working eleven years as the Asian Art specialist at two of Canada's largest regional auctions, he started his own art advising firm where he consults for various auction houses, museums, and private clients in Canada and the USA. He is a certified Chinese Fine Art appraiser with the Appraisers Association of America.