Much like São Paulo, their city of residence, Humberto and Fernando Campana (popularly known as The Campana Brothers) have found a way to freely merge flashes of flamboyance with outlandish baroque opulence. For the design worlds favorite family duet, providing functional objects that also bring "joy" and "fun" into peoples lives remains a key aspect when approaching their brand of furniture design. 
Lot 646, The Campana Brothers, Anemone Chair, 2001; Estimate €2,000-€2,000
Based out of their studio in Sãn Paulo, Brazil, The Campana Brothers have gained acclaim for assembling materials such as recycled cloth, pipes, hoses and stuffed animals into and onto intriguing forms. As seen above in Lot 646 of Quittenbaum Art Auctions upcoming sale, the ancient art of weaving was given a much needed muscle relaxant. Steering away from the rigidity of classic rattan weaving, the Anemone chair took the design world by surprise with its' humorous entanglement of hoses and elegant employment of basic techniques.
Although, The Camapana Brothers have been bridging the gap between the weird and the wonderful for a contemporary audience, avant-garde furniture design blossomed in bulk throughout the 20th century.
Selected from both of Quittenbaum Art Auctions upcoming catalogs, Made in Germany on June 26th and Design on June 27th, we're exploring a group of inspired chairs that give ones end an odd place to meet.
In design, when conventional techniques are nominated for reconsideration, familiar deviants are born:
Lot 191, Hermann Waldenburg, Schleudersitz Chair, 1984/85; Estimate €3,500-€4,000
You won't have trouble getting out of this chair! Designed by Hermann Waldenburg, a multi-award-winning painter and designer, the 'Schleudersitz' translates from German to mean "ejection seat" (hence the large metal springs). Although, this chair may give off a chilly laboratory feel, the fixed recline position certainly has its perks.
Lot 620, Borek Sipek, Papillon Chair 'Prosim Sedini', 1987; Estimate €700-€900
Thought of as the father of "neo-baroque" Czech architect and designer, Borek Sipek, hardly bothered with things that had been done before. Similar in balance and proportion, his unusual shapes, colors and concepts transfer seamlessly from his glass sculptures to his furniture designs. For instance, this Papillon chair can easily be visualized as delicate curving stalks of blown glass connecting with flat, hand-cut sheets.
Lot 644, Maarten van Severen, LCP, 2004; Estimate €600- €800
This glowing design by Belgain furniture designer, Maarten van Severen, is still in production today and comes in four transparent colors: crystal, clear blue, neon yellow, and neon orange. Luckily, for our Bidsquare bidders, this highlighter yellow version puts on a particularly amusing show when the lights go down!
Lot 197, Meyer Voggenreiter & Reinhard Mueller, Divan Chair, 1989/90; Estimate €3,000-€3,500
Challenging the realm of post-modern design, artists Meyer Voggenreiter and Reinhard Mueller, were active contributors for the Pentagon group, a collective of avant-garde designers in the 1980s. This half stationary, half mobile (in appearance) Divan chair includes an oriental carpet to drape atop its' curved body. The combination of fine materials, such as the carpet, with something as urban as two bicycle wheels makes this piece a unique, stand alone item.
Lot 97, Hans Brockhage, Rocking Chair/Car, 1950; Estimate €600- €800
If you have a big enough home, this life-size toy would make getting from one end of your mansion to the next a lot more entertaining! Designed for the duel purpose of getting around and then, upon flipping it over, rocking in place, this Hans Brockhage brainchild is a one-of-a-kind find!
Discover more outlandish designs by browsing both of Quittenbaum Art Auctions upcoming catalogs, Made in Germany on June 26th and Design on June 27th!
Don't have a Bidsquare account? Sign up here!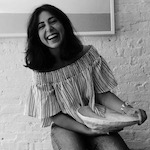 Jessica Helen Weinberg | Senior Content Editor at Bidsquare
Be in the know about upcoming auctions and exciting post-sale results by following us on Facebook and Instagram.