A quick glance at your desk clock says it's that spooky time of year again, when ghosts are good, pumpkins are scary and witches love candy! Halloween, easily the most fun holiday on just about everyones calendar, is upon us once again and that means fun and indulgence for kids of all ages, from sugar highs to eye-catching costumes and beyond.
Here at Bidsquare, we're getting in on the action by offering a plethora of great pieces with strong Halloween themes. Buy for yourself or buy as a gift – either way, you'll be getting in on the spooky spirit of the season without sacrificing on quality or individuality. Below, we've selected a handful of favorites – for more, check out the full list of upcoming auctions.
Those looking for haunting imagery need go no further than Lot 225 in Ragos sale of the Adriana Williams Collection. Titled "The Mask of the Red Death," by eccentric Argentinian Surrealist painter Leonor Fini (pictured above), this oil on canvas takes its name from a gripping short story by Edgar Allan Poe.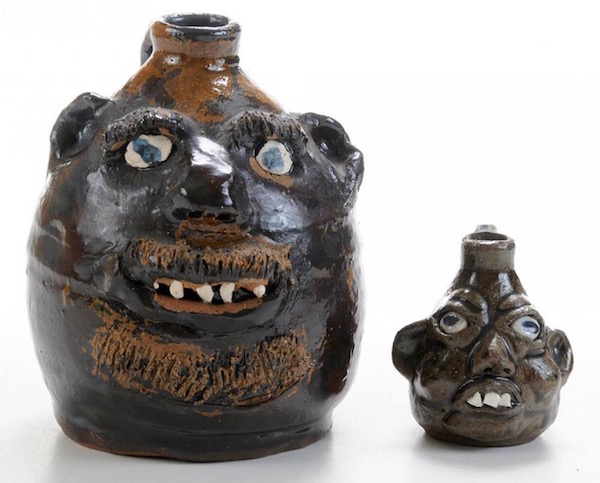 These creepy Georgia face vessels, also known as "ugly jugs," will more than hold their own at any Halloween party. Selling as Lot 59 in Brunk Auctions Southern Pottery & Ice Cream Molds sale, they descend from a pottery tradition emanating from the American South as far back as the 1830s.
Death is always a popular theme at Halloween and this French carved poplar and wrought iron horse drawn hearse couldnt be more on point. Selling as Lot 1101 on Day 2 of Crescent City Auction Gallerys November Estates sale, this 80 in. x 60 in. x 123 in. piece is as chilling as it is finely crafted.
What better way to celebrate the day with your kids than to serve up treats using these vintage Halloween and related ice cream molds, selling as Lot 119 in the afore mentioned Southern Pottery & Ice Cream Molds sale. Included are a devil and witch-on-broom-stick figural molds, skull, jack o lantern, and cauldron form molds, plus two moon form molds, and two medallion form molds with skulls.
Everyone loves a good Halloween read and for that were turning to Ray Bradburys "The Halloween Tree." Selling as Lot 226 in Leslie Hindman Auctioneers Fine Books & Manuscripts sale, this gorgeous first edition tells the story of a group of eight boys who set out to go trick-or-treating on Halloween, only to discover that a ninth friend, Pipkin, has been whisked away on a journey that could determine whether he lives or dies.