When it comes to high design no one has made a greater contribution than the Italians. From fashion to automobiles to furniture and beyond, the little European country with the oversized boot has always shown a rare gift for the successful combination of innovation and style. Their work has produced many imitators down through the years, but alas, very few peers.
On June 2, Italy celebrates Festa della Repubblica, it's National and Republic Day, commemorating the institutional referendum held in 1946 following World War II and the fall of Mussolini. In an effort to shine our own light on the wonders of Italy, we explored the catalog of Rago's Modern Design sale, set down for Sunday, June 5, and found a host outstanding examples of cutting edge Italian design.
What better place to start than Lot 719 - a piece by legendary architect, designer and photographer Carlo Mollino? This rare coffee table, made of stained Italian walnut, Securit glass and brass, comes from a man who once said: "Everything is permissible as long as it is fantastic."
Fans of modern design wil find Lot 722 - a pair of incredibly sleek Singer & Sons lounge chairs by Carlo De Carli, extremely hard to resist. Dating to the 1950s, this reupholstered twosome are the perfect foundation upon with to build your stunning new living room look!
Bidders are sure to be drawn by the streamlined elegance of Lot 721 - a pair of side tables by visual artist and furniture designer Ico Parisi. Parisi, who along with Ponti, Mollino & Di Carli was at the forefront in shaping Italian furniture design of the 1950s, defined himself as a "Renaissance artist" interested in all forms of art.
Arredoluce was founded in 1947 by Angelo Lelli, and collaborators of the ensuing decades included Gio Ponti, Ettore Sottsass and Achille Castiglioni. Arredoluce was best known for lighting (right, Lot 725 - the Triennale floor lamp), but dabbled successfully across the broad spectrum of interior design (left, Lot 724 - an easel).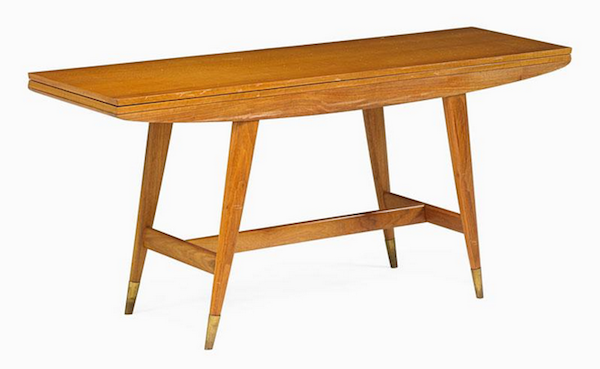 Gio Ponti was the wearer of many hats, from architect to industrial designer to furniture designer, artist, and publisher. Ponti maintained a high profile throughout his life, and built a rich legacy that continues today. Lot 723, a flip-top console table Ponti designed for Singer & Sons, is a classic example of his minimalist flare.
Ragos Modern Design sale is set down for Sunday, June 5 ans contains 230 expertly curated lots by leading designers the world over.