From Royal Bayreuth porcelain to mechanical banks, Pook & Pook Inc.'s Online Decorative Arts auction, set down for Wednesday, June 17, promises bidders an eclectic assortment of one-of-a-kind pieces. This stand-alone online auction underlines Pook & Pook's commitment to the industry's future via Bidsquare.com.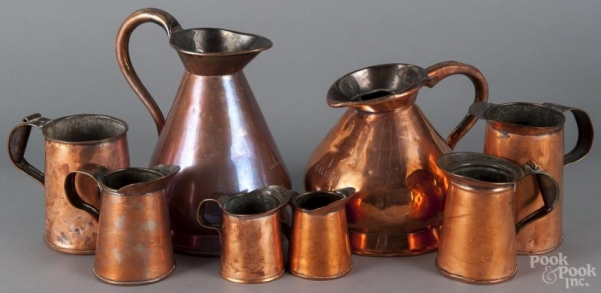 June's sale draws from a wide array of collections, including an assortment of European pewter shining with interesting pieces. Lot 628 (above), consisting of two 19th Century English copper haystack measures, and a group of six copper cylindrical measures, is the perfect way to jump-start any pewter collection.
Still on metals, one of the real highlights of the sale is the group of fifteen mechanical banks being offered. These gadgets gained popularity in the second half of the 19th Century in the fervor surrounding automated toys. Lot 1107 (below), an Ives, Blakeslee, & Co. clockwork bulldog savings bank, captures perfectly the charm of this bygone era.
An extensive range of porcelains nicely compliments the metal collections on offer, adding a healthy splash of color to the sale. In a vibrant yellow, Lot 170 (below), the H. R. Henriot tableware from Quimper, France includes a teapot, a covered sugar and creamer, and two small vases.
The collection of Royal Bayreuth porcelain is just as visually striking. Figural forms such as the Saint Bernard, duck and flounder are rare enough treasures, but the collection's real star is Lot 483 (below left), a Santa Claus cream pitcher.
All up, Pook & Pook Inc. will offer 1144 lots in their Online Decorative Arts auction, covering a broad range of categories including metals, porcelains, furniture, paintings, sculpture, clocks, books, glassware and more.
Look now at the full catalog for Pook & Pook, Inc.'s Online Decorative Arts auction.