June is turning out to be quite the busy month for Asian Art auctions! Many of these sales were originally scheduled for March but had to be pushed back because of the global pandemic.
Originally set for March 25, Hindman in Chicago will be offering their 'Asian Works of Art' auction on June 25. This 358 lot sale features objects from China, Japan, Korea, the Himalayan region and South East Asia. Numerous categories are covered including porcelain, ceramics, jade carvings, paintings, furniture, scholar objects, textiles, jewelry, Buddhist sculptures and rare books.
Lot 52, A Rare Incised and Green Enameled Porcelain 'Dragon' Bowl
The star of the Hindman auction is lot 52, an incised and green enamelled porcelain dragon bowl from the Zhengde reign (1505-1521) of the Ming Dynasty. The bowl features delicately incised designs of sinuous five-clawed dragons soaring on heavenly clouds, all painted with sumptuous green enamels. The base depicts the six-character mark daming Zhengde nianzhi 大明正德年製 which translates to made in the year of the Zhengde reign.
These types of bowls are extremely rare with only a handful of recorded examples. Similar pieces can be found in private collections and major museums including the Metropolitan Museum of Art in New York and the Art Institute of Chicago.
Lot 52, A Rare Incised and Green Enameled Porcelain 'Dragon' Bowl
Estimated at $15,000-$20,000, this dragon bowl comes from the Estate of Ann Donnelley Hardy from Lake Forest IL. She was an accomplished skier and equestrian who later in life became a major philanthropist and board member with Chicago's Children's Memorial Hospital.
Lot 93, Wu Changshuo, Bok choy, ink on paper, hanging scroll, framedsigned Changshuo, Wu Jun, dated 1888
The Hindman auction also features a wide selection of Chinese paintings including lot 93, 'Bok Choy', by Wu Changshuo 吳昌碩 (1844-1927). Originally a government official, Wu moved to Suzhou where he was recognized as an expert in ancient Chinese calligraphy, seal carving and floral painting. The bold lines and use of contrasting colors are trademarks of his style and instrumental in raising the profile of the Shanghai School of artists.
Dated to 1888, 'Bok Choy' is one the artist's earlier paintings, but still showcases his mastery of energetic brushstrokes. Here he gives a sense of vitality and importance to the common Chinese cabbage. This painting was consigned by a family from Palm Beach FL who acquired it during a business trip to Beijing during the 1960's. 'Bok Choy' is estimated at $20,000-$25,000.
Lot 167, A Large Pair of Yellow Ground Gold Thread 'Dragon' Embroidery Silk Panels
Chinese textiles are featured heavily in the Hindman auction. In addition to the many official robes and lady's jackets at the sale are a pair of large yellow ground silk dragon panels from the 18th Century (lot 167). They depict a set of impressive confronting dragons, and their sense of scale and dynamism, combined with the densely-packed gold embroidery, would suggest that these were probably used as an altar cover in an imperial household. These dragon panels are estimated at $20,000-$40,000.
Finally, at the Hindman auction is a group of Chinese Budai figures sold to benefit the Acquisitions Fund at the Detroit Institute of Arts. Known as 'Happy Buddha' to a Western audience because of the figure's trademark jovial face, robust features, and monastic robes, the figure is actually a historical Chinese monk believed to be a reincarnation of the Buddhist bodhisattva Maitreya. Budai 布袋 literally means 'cloth sack' in Chinese and refers to the large bag of simple belongings he carries around. Despite being poor, he symbolizes that wealth is not necessary to live a life of happiness and abundance.
Lot 300, A White Glazed Figure of Budai Buddha
The eleven figures of Budai from the Hindman auction are crafted from a wide variety of materials including ceramic, hardstone, and bronze. Lot 300 is one of the larger figures of this grouping. Estimated at $4,000-$5,000 and sculpted of white glazed porcelain, this figure contains the grinning characteristics of the deity. It was originally from the collection of famous Shanghai-Paris dealer C. T. Loo 盧芹齋 (1880-1957).
Click here to view the full catalog of Hindman 'Asian Works of Art' auction on June 25.
Don't have a Bidsquare account? Sign up here!
Be in the know about upcoming online auctions and exciting post-sale results by following us on Facebook and Instagram.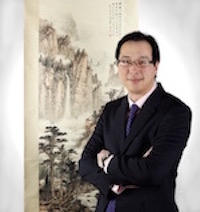 Anthony Wu is an Asian Art consultant, researcher, writer based in Toronto, Canada. After working eleven years as the Asian Art specialist at two of Canada's largest regional auctions, he started his own art advising firm where he consults for various auction houses, museums, and private clients in Canada and the USA. He is a certified Chinese Fine Art appraiser with the Appraisers Association of America.