One thing is for sure, when Bidsquare bidders have their eye on the prize, they don't give up so easily. On the weekend of May 4th, Rago hosted their much anticipated fine art auctions, 'Post War + Contemporary Art' and 'American + European Art' sales. Both catalogs collectively represented pivotal artists whom, in their respective movements, ranged in styles and periods like German Expressionism and American Pop Art. Monumental works such as Milton Avery's "Girl by Harbour" brought in the highest price ever for a piece of flat art sold at Rago Auctions, selling for $564,500 and contributing towards the $3,631,406 combined total that was achieved that weekend. Online, Bidsquare bidders clicked into action securing splendid artworks in enthusiastic bidding wars, some lasting 35 turns, generating one of the strongest fine art weekends ever seen for Bidsquare at Rago.
Here are some of Bidsquare's fine art wins from Rago Auction's May sales:
Lot 722, David Salle, Pauper, Acrylic and lead on canvas, 1984; Sold for $96,000
The top lot on Bidsquare in the 'Post War + Contemporary Art Auction' was an acrylic and lead on canvas work by contemporary painter, printmaker, and photographer, David Salle. The large format diptych titled "Pauper" 1984, is a prime example of the collage-like works of which Salle is best known. The artist has explained his approach, "I have tried to get the fluidity and surprise of image connection, the simultaneity of film montage, into painting." The $96,000 sale on Bidsquare is a grand new addition to the platform's roster of post-auction results.
Lot 696, Ana Mercedes Hoyos, Untitled (Bananas), Oil on canvas, 1991; Sold for $32,000
Bidsquare bidders went totally bananas for a 1991, oil on canvas work by Colombian artist Ana Mercedes Hoyos. A nod to classical still lifes and Pop Art's commercial consumerism, seen here as the subject of bananas, Hoyos' well defined style made her a pioneer of modern art in Latin America. Estimated between $5,000-$7,000 - lot 696 easily peeled its way past 6x the low estimate!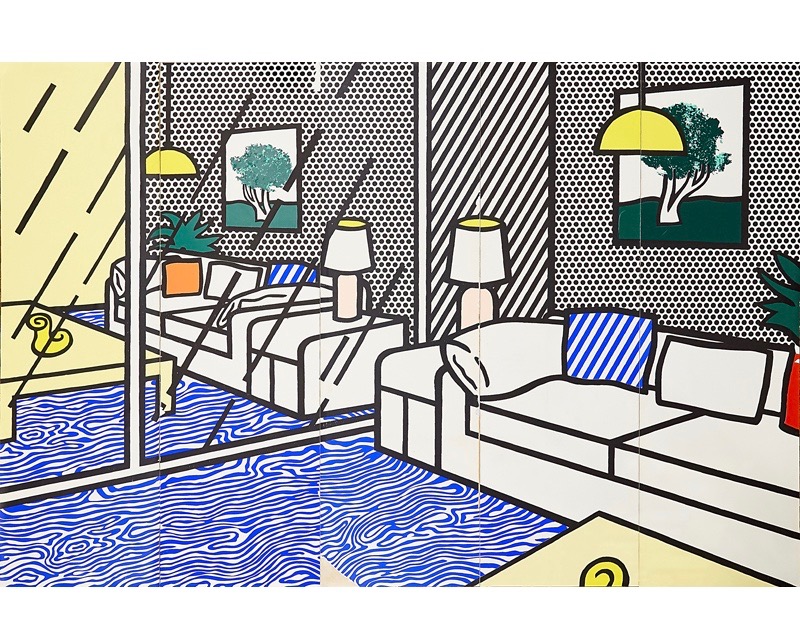 Lot 789, Roy Lichtenstein, Wallpaper with Blue Floor Interior, Screenprint in colors, 1992; Sold for $24,320
A key figure in the American Pop Art movement, Roy Lichtenstein, who is admired for adopting and channeling his parody themed artwork from comic books in the 1960s, also found his way to the top of Bidsquare's charts. Known as Ben-Day dots, Lichtenstein's manual method of patterning became a signature element of his style, which introduced the look of mechanical reproduction into the fine-art world of painting. As seen in lot 789, 'Wallpaper with Blue Floor Interior" 1992, Lichtenstein's transformational and reductive imagery remained an iconic style throughout the 90s, even when depicting interior scenes like the room pictured above.
Lot 142, Le Pho, Untitled (White Roses), Oil on canvas; Sold for $19,200
Vietnamese painter, Le Pho, known for his dream-like paintings of nudes, gardens, and floral still lifes, blossomed on Bidsquare in the 'American and European Fine Art Auction' sale. His relaxed brushwork, playfully in line with post-impressionistic masters such as Pierre Bonnard and Odilon Redon, takes hold of both French sensibilities and traditional Chinese painting. This inviting example shined as bright as its' buttery-yellow background on auction day, bringing in $19,200 - several petals above an estimate of $10,000-$15,000.
Lot 612, Andy Warhol, Electric Chair #76, Screenprint in colors, 1971; Sold for $17,920
Bidders were plugged into and zapped by American Pop Artist, Andy Warhol, in lot 612, "Electric Chair" 1971, Screenprint in colors. Electric Chair is part of Warhol's substantial Death and Disaster series started in 1962, which also included car crashes and suicides as illustrated in newspaper images. Warhol's obsession with death and the role it played in our everyday lives, but also our apparent distance from it, inspired works like the above.
Lot 33, George Grosz, Untitled (New York Harbor), Watercolor on paper, 1936; Sold for $17,920
German Expressionist, George Grosz, who depicted Berlin life in the 1920s and later New York City upon his immigration in 1933, was a revolutionary and provocative character of early 20th century art. As a young man, Grosz gained popularity for his caricature's of businessmen, wounded soldiers, prostitutes, sex crimes and orgies. However, after moving to America, Grosz eventually turned away from such subject matters and assumed a more sentimental tone by studying conventional nudes and landscape watercolors. The vibrant painting pictured above, lot 33, sold in the 'American and European Fine Art Auction' well above the estimate of $7,000-$10,000 for $17,920.
Other artworks sold on Bidsquare during Rago's May 4th sales include; Lot 775, Sol LeWitt, Three end tables, 1994, Sold for $17,920; Lot 618, Kazuko Inoue, Untitled (diptych), Acrylic on canvas, 1989, Sold for $16,640; Lot 844, Frank Stella, The Candles, Lithograph, screenprint and collage in colors , 1922, Sold for $16,640; Lot 130, Françoise Gilot, Ines (Sassier), Graphite on paper, 1949; Lot 47, Hovsep Pushman, The Triumph of Creation, Oil on board with gold leaf, Sold for $15,360, amongst many others.
View all of Rago's post-sale auction results for their 'Post War + Contemporary Art' and 'American + European Art' sales.
Don't have a Bidsquare account? Sign up here!
Be in the know about upcoming auctions and exciting post-sale results by following us on Facebook and Instagram.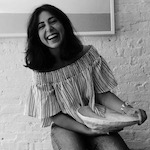 Jessica Helen Weinberg | Senior Content Editor at Bidsquare