Watching scattered webs of light crisscrossing through themselves in the aqua blue waters of a backyard swimming pool can be both a mindless meditation and an endlessly delightful exercise - one well suited for the lazy days of summer. However, abstracting the shape of ones hands with a simple submersion or chasing shimmering shadows is not as simplistic as it appears; it is a wonderfully complex subject matter that has the mutable ability to be immeasurably observed and infinitely illustrated.
This week, we're drawing inspiration from the almost swimming season month of May and beginning our picks with an artist very will acquainted with the deep end of things.
Lot 409, David Hockney, Paper Pools, series "Pool Made with Paper and Blue Ink," Lithograph, ed. 66/1000; 1980; Estimate $8,000-$12,000
Coming up in Palm Beach Modern Auctions, Modern Design sale on May 25th is a vibrant lithograph by English artist David Hockney from the Paper Pools series. Having already discovered his famous subject matter (the pool) Hockney returned once again to this narrative upon visiting his friend and previous collaborator, Kenneth Tyler of Tyler Graphics studios, in upstate New York. There, Hockney was introduced to a new medium, the paper pulp process. This involved dyeing wet rags and applying them in various ways to new, already wet, paper until pressed and fully dried. This "wet on wet" process, where colors were manipulated and then fused together, was physically and symbolically satisfying for Hockney. His long-standing fascination for depicting the qualities of water had come even closer to a literal method where subject and approach were synonymous.
View all works by David Hockney coming up on Bidsquare.
Lot 1846, Antonio Prieto, Vase with fish, Glazed stoneware; Estimate $500-$750
Gliding into our picks this week, one fin at a time, is lot 1846, a power blue bottle neck vase by ceramic artist Antonio Prieto. The frothy glaze, subtlety fading downwards, likens itself to the edges of crashing waves and an idealistic clear sky. Preito's carousel of linear fish encircle the form with a casual buoyancy that makes this a cheerful ceramic catch. However, this isn't the only underwater motif floating around in Rago's upcoming catalogs. Other works by Edwin and Mary Scheier and Gustavberg are overflowing with seahorses, mermaids, and gilled monsters!
Lot 5, Antique Gold and Reverse-painted Crystal Aquarium Earpendants, c. 1870s; Estimate $6,000-$8,000
Allow us to scale down our picks and make way for this pair of fancy fish-themed earrings. Offered in Skinner's, Important Jewelry sale on May 21st, these c.1870s, antique gold earpendants each include reverse-painted fish inside a cylindrical bowl with ruby and pearl fringe. The wonerfully detailed pendants are suspended by ribbed batons from a disc surmount with applied ropework accents - rather floatworthy if you ask us!
Lot 1500, Handel Underwater Lamp with Mermaid Base; Estimate $20,000-$25,000
This mild weather has everyone wishing they could simply dive into any old body of water like the mythical mermaids we pretend not to believe in (you never know)! Featured in Morphy Auctions, Fine & Decorative Arts, Day 1 sale on June 18th is lot 1500 - a glowing, reverse painted lamp by Handle. The varicolored shade showcases an active underwater scene with fish and plant-life aplenty. Holding up this ambient world is an original cast bronze base detailing a seated mermaid and a large shell atop her shoulder.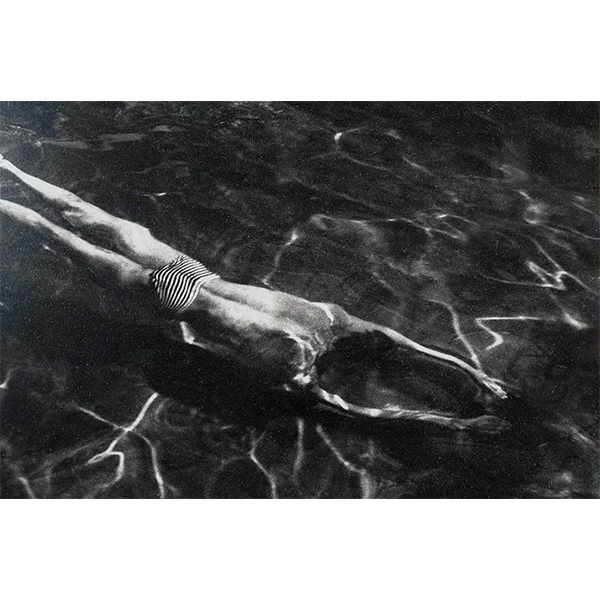 Lot 4, Andre Kertesz, Underwater Swimmer, gelatin silver print, 1917; Estimate $4,000-$6,000
Ah, the sweet surrender of weightlessness. This early 1917 photograph by Andre Kertesz, a Hungarian-born artist known for his contributions to composition and unorthodox camera angles, possesses the lyrical silence one feels when surging through the depths. This work is featured in Brunk Auctions, Photography sale on June 6th along side artists such as O.Winston Link, Larry Fink, Walker Evans, and John Woolf.
With new auctions added daily, we're always ripe for the pickin! Be sure to check into future 'Bidsquare Picks' for a speedy look at our upcoming selections.
Don't have a Bidsquare account? Sign up here!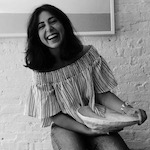 Jessica Helen Weinberg | Senior Content Editor at Bidsquare
Be in the know about upcoming auctions and exciting post-sale results by following us on Facebook and Instagram.