As the Asia Week events continue in the USA, Bidsquare will be offering many more Asian-themed auctions that should satisfy both collectors and connoisseurs alike. One of the marquee sales is at Hindman in Chicago, where they will be featuring Chinese & Southeast Asian Works of Art on March 25th.
This 312 lot auction includes objects from China, the Himalayan region, India, and Cambodia and covers numerous categories such as such as scroll paintings, jade carvings, textiles, furniture, porcelain and Buddhist sculptures.
Lot 29, Qi Baishi, Flowers of the Four Seasons: Wisteria, Lotus, Chrysanthemum and Prunus, ink and color on paper, four framed scrolls. Estimate $80,000-$120,000
The most anticipated highlight from this auction is lot 29, a set of four scroll paintings by Chinese master Qi Baishi 齊白石 (1863-1957). Qi is one of the most significant and accomplished Chinese painters of the 20th Century and his works are extremely revered by anyone familiar with Chinese art.
This set of scrolls is titled 'Flowers of the Four Seasons: Wisteria, Lotus, Chrysanthemum and Prunus'. Each painting depicts a seasonal floral and is heavily inscribed with Qi's calligraphy. The paintings all showcase the artist's earlier style and the scene of camelias and plum blossom even has a rare dating of 1920.
These scenes are much different than Qi's paintings of the 1940's and 50's that the market is accustomed to seeing. Here, the brushstrokes and scenery are extremely calligraphic and showcase much more depth. This is opposed to his later works which tend to be spontaneous and have less colour.
Photo of Dr. Hugh Wells Hubbard's wife, Mabel Ellis, with the four Qi Baishi paintings in the background. Circa 1960's
The set of four paintings were collected by the Reverend Dr. Hugh Wells Hubbard (1887-1975) who was stationed in China for most of the first half of the 20th Century. While teaching English and athletics, he also acquired a fond interest in Chinese art and culture.
These works by Qi were acquired by Hubbard in the Baoding mansion of Cao Kun, a former warlord and president of the Republic of China. Hubbard brought them back to the USA where they were bequeathed to his daughter Gladys Hubbard Swift in 1967. These four scroll paintings were rarely seen until today and have an auction estimate of $80,000-$120,000.
Lot 218, photo of Dr. Hugh Wells Hubbard's wife, Mabel Ellis, with the four Qi Baishi paintings in the background. Circa 1960's. Estimate $20,000-$25,000
Also in the Hindman sale are numerous Chinese jade carvings. One of the most attractive is lot 218, a white jade waterpot with archaistic chilong dragons dated to the Qianlong Period (1736-1795). Estimated at $20,000-$25,000 and formerly from a French collection, this waterpot Is exceptionally well-carved. In addition to the purity of the white stone, the expert craftsman used the jade's russet inclusions to highlight the little dragons scurrying throughout the vessel.
Lot 18, A Mother-of-Pearl Inlaid Black Lacquer Twelve-Panel Screen. Estimate $15,000-$25,000
Another highlight from the auction Hindman is an important set of lacquered folding screens. This pair of screens each contain six panels and was probably made during the 16th/17th Century of the Ming Dynasty. One side is delicately decorated in mother-of-pearl a continuous scene of scholars and their guests enjoying the open air. We can see canopies of pine, bridges, lodges and waterways. The reverse features a later 18th Century birthday dedication dated to 1746 of the Qianlong reign. It came from the Estate of Alexandra Emery Moore, a passionate world traveler with prominent family ties to New York and Cincinnati. This screen is estimated at $15,000-$25,000.
Lot 305, A Gilt Bronze Figure of Shakyamuni Buddha. Estimate $20,000-$25,000
Finally at Hindman is lot 305 well-cast gilt bronze figure of the historical Buddha Shakyamuni. This Buddha resembles figures produced during the early part of the Ming Dynasty, especially those from the Yongle and Xuande reigns. His left hand is in the gesture of meditation, while the right hand touches the ground to call the earth to witness his enlightenment. The face has is well-detailed with the figure's downcast eyes, fleshy earlobes and serene smile. This figure of the Buddha has an estimate of $20,000-$25,000.
View the full catalog of Hindman's sale of Chinese & Southeast Asian Works of Art on March 25.
Don't have a Bidsquare account? Sign up here!
Be in the know about upcoming auctions and exciting post-sale results by following us on Facebook and Instagram.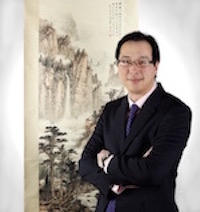 Anthony Wu is an Asian Art consultant, researcher, writer based in Toronto, Canada. After working eleven years as the Asian Art specialist at two of Canada's largest regional auctions, he started his own art advising firm where he consults for various auction houses, museums, and private clients in Canada and the USA. He is a certified Chinese Fine Art appraiser with the Appraisers Association of America.