"A good fashion is a daring fashion, not a polite one." — Daisy Fellowes
These words of the famous French socialite and fashion icon can describe the life and times of Elsa Schiaparelli, the Italian fashion designer who Daisy Fellowes once patronized. Elsa Schiaparelli, a Surrealist and avant-garde fashion designer, was path-breaking in more ways than one.
Elsa Schiaparelli was an intuitively imaginative designer and a noteworthy fashion personality, especially through the first and second World Wars. Paul Poiret greatly influenced Schiaparelli in the initial days of her fashion journey. Poiret was known for crafting styles that promoted freedom of movement among modern and forward-looking women. Poiret inspired Schiaparelli to launch her Maison in the 1920s.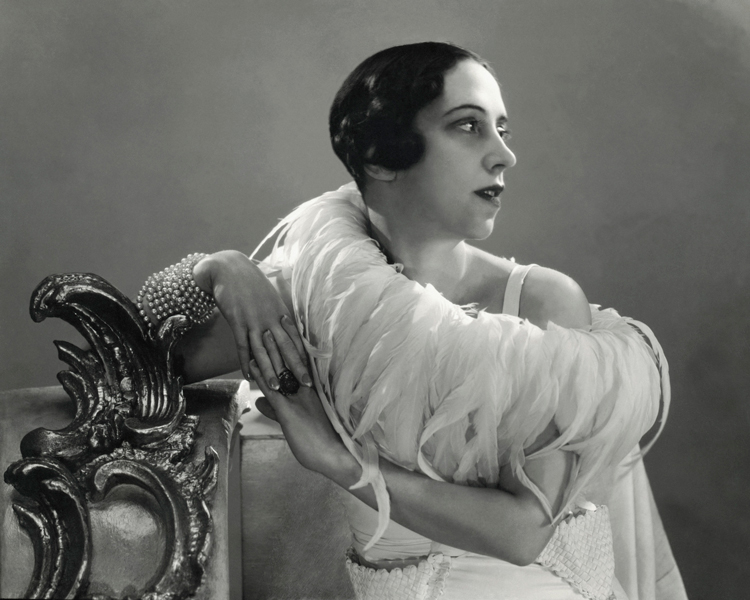 George Hoyningen-Huené, Portrait of Elsa Schiaparelli, 1932, Hoyningen-Huené/Vogue/Condé Nast.
Elsa Schiaparelli was known as an avant-garde couturier in the 20th century. Although Schiaparelli never received any formal training in fashion, her designs were critically acclaimed for their ingenuity, conceptual strength, and amusing qualities. This set Elsa Schiaparelli apart from her arch-rival, Coco Chanel. Schiaparelli carved a niche for herself on the strength of her esteemed collaborations with artists such as Salvador Dalí, Jean Cocteau, and Alberto Giacometti.
With her strong impulsive instincts, Schiaparelli created bold and timeless designs in haute couture, sportswear, fragrance, and art. The Surrealist movement, which took off in the post-World War I period, greatly impacted Schiaparelli's designs.
Schiaparelli introduced a knitwear line in 1927 with a double-layered stitch created by Armenian refugees. It featured Surrealist trompe-l'œil images. The sports collection also included bathing suits, ski-wear, and linen dresses. Schiaparelli introduced evening wear in 1931, incorporating Robert Perrier's luxury silks. The couturier acquired the Louise Chéruit salon at 21 Place Vendôme and rechristened it the 'Schiap Shop.'
In 1934, Time magazine placed her rival Coco Chanel in the second position and described Schiaparelli as one of "a handful of houses now at or near the peak of their power as arbiters of the ultra-modern haute couture." In 1937, Schiaparelli introduced her fragrance, Shocking, in a bottle. Its shape was inspired by American actress Mae West's notably curvaceous silhouette. West was also among Schiaparelli's influential clients.
Rebel from the word go
Born at the Palazzo Corsini in Rome, Schiaparelli grew up in a culturally rich and erudite family. While her background ignited her creative imagination, she always wanted to look beyond the cloistered environs of her home. Whether it was writing poems about ancient Greece or fleeing to London to avoid an arranged marriage, Schiaparelli was a rebel from the start.
First of sorts
At a time when it was quite path-breaking for a woman to assert her creative and artistic freedom, Schiaparelli filed a patent for her design of a single-piece swimsuit with an integrated bra. She designed "hard chic" styles— strong-shouldered coats and suits— decades before power dressing became a buzzword in women's fashion. The couturier was also the first to collaborate with artist Elsa Triolet to create a white porcelain "Aspirin" necklace.
Schiaparelli's history contains many surprises. During Prohibition in the United States, for example, Schiaparelli's "speakeasy dresses" actually provided hidden pockets to carry alcohol flasks.
L'Officiel De La Mode, October 1937. Caption reads: the very original hat represents a black felt shoe with red heel. Photograph by George Saad.
Schiaparelli's stiletto shoe hat made Salvador Dalí's art delightfully wearable
If there was one fashion designer who could make Salvador Dalí's art wearable, it was none other than Elsa Schiaparelli. In 1937, she created a hat in association with Salvador Dalí. It was shaped like a high stiletto shoe that balanced on the wearer's head. A 1933 photograph clicked by Dalí's wife inspired this creation. The photo shows Dalí with a woman's hat placed over his head and a shoe over his shoulder. The hat, which belonged to the artist's wife, is now part of a museum collection.
Zsa Zsa Gabor in Moulin Rouge (1952); costume design by Elsa Schiaparelli
Hot pink – the hallmark hue of Schiaparelli designs
Long before fuchsia and millennial pink became the style mantra in the fashion world, Schiaparelli's signature hot pink was the color of the season. Known as the Shocking Pink, the bright hue became the hallmark of Elsa Schiaparelli's designs. The color added a distinct edge to her iconoclastic style. Schiaparelli was also the costume designer for the 1952 film production of Moulin Rouge in Paris. She designed the pink dress for Zsa Zsa Gabor, who portrayed the character of Jane Avril. Schiaparelli's signature hot pink shade and her sense of detailing made her designs perfect for Gabor's role as a nightclub singer.
The famous hand-knit pullover
Schiaparelli's hand-knit pullover with a trompe-l'œil motif was labeled a masterpiece by Vogue. Its black and white shades made it an instant favorite with celebrities. Later, the pullover also featured bow, skeleton, and abstract tortoise motifs. Schiaparelli's knitwear collections included swimsuits, beach pajamas, ski suits, evening dresses, and tweed sportswear ensembles. Schiaparelli's eclectic mix of haute couture and sportswear earned her several licensing agreements from American textile manufacturers.
Elsa Schiaparelli, jupe-culottes worn by Lilí Álvarez at Wimbledon, Pour le Sport collection, 1931. Maison Schiaparelli.
"Split Skirt" – long before shorts and culottes appeared on the block
World War I bolstered the trend of practical fashion with the need to adjust to new social norms. The elite lifestyle of people in general and women, in particular, changed when many started trade and charitable work. Functionality was now the need of the hour. With women playing sports and driving more frequently than before, sportswear and tennis skirts, sports sweaters, and beach pajamas came to the fore.
Specialized equipment was also introduced to manufacture clothing around this time. The new technology enabled the creation of synthetic fabric, a departure from woolens. Only fashion designers such as Schiaparelli, who had great foresight, were willing to accept and celebrate this change. The synthetic fabric gave her creative freedom to explore new possibilities. She came up with outlandish and bold styles that made women look chic and sophisticated. The split or divided skirt was among her creations. This garment predated shorts and inspired future sportswear.
Making a style statement with zippers
Elsa Schiaparelli was the first to make a style statement with zippers. Until then, most designers assigned only a functional value to the "fasteners" and concealed them. Schiaparelli was all about flaunting her zippers. She came up with oversized decorative zippers for evening dresses and made them an element of visual interest. Visible zippers in outfits are common and accepted today. Schiaparelli helped popularize this style at a time when it was unseen and unheard.
The uncomplicated styling of the wrap dress
The first to design the wrap dress, Schiaparelli took inspiration from aprons to suit varied body types. Introduced in 1930, the design included armholes on each side with wrap and tie-up details at the waistline. The wrap dress was perceived as beachwear and created in four colors. Since it was an uncomplicated design, several imitations of the apron wrap were manufactured by others. Decades later, designer Diane von Fürstenberg recreated this style in the 1970s.
The Lobster Dress by Elsa Schiaparelli, 1937
Witty and flamboyant bling designs
Schiaparelli took to new raw materials in the market with unmatched enthusiasm. She worked with synthetic fabrics such as Lurex (a metallic yarn) and rayon, which gave her the flexibility to explore new ideas. One of the best examples is the plastic-metal insect necklace from her 1938 Pagan collection. From the fur metal bangles designed by Meret Oppenheim to the Lobster Dress worn by Wallis Simpson for Vogue, Schiaparelli often collaborated with artists to craft innovative garments and accessories.
Elsa Schiaparelli was indeed a style maverick who joined elegance and outlandish sensibilities with ingenuity and imagination. It's a combination very few fashion designers maintain with such success.