It's official. Television commercials for The Grinch (the new animated movie and the Broadway musical) are circulating during prime time, flights are being delayed, Michael Bublé is back to serenading everyone and their mother, and Black Friday has just tripped the gift buying alarm.
If you're one of the many people just realizing that December is only a few days away, don't panic – we tailored this gift guide just for you. Here are 15 wearable wonders coming up for auction starting at or below $500.
1. Louis Vuitton, Monogram Canvas Tote Bag; Starting at $100
2. Hermes Bamboo/Rouge Epsom Leather and Gold H Belt; Starting at $75
3. A Yellow Gold 'Circe' Ring, Georges Braque for Heber de Lowenfeld,1960s; Starting at $500
4. A Pair of Gucci Tortoiseshell Sunglasses; Starting at $40
5. Hermés "Brise De Charme" Silk Scarf; Starting at $125
6. OMEGA Constellation Ref. 168.004 in Steel and Gold Plate; Starting at $500
7. A Chanel White Caviar Quilted Melrose Cabas Wood Handle Bag; Starting at $375
8. S.T. Dupont Picasso: Faune Limited Edition Line 1 Lacquered Pocket Lighter; Starting at $250
9. A Versace Black Silk Semi-Sheer Scarf; Starting at $50
10. Victorian Enameled Silver Cuff Bracelet; Starting at $250
11. A Bottega Veneta Bronze Intrecciato Shoulder Bag; Starting at $100
12. An Hermès Black Enamel 65mm Bangle; Starting at $125
13. A Kathrine Baumann Gold Crystal Bear Minaudiere; Starting at $75
14. Carlo Giuliano, Renaissance Revival Gold and Enamel Pendant; Starting at $400
15. A Georgian Yellow Gold Lover's Eye Pendant/Brooch; Starting at $350
___________________________________________________________________
Don't have a Bidsquare account? Sign up here!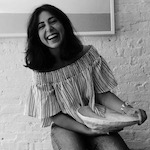 Jessica Helen Weinberg | Senior Content Editor at Bidsquare
Be in the know about upcoming auctions and exciting post-sale results by following us on Facebook and Instagram.