Automaton – 1. (n) a machine that performs a function according to a predetermined set of coded instructions, especially one capable of a range of programmed responses to different circumstances.
2. (n) moving mechanical device made in imitation of a human being.
A seemingly modern invention, automatons have in fact been around since the time of the ancient Greeks. These first devices served a variety of functions from the practical, such as alarm clocks and automatic doors, to the purely entertaining, as the case with "The Automatic Servant of Philo" - a humanoid automaton that would pour wine into any glass placed in its "hand".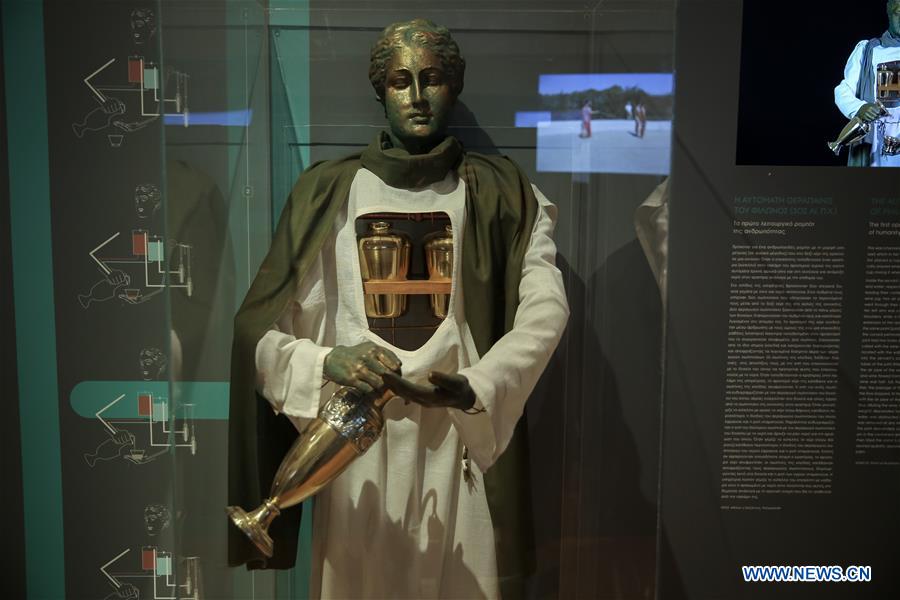 "The Automatic Servant of Philo," widely considered to be the first 'robot' – currently on display at the Museum of Ancient Greek Technology in Athens, Greece
Overtime, these relatively simple mechanisms evolved, in terms of both utility and function, as the creation and utilization of mechanically stored energy (pioneered by early clock makers) became more widespread. Trading in cumbersome steam chambers and water wheels in favor of springs and cogs, the inventive minds and tinkerers of the Victorian Era were able to create ever smaller and more intricately functioning automata.
Coming to Rago's December 1st Curiouser and Curiouser sale are several automatons from 19th and early 20th century, each more whimsical than the next.
Among these is an exceptionally rare, circa 1893 Parisian built automaton, Clown Packing a Crate. It depicts two figures: a delivery man struggling to escape a wooden crate, and a clown struggling to keep him in. Presented on a velvet-lined base that conceals the mechanism, the face painted clown stands poised above a wooden shipping crate, hammer in hand. The clown sports a blue and white jester's hat and is dressed in a trimmed red silk tailcoat, black bow tie, lace ruff, white waistcoat, elegantly trimmed royal blue pants and brown leather shoes. On the top of the crate is a large box of nails, and the clown is in the process of hammering the crate shut.
Lot 1076, Rare French 19th C. Musical Automaton, Clown Packing a Crate; Estimate $4,000 - $6,000
Upon activation of the mechanism, a spirited tune issues from the musical movement within while the clown nods his head and leans forward to hammer the lid shut. Suddenly, the lid pops open revealing a delivery man dressed in a brown and yellow-striped uniform who is seen to be struggling to lift the lid and escape, only to have the clown slam the lid back down upon him and continue his hammering. From a hole in the bottom of the crate, a rat scurries in and out as the two men struggle.
Lot 1080, French 19th C. Musical Automaton; Estimate $1,500 - $2,500
Also included in the sale is a Parisian made automaton, known as either "The Schoolboy Dunce" or "Jean Qui Pleure," designed by Gustave Vichy, circa 1895. This piece presents a boy with a pained expression sitting on a school bench. The figure originally held a schoolbook in its hands and sported donkey ears on its cap; both elements have been lost to time. The piece is a reference to the popular French tale of 'Jean qui pleure et jean quit rit' (John who cries and John who laughs). Upon activation, a song plays as the figure lowers its head and slowly pans its gaze back and forth across the (now absent) schoolbook. Its left leg, extended away from the bench upon which it sits, swings back and forth as if to signify the child's restlessness.
Other automatons on offer on December 1st include:
Lot 1079, 19th C. Mechanical Music Box; Estimate $1,500 - $1,800
A music box (non-working) featuring a wax figure of the infant Moses in his basket on base under a glass cloche, ca. 1860, ex. Collection of Bernard Boutet de Monvel (1881-1949)
Lot 1082, Store Display Automaton; Estimate $4,000 - $6,000
A rare electric automata for promotional use in a store window featuring two old women (each approximately 36" high) finger-wagging in silent conversation, designed by the Character Display Company, Chicago, IL, ca. 1920s.
Lot 1078, French Musical Automaton; Estimate $4,000 - $5,000
A Maneval style automaton of a child playing a violin, France, early 20th c.
Lot 1077, French Automaton; Estimate $4,000 - $5,000
Two clown figures with four animations, France, mid-20th c.
_________________________________________________
Click here to browse the full Rago Auctions, Curiouser and Curiouser sale coming up on December 1st.
Don't have a Bidsquare account? Sign up here!
Be in the know about upcoming auctions and exciting post-sale results by following us on Facebook and Instagram.