We know you don't need reminding...but the holidays are right around the corner, and before we start talking gifts, let's discuss seating arrangements. Whether your adding extra chairs around the dinner table or improving post-meal relaxation for your guests, there comes a time when updating the chairs in one's home seems necessary. I don't want to get stuck with the folding chairs that's been gradually losing boards and nails every year and neither should you!
To help you envision the different styles of thrones that you and your relatives could be sitting on, we sifted through our upcoming November catalogs to make it easier.
Lot 404, Charles & Ray Eames for Herman Miller, "LCW" chair, aniline-dyed birch, USA, 1945; Buy Now for $896.00
If you're looking for instant satisfaction, mosey over to Rago's Passed Lots: Tribal Art, Remix, The Collection of Martin Cohen, Buy Now sale available from October 24th - November 7th. You will be met with a mix of items ranging from African Art to Mid-Century Modern steals such as this vintage, maroon tinted "LCW" chair from Charles & Ray Eames for Herman Miller. This classic design is roomier than it looks and would be an ideal place to perch with your first round of hor d'oeuvres. Remember, in a 'Buy Now' sale, there is no bidding necessary, just purchase and enjoy!
Lot 1197b, Six Eames molded fiberglass chairs, Late 20th Century; Estimate $300 - $500
If you plan on hosting for your family and then some, don't bother tasking your kids to scavenge hunt around the house for ottomans and benches to use. Instead, keep a tidy stack of durable chairs on hand like these yellow fiberglass designs from Eames. Plus, a uniform group like this could easily move from the dinner table to the living room for evening festivities.
Browse similar designs in Alex Cooper's Fine and Decorative Arts sale coming up on November 10th.
Lot 1138, Associated pair Gothic Revival side chairs; Estimate $200 - $300
We weren't exaggerating when we mentioned sitting on thrones this year. Take these newly upholstered, gothic revival bad boy's into consideration. Likely from the 19th/20th century, each chair has a carved and pierced walnut frame - one even has a set of front wheels for added mobility. Now, picture your loved ones when they see these quirky options up for grabs! Browse similar designs in Millea Bros, Ltd's upcoming 3-Day sale from November 15th-17th.
Lot 81, Eero Saarinen, Knoll, Grasshopper lounge chair, c. 1948; Estimate $800 - $1,200
Coming up in Leslie Hindman Auctioneers, Modern Design sale on November 14th is an assemblage of makes from designers such as Eero Saarinen, Mario Bellini, Tito Agnoli, Charles and Ray Eames, Harry Bertoia and many others. This pumpkin colored 'Grasshopper' lounge from Eero Saarinen is a great vintage find as this is the first lounge chair that he designed for Knoll in 1946.
Lot 2920, New England Painted Rocking Chair, 19th Century; Estimate $80 - $120
Let's not forget about our elders or newborns this holiday. For those that require a little bit more comfort, choose a rocking chair! Several of these Americana favorites are coming up in Pook & Pook, Inc's November sales.
Lot 1324, Pair of Mahogany Danish Adjustable Armchairs, c.1960; Estimate $400 - $600
Not only do these Danish armchairs have friendly, autumnal cushions, they are also adjustable! Preview these groovy chairs along with other antique styles in Kamelot Auction House's Marketplace: Antique Furniture, Lighting, Rugs, Decorative Arts sale coming up on November 13th.
We got you started, now go on and chair the love this season!
With new auctions added daily, we're always ripe for the pickin! Be sure to check into 'Bidsquare Picks' each week for a speedy look at our upcoming selections!
Don't have a Bidsquare account? Sign up here!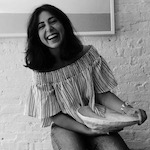 Jessica Helen Weinberg | Senior Content Editor at Bidsquare
Be in the know about upcoming auctions and exciting post-sale results by following us on Facebook and Instagram.