Having a concrete idea of ones likes and dislikes can seem the most practical approach when seeking out new home accessories and furnishings. Its never been easier to filter, navigate and click straight toward your taste - sometimes the internet even appears to find more options for you (a creepy yet convenient happenstance). However, what if your usual patterns are causing you to overlook styles you didn't yet know you'd love?
In this week's Bidsquare Picks, we urge you to disrupt your search data and crisscross around our upcoming catalogs. When browsing for antiques and vintage designs, you don't have to feel held down to one style, embrace the unplanned allure of online auctions!
Lot 2280, Pair of Regency Painted and Parcel Gilt Armchairs, England, 1815; Estimate $2,000 - $4,000
To make it even easier on you, the challenge to consider all time periods of design can be done in one specialty catalog, Rago's upcoming Remix: Contemporary + Classic sale on April 7th. Given the broad selection and appreciation of styles ranging from Regency and Victorian to Modern, Rago does the eclectic digging for you!
Lot 166, Lancaster, Pennsylvania painted pine dower chest, Late 18th century; Estimate $2,000 - $4,000
There's an abundance of astonishing Americana items up for grabs this month in Pook & Pook Inc's, The Ruth Bryson Collection, Quarryville, PA sale on April 14th! Pairing rustic, hand painted pieces, such as this dower chest, with modern furnishings can bring unexpected, antique warmth to any room. Click here to browse all upcoming chests.
Lot 67, Edward Wormley for Dunbar, Janus Sofa, American, 1960s; Estimate $2,000 - $3,000
All it takes is some far-out upholstery to rattle the bones of an old sofa. This angled selection by Edward Wormley for Dunbar is one of many featured selections of the mid-century modern kind in Cowan's Auctions, Modern & Contemporary Art + Design sale on April 20th. Click here to see all available sofas coming up on Bidsquare.
Lot 946, A Chippendale Mahogany Chest on Chest, Massachusetts, c.1770; Estimate $100,000 - $200,000
Of all the names associated with antique furniture, Chippendale is the most well known. Luckily, if you fancy the sturdy and refined aesthetic of Chippendale but need to stick to a conservative budget, Bidsquare has a sliding scale of price ranges. Click here to consider all of our Chippendale choices.
Lot 219, A Pair of Large Regence Style Giltwood Pier Mirrors, 19th century; Estimate $8,000 - $12,000
Don't shy away from giltwood! We want your 'Watchlist' to be a reflection of your individuality (pun intended) and that includes adding a little metallic to your palette. This selection from Leslie Hindman Auctioneers, Fine Furniture and Decorative Arts, Day 1 on April 18th would rouse royal tones to any needful nook. Click here to browse all mirrors coming up this month.
Lot 2685, Raymond Loewy for Compagnie D'Estetique, Industrielle Cabinet, France, 1970s; Estimate $2,000 - $3,000
Didn't realize how much you adored molded plastics? Cabinets like this acrylic and laminate cabinet by Raymond Lowey are frequently found when you browse our 20th Century Design category.
With new auctions added daily, we're always ripe for the pickin! Be sure to check into 'Bidsquare Picks' each week for a speedy look at our upcoming selections!
Don't have a Bidsquare account? Sign up here!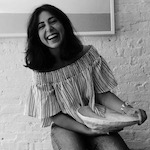 Jessica Helen Weinberg | Senior Content Editor at Bidsquare
Be in the know about upcoming auctions and exciting post-sale results by following us on Facebook and Instagram.