Modernity is the mood of the month. Especially, with Wright, a premier auction house in modern and contemporary design hosting their first Bidsquare sale, Art + Design on January 18th.
As the undisputed leader in the spectrum of 20th and 21st-century design, Wright brings an exciting arrangement to the platform representing heavy-hitting artists such as; Kehinde Wiley, Sol LeWitt, Damien Hirst, Louise Bourgeois as well as design titans Pierre Jeanneret, Ettore Sottsass, and Vladimir Kagan amongst many others.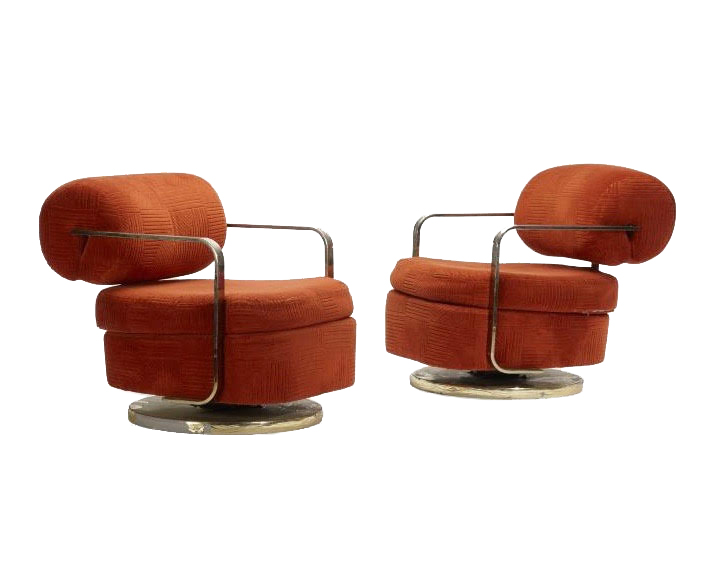 Lot 275, Milo Baughman, lounge chairs, pair, USA, c. 1965; Estimate $2,000 - $3,000
Amongst those "others" is none other than the distinctive, American furniture designer, Milo Baughman. A principal part of Baughmans design philosophy was that furniture should be made to last and these burnt orange lounge chairs (lot 275) certainly fulfill that desire both functionally and stylistically. Click here to view more Milo Baughman selections coming up at Wright.
Lot 133, Frank Stella, Shards V, Offset lithograph and screenprint, 1982; Estimate $5,000 - $7,000
Flexing a powerful abstract muscle in postwar American art is a beautifully balanced composition by the iconic Frank Stella. A colorful example of Stellas departure from his "Black Paintings," made from 1958-1960, this collage from 1982 represents Stellas boundless, experimental spirit which continues to evolve to this day. Click here to see additional works by Frank Stella from this upcoming catalog.
Lot 132, Frank Gehry, Easy Edges chair and ottoman, Corrugated cardboard and masonite, Canada/USA, 1972; Estimate $5,000 - $7,000
The man who transformed cardboard into elegance, Frank Gehry, has remained one of the most sought-after and internationally recognized architects and designers in the world. The Easy Edges chair (lot 132) which Ghery eventually stopped manufacturing, as to not distract from his architectural achievements, is one of our auction favorites! Preview other designs by Frank Gehry coming up at Wright.
Lot 288, Jeff Koons, Pink Bow (from the Celebration Series) Pigment print on Japanese watercolor paper, 2013; Estimate $10,000 - $15,000
Hosting this auction is a cause of celebration for us - a sentiment perfectly expressed by lot 288! Globally recognized for his flashy narratives surrounding commercial materials and contemporary public art installations, Koons neatly ties into this catalogs blend of 20th - 21st-century offerings.
Lot 271, Vladimir Kagan, Sculpted rocking chair, Kagan-Dreyfuss, Inc., USA, c. 1953; Estimate $5,000 - $7,000
After nearly sixty years of fame, the designs by the late Vladimir Kagan still retain a new and refreshing air in the cannon of American design. Known for his dramatic swoops and sensual lines, this pretty in pink, number by Kagan presents a pleasantly plush option for color-pop lovers!
Click here to view the full, Wright, Art + Design catalog coming up on January 18th.
With new auctions added daily, were always ripe for the pickin! Be sure to check into Bidsquare Picks each week for a speedy look at our upcoming selections!
Dont have a Bidsquare account? Sign up here!



Jessica Helen Weinberg | Senior Content Editor at Bidsquare
Be in the know about upcoming auctions and exciting post-sale results by following us on Facebook and Instagram.