There's a bright place where wild patterns play and textiles lay, and where horned tables, giltwood mirrors and paintings are all on display; where sunlight beams down on large metal doors, plants, lamps, pillows and sofas galore!
Located on the outskirts of Dallas, the home of Judy Aldridge is a bohemian oasis that mixes and matches (then mixes again) a lifetime's worth of antiques, thrift-store-scores and reupholstered furniture. Aldridge's radical style has become a social media phenomenon, and those who follow her on Instagram (@atlantishome) are captured by the freedom that her bold interiors emit - they are completely mad in the most magnificent way. Named after the legendary lost city of Atlantis, Judy Aldridge has certainly amassed a treasure trove all her own. Her decorative brand is built on the fabric of her passions as a lifestyle blogger and an expert picker, as well as the hand-woven textiles that she has sourced from her many travels through Guatemala and Mexico.
Image: A bedroom of Judy Aldridge's Texas home found on @atlantishome / Photo Credit @carlaypage
Widely recognized for hunting and gathering far-out finds, we were dying to see how the @atlantishome would go about blending the items found in our archive of auction catalogs. We called on Judy to answer our much-anticipated questions and select some of her favorite Bidsquare picks!
Lot 1001, Vintage Louis Vuitton Steamer Trunk, Sold by Rago
"I would love to have this classic vintage Louis Vuitton steamer trunk as a coffee table. A simple elegant piece representing rustic luxury."
BSQ: What is your most prized possession?
JA: In terms of decor items, I think probably an 80's bronze sculpture of a horse wearing a dress. She's fantastic!
Lot 219, A Pair of Large Regence Style Giltwood Pier Mirrors, Sold by Leslie Hindman Auctioneers
"I always try to purchase mirrors in pairs. You're lucky when you find one nice mirror, but finding an outstanding pair can completely make a room."
BSQ: What design rule do you love to break?
JA: I don't know if it's a rule, but I love throwing in that one great piece of whimsy to really shake a room up and let people know you're not too serious.
Lot 57, Manoucher Yektai, Positano Landscape (#3),1958, Sold by Capsule Gallery Auction
"This painting would be an extravagant dream. It's so full of life, color and movement! I've just learned about this artist, and now I'm obsessed."
BSQ: Favorite room in your house?
JD: My bedroom. It has super high vaulted ceilings, and it always makes me feel like I've escaped to somewhere special.
Lot 238, George III Mahogany Dropleaf Table, Sold by Stair
"My current obsession is drop leaf tables. They're so versatile, and the claw feet on this one make it so special!"
BSQ: When did you realize that your passions could truly blossom into a career?
JA: Well, I still feel like I dabble and play at interior design, but maybe that's because I love it so much. I really felt validated when Social Media came into be. Suddenly my work was seen by thousands of people, and I thought - "Maybe I'm onto something here."
Lot 60, Italy, Two 'Dolphin' garden sculptures, c. 1955, Sold at Quittenbaum Kunstauktionen GmbH
"I am completely in love with these giant dolphin garden sculptures. I have a love for anything to do with animals, and this pair would go perfectly into my collection!!"
BSQ: Any quick travel tips/ buying tips when purchasing textiles from Mexico/Guatemala?
JA: Take a guide if you don't speak spanish. Oaxaca is great for textiles, but I think if you really want to hit pay dirt—go to Guatemala. The markets in Antigua will not disappoint, and if you are feeling really adventurous, go to Chichicastenango. It's one of the largest markets in Central America, and a feast for the eyes!
Want to juxtapose like Judy? Hop around our upcoming auction catalogs to discover Fine Art, 20th Century Design, Furniture, Decorative Arts and more!
Judy Aldridge from Atlantis Home | www.atlantishome.com
Don't have a Bidsquare account? Sign up here!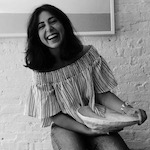 Jessica Helen Weinberg | Senior Content Editor at Bidsquare
Be in the know about upcoming auctions and exciting post-sale results by following us on Facebook and Instagram.