It was designed for individuals; artists, poets, travelers, and hopeless romantics...
When Ettore Sottsass proposed that Olivetti manufacture a red typewriter without lowercase letters or a bell, and make it as inexpensive as possible, by sealing it with a cheap plastic kiss - they objected. However, they did agree to a sensuous "red machine" that would transform a purely functional tool, stuck in the banality of the working world, into a portable piece of pop art.
Lot 953, Ettore Sottsass; Olivetti, Valentine typewriter, Italy, ca. 1969; Estimate $400-$600 at Rago
The purpose of the typewriter was companionship. Sottsass mandated that it be "used any place except in an office, so as not to remind anyone of monotonous working hours, but rather to keep amateur poets company on quiet Sundays in the country." It would be strictly marketed and designed to discourage efficient secretarial work, and would instead, inspire personal expression and mobility. Even the bright sexy hue was specifically chosen to banish any thoughts that would relate his object of desire to the white-collar hamster wheels. He called it the Valentine.
Lot 561, Ettore Sottsass "Valentine" Typewriter; Estimate $300-$500 at Palm Beach Modern Auctions
Designed by Ettore Sottsass with the Bristish designer Perry King for the Italian firm Olivetti, the Valentine typewriter made its debut in 1969. The idea that the Valentine should become an intimate device for creative types was overt. Sottsass suggested that the spools be given orange plastic lids with a circular tip at its center, much like the nipples seen in Tom Wesselmann's nude paintings. How's that for subliminal seduction?
There were several iconic print ads created around this tantalizing technology that are still celebrated today, like a Milton Glaser-designed poster of a dog sitting patiently on the beach, his owner napping, the Valentine placed in nature like a rugged rock waiting for its keys to be pressed. Olivetti brilliantly campaigned for the Valentine to be seen as a playful, easy to use device. It was lightweight (made of ABS plastic) and youthful in its wholehearted mission to appeal to a mass audience of freethinkers.
Lot 561, Ettore Sottsass "Valentine" Typewriter; Estimate $300-$500 at Palm Beach Modern Auctions
Unfortunately, that audience never came. Popular demand was nowhere to be found, mainly because the item was still too expensive. Despite its shortcomings in the mid-century, many technology buffs accredit the Valentine as a precursor to the transparent, candy-colored iBook that Steve Jobs released unto the 1990s.
Looking back on the project, the famed Italian designer, who went on to become the father of the Memphis furniture movement, continued to feel a pang of disappointment in the Valentine. He later stated, "[It was] too obvious, a bit like a girl wearing a very short skirt and too much make-up." Hey - it's okay Ettore, we all know love can make you do crazy things.
Lot 561, Ettore Sottsass "Valentine" Typewriter; Estimate $300-$500 at Palm Beach Modern Auctions
Although, the designer's romance with the Valentine seemed to have ended badly, it remains a fascinating, loveable gadget that has earned a prominent place in scope of modern design. It is owned by every major museum with a design component such as The Met and The MoMA in New York City and was recently displayed in The Met Brueuer's 'Ettore Sottsass: Design Radical' (July 21-October 8 2017) exhibition which included over six decades worth of Sottsass's work.
Interested in writing love letters and poetic prose on a classic piece of modern machinery? Bidsquare has three Valentine typerwriters coming up at auction this February! Click here to view them all.
Don't have a Bidsquare account? Sign up here!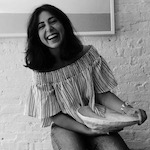 Jessica Helen Weinberg | Senior Content Editor at Bidsquare
Be in the know about upcoming auctions and exciting post-sale results by following us on Facebook and Instagram.