Buying antiques online can open up all kinds of new options for serious collectors and casual weekend pickers alike. The eclectic fun that online auctions have to offer is an attractive way to shop for all interest types - and it's catching on. Last year, we interviewed Katherine, a new online art collector who bid on and won a Frank Stella print. She described how engaging it was for her to discover artworks she liked and how easy it was to place live bids in an online auction on Bidsquare. Even as a new collector, she identified that hunting for and winning the item she loved was one of the main reasons why online auctions attract new art collectors. Whether bargain hunting for a new home or seeking out specialty items you can't find in local shops, online auctions are rife with a range of unpredictable possibilities and hidden gems.
Now, more than ever, online auctions are increasing in popularity as people decide to step outside the box of mass produced styles. With recent supply chain issues kinking up shipping timelines and swelling costs, getting savvy with online auctions is an easy way to shop a bounty of upcycled options and (frankly) more interesting alternatives to newly manufactured goods - plus, there's a higher probably that you'll be supporting small businesses in the process. On any given day, online auction catalogs are offering hundreds of items that can help spruce up interiors and refresh personal collections. Learning how to navigate them and make safe online purchases is key for those beginning to join the hunt for unique items. Online auctions, like those hosted on Bidsquare, give people the freedom to window-shop for antiques and vintage finds from wherever they are, whenever they want.
So, what's the online auction appeal all about? We're giving you the top reasons why old is new and new is old.
1. A Stylish Investment
Now, when we say investment, we're talking about buying pieces that speak to your personal style. It just so happens that when you buy vintage or antique, there's always potential for future collectible value. The online auction market is just like walking into an antique or vintage shop - you may find a $25.00 item, say a pair of brass candlesticks, with a chance of the material or maker's mark increasing in value later. Take vintage Pyrex for instance - according to a recent Martha Stewart guide, retro kitchenware is having a moment, "Some patterned collections [Pyrex], like the 1959 Lucky in Love heart and four-leaf clover design, have been valued as high as $4,000 for one bowl." While we realize that most flea market Pyrex dishes, custard cups and mixing bowls won't turn a profit, the point is, online auction catalogs offer items that have inherent and nostalgic historical value, even if they aren't trending - yet! When you buy at auction, there's always an added element of excitement knowing that what you choose today might surprise you tomorrow.
Common Bond Design, 1st Place Residence. Brooklyn, NY. Photography by Kyle Knodel for Architectural Digest | Featuring a Scandinavian, rosewood and teak roll-top desk won at auction on Bidsquare.com for $123.00
2. Shopping Sustainably
There are no small parts when it comes to quelling the impact of climate change. Similar to fast-fashion, fast-furniture is just as problematic. From the harmful chemicals used to create finishes and adhesives to non-biodegradable fillings, a very small amount of furniture manufacturers utilize recycled materials and, over the decades, furniture waste has only accelerated. According to a recent study from 2020, the Environmental Protection Agency found that Americans throw away more than 12 million tons of furniture and decor each year. The levels of furniture waste such as metals, wood, glass, fabric, leather, and foam adds up to around 9 million tons of landfill debris. Although modern life can demand cheap options that coincide with millennial sensibilities, such as frequent moves and rental accommodations, it might be time to consider dialing back on the throw-away purchases you're willing to make, especially if you live in a more permanent situation. Online auctions from higher-end houses showcase the resilience of antique and vintage furniture. If a reputable dealer, like those on Bidsquare's marketplace, are including an item in their catalog, it means they stand by its value. When reading any description of an auction item, be sure to check the condition report and if that's not readily available, we suggest that interested buyers reach out to the auction house directly and ask for more information. Even if the worn in piece you're interested in needs a little TLC, nothing sings quite like an upcycled chair, ottoman or table when compared to the bland basics that you can buy in multiples.
3. You Live [Auction] and You Learn
Bidsquare offers different auction formats depending on which event type best suits the auction house, dealer or institution hosting the sale - included in these formats are 'Buy Now' events which, as you may have guessed, doesn't require that you bid on and win an item. This is a great option if you see something that you immediately want to snatch right out of the catalog. However, the heart of the auction market remains with the live auction event - something we highly recommend trying. Your fluttering heart will soon be addicted to the thrill of a live bidding competition and it's worth it! If you're able to bid live online, you can end up winning your beloved item for just one or two increments above your original bid, should there be any live competition. Luckily, even if you're unable to participate on the day of the live auction, Bidsquare enables you to preview the material for weeks ahead of time and place absentee bids which will automatically bid on your behalf. Even if you don't end up winning an item, seeing how much it went for helps build a better understanding for the value of pieces that interest you. Perhaps, your live auction battle scars will prove helpful when bidding live again or when shopping at in-person antique shops.
Ready to get bidding on fabulous lamps, chairs and who-knows-what-else?
Know Your Budget
Auction catalogs usually contain hundreds of lots and offer an abundance of style options from different time periods. We recommend shopping high and low - mix it up! Take note of estimates and starting prices and see where your budget falls in the scheme of things. If you have to increase your absentee bids or bid higher during the live auction, it's better to be prepared and know how high you feel comfortable going. Even if you end up getting outbid, don't give up! You've learned the ropes and you'll know a good starting bid and estimate range when you see it next time.
If you're totally new to online auctions, you'll want to check the buyer's premium which can range from 10-30% and is tacked onto the final hammer price. Each auction house is different so be sure to read the auction description and calculate your total including shipping if you're unable retrieve the item locally. Sometimes, auction houses actually lift the buyer's premium fee which is a major bonus. Pay special attention to any promotions like 'no buyer's premium' or 'no reserve' banners - which means the highest price, no matter how low, wins the day.
A Dryad cane chaise lounge sold at auction for $390
Keep a Favorites List
Bookmarking the pieces that interest you while you browse is a huge time-saver. Tapping the 'Add to Favorite' heart icon located next to each Bidsquare item is a great way to save and keep a log of items that interest you. You can always go back into your profile to place bids later or follow their bidding activity. Even if you don't end up bidding on your favorite items, it's another great way to learn more about the value of the items you're after.
The More You Know, the Better
Nobody wants to place the winning bid on a chaise lounge just to realize it was made for a dog! Take out that tape measure and get a handle on the dimensions before you place your bids.
Along with basic details and images, auction house's typically include an overview regarding the condition of an item, formally known in the industry as a condition report. A condition report will point out any "as is" situations or areas that have known snags, scratches or restorative needs. If you want to learn even more about a lot, there are several ways to reach the auction house directly. On Bidsquare, you can click the 'Inquire Now' icon which will automatically create a pop-up citing the exact lot of your interest so you can send your questions straight to the specialist. If you'd like to speak with a person over the phone, Bidsquare provides the contact information, including the phone number and location of the seller you're looking to do business with.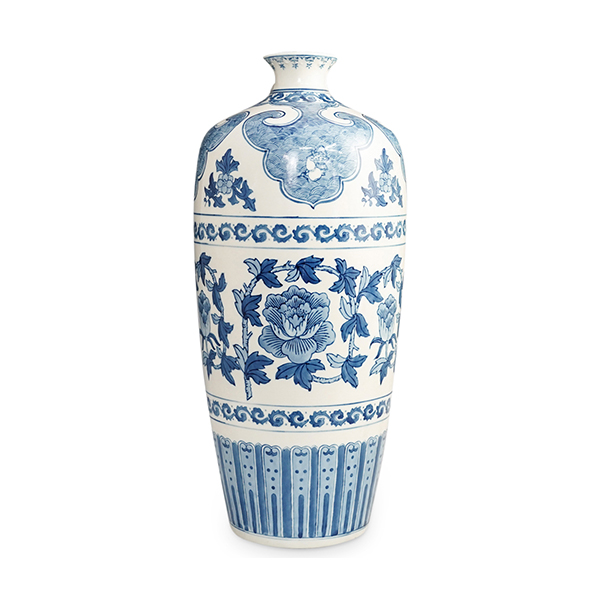 A Large Chinese Blue and White Porcelain Vase sold at auction for $20
Auctions Near You
Search for upcoming auctions near you by using Bidsquare's 'Auctions Near Me' interactive map. Simply enter your city, state or zip code and we'll show you all of the upcoming live and online auctions near you. This is a great way to connect with the businesses in your area. Once you view the online catalog, you might want to go preview the items in person. Most auction houses preview their sales for several weeks before the day of the live sale. You can always place your bids online later but bidding in local auctions will also help you save on shipping if you're able to pick the pieces up yourself.
A Federal Tiger Maple Slant Front Desk sold at auction for $281
Use It As a Resource
Have you ever turned over a simple looking vase to find a shocking sticker price? Knowing which items have collectors' value and why is an important aspect of learning how to purchase goods in the secondary market. Getting familiar with searching and discovering auction inventory really comes in handy when you're out in the world at flea markets, antique warehouses, tag sales, etc. Bidsquare keeps a record of every past auction that's ever been hosted on the platform, making it a valuable resource should you need to research or compare the average price of an item you've been looking to purchase. Plus, once you start honing in on your style, you'll be satisfied when you recognize similar pieces in shop windows and vintage displays.
From supporting local businesses to shopping in an environmentally conscious way, there are so many reasons to get savvy with the bounty and variety that online auctions have to offer. You don't even have to know what you're looking for, just scroll and let the interesting items find you!
The new Bidsquare mobile app is available to download for free in the Apple Store and Google Play. Download it today to bid on the best fine art and antiques.
_______________________________
With new auctions added daily, we're always ripe for the picking. Be sure to check Bidsquare's monthly finds for little bits of wonderful from every catalog.
Don't have a Bidsquare account? Sign up here!
Be in the know about upcoming auctions and exciting post-sale results by following us on Facebook and Instagram.
_______________________________
Jessica Helen Weinberg | Senior Content Editor at Bidsquare
_______________________________
Resources:
A Guide to Collecting Vintage Pyrex - Plus, How Much It's Worth - By Roxanna Coldiron | marthastewart.com
Fast Furniture Is an Enviornmental Fiasco | newrepublic.com