Clean, bright, practical - these are the cardinal adjectives that guide interior designer Alex Kalita, the founder of Common Bond Design, a New York City based design firm that tackles interiors and budgets large and small.
Kalitas commitment to a minimalist philosophy and the belief that any home can be enriched by accessible and affordable goods led her straight to us. In a recent Bidsquare auction offered by Skinner, Kalita scored a Scandinavian, rosewood and teak roll-top desk from the mid-20th century for just $123.00! We wanted to hear all about it...
Common Bond Design, 1st Place Residence. Brooklyn, NY. Photography by Kyle Knodel for Architectural Digest.
BSQ: How did you first discover Bidsquare?
AK: I was in Bucks County, PA this summer to see a show at the Bucks County Playhouse and visit the Nakashima compound (two excursions I recommend!). Happily, my trip coincided with the unreserved auctions of mid-century modern furniture and décor at Rago, just across the Delaware River in Lambertville, NJ. Their selection was phenomenal and pieces were going fast, but the place was almost empty. So I asked around about how so many people were bidding remotely- it was through Bidsquare!
Lot 1685, Scandinavian Design Roll-top Desk Rosewood and teak, Scandinavia, Mid-20th century; Sold for $123
BSQ: Any tips for new collectors or designers using Bidsquare?
AK: I suggest identifying a budget and a piece you'd like to acquire before scrolling through the selection. In addition to figuring out what you need or want, understand where you're willing to compromise. For example, I knew I wanted a roll-top secretary with mid-century lines that would fit between my windows. I hoped for walnut, but was open to teak or rosewood furniture (I ended up with a rosewood-teak combo!). And when you're considering budget, don't forget to factor in the cost of shipping, especially for larger pieces from auction houses on the other side of the country.
Then again, I could see someone suggesting the exact opposite as a recipe for success - go into with no idea of what you want, act on instinct and you're likely to score a good deal on something you love on a gut level. That's probably an equally good strategy for the right person! I'm just too cautious – and too paralyzed by fear of buyer's remorse – for that approach.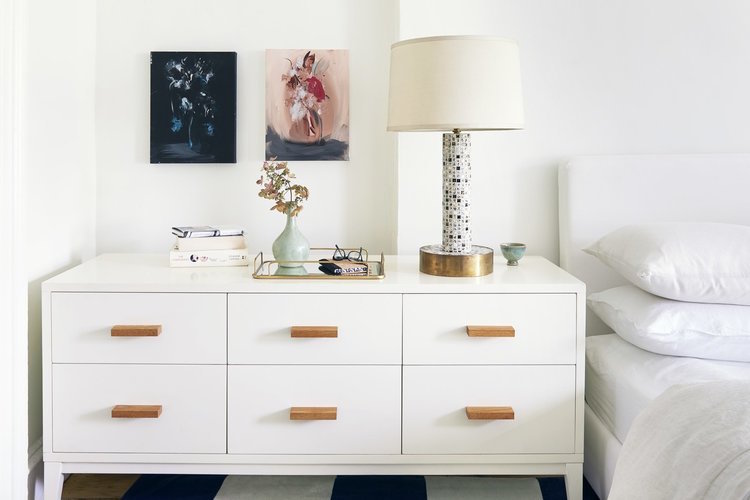 Common Bond Design, 1st Place Residence. Brooklyn, NY. Photography by Kyle Knodel for Architectural Digest.
BSQ: Favorite thing about Bidsquare?
AK: I've found the bidding system (and alert system when you're outbid) to be very user-friendly. As a designer though, I have to say that the quality of the presentation is my favorite component. It can be tough to sell clients on second-hand pieces that need some rehabilitation, but when they're presented on a well-designed website with high quality photos against a crisp white backdrop, it shortens the distance that the clients' imagination needs to travel to imagine the piece in their home.
BSQ: Favorite timed period (era) of design?
AK: The 1950s and 60s!
Common Bond Design, 1st Place Residence. Brooklyn, NY.
BSQ: What is your most prized possession?
AK: My most prized design possession is probably one of the U.S. Navy items I inherited from my grandfather and great-uncle's time fighting in WW II. I have a standard issue wool blanket, and an Emeco chair with a leather seat. Please don't make me choose between them! I use both every day.
BSQ: Whats your dream project?
AK: My dream project is a modern fly fishing lodge. My dad's been a fly fisherman for a while, but I just got into it. Our newly shared hobby has the potential to open up so many family vacation destinations! The problem is my mom (my partner in Common Bond Design) and I are finicky about interiors when we travel. A big part of the fun for us is experiencing a knock-out interior, and too many lodges have that classic hunting and fishing lodge vibe. I'm sure it reads to a lot of people as cozy and rustic, but to me it tends to feel dark and heavy. I have all these sketches filed away for a fishing lodge that's clean and bright and minimal, yet still reflects its environment, and pays homage to traditional materials associated with fishing.
Common Bond Design, 1st Place Residence. Brooklyn, NY. Portrait of Alex Kalita for Get Clever.
BSQ: How would you describe your style?
AK: My style is clean-lined and tends to be restrained. But I believe in contrast. Whether the contrast comes from juxtaposing unalike materials, or pieces from radically different eras, or even just elements like color and scale, contrast is key to a dynamic interior for me.
BSQ: What design rule do you love to break?
AK: That's a hard question, because I think that design rules have loosened their hold on the community in a good way. These days, you see even mega high-end designers mixing collectors' antiques with Ikea pieces, and a laissez-faire aesthetic approach is prevailing.
I guess in my capacity as a design professional, I like to disabuse people of the idea that their interior needs to be designed and then just exist in a static state of completeness ever after. Does that count as a rule? I see my clients struggle with a lot of pressure to have a perfectly polished space, even as their households' needs are changing. I love to design spaces that might just be a step on the roadmap to your eventual dream space; spaces that suit your functional needs, meet your budget and feel aesthetically "right" to you right now.
My own apartment is certainly not in any kind of state of permanence! I'm happy living here, but it's also evolving.
See more designs by Alex Kalita by visiting Common Bond Design.com or by following them on Instagram and Facebook.
Looking to slowly evolve your space with rare and authentic items like Common Bond Designs? Browse Bidsquares upcoming auctions for inspiration! Dont have an account? Sign up here!
Jessica Helen Weinberg | Senior Content Editor at Bidsquare
Be in the know about upcoming auctions and exciting post-sale results by following us on Facebook and Instagram.