Russia is a land rich in artistic traditions. From the great men of letters such as Dostoyevsky, Tolstoy and Pushkin, to artists like Kandinsky, Chagall and Goncharova, it is a country that has always paid great respect to creative pursuits. Artisans too have played a significant roll, none more so than the craftsmen who took to enameling at the end of the 19th Century. Enameling had been around for thousands of years - the Russians just brought the process to an entirely new level of creativity, complexity and beauty.
And while this came to an abrupt end with the arrival of the Russian Revolution, the pieces live on in all their glory in collections the world over. Demand for this work has never been stronger, which brings us to the World Treasures: Russian, European, Asian & American Fine Art sale, where a stunning array of enameled Russian silver is set to go under the hammer at price points to suit all.
Lot 178 is considered by many the pick of the Russian silver and enamel offerings in the sale - a three piece tea set comprising a lidded teapot and sugar bowl with matching cream jug. Each piece is hallmarked Moscow, dated 1894, and come with gilded interiors. Can you think of a better way to wow friends at your next brunch?
Those bidders who find themselves in need of a kovsh, and lets face it, who doesnt need one occassionally, would do well to circle Lot 187 in their catalogs. Whats a kovsh you ask? Well, by definition a kovsh is a traditional drinking vessel or ladle from Russia, making it the nicest gravy boat your ever likely to see.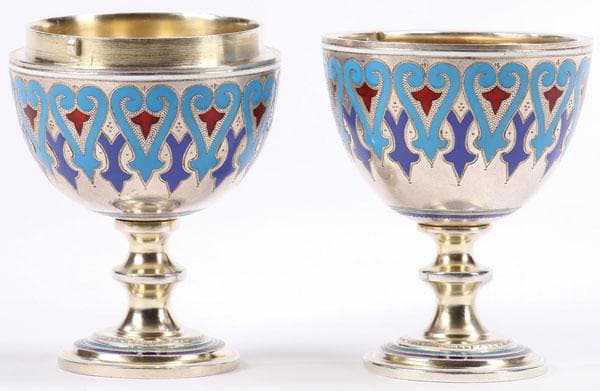 Get your mornings off to the best start possible by snaring Lot 241 - a polished Russian silver champlevé enameled egg cup. Dating back to 1880, this beautifully crafted piece opens to reveal two footed stands that attach to make two separate cups. One for you, one for your partner, the rest is history...
Lot 234 - a Russian silver and enameled charka, is sure to woo bidders with its exotic shaping and elegant Pan Slavic design. Charkas were traditionally used as cups for tackling vodka, always the Russian liquer of choice. Eventually, after a 16th Century decree, the cups became the standard vodka measure.
Take your medication in style with the aid of Lot 186 - a Russian silver and enamel pill box crafted by noted Moscow artisan Feodor Ruckert. With its compressed spherical form and Pan Slavic styled body, finished spectacularly by the hinged lid in translucent turquoise, this piece is sure to win favor with a host of bidders.
Lot 235 is a real find for the home - a set of 12 matching silver and cloisonné enameled teaspoons with enameled finials, and a larger cream spoon with a twist handle. Dating to 1895, this magical set come in a custom-fitted suede and silk lined case, finished beautifully in a pebble leather covering.
The World Treasures: Russian, European, Asian & American Fine Art sale, staged by Jacksons International Auctioneers and Appraisers, is set down for Tuesday, June 27 and contains over 600 expertly curated lots covering a host of fascinating categories. Look now at the full catalog.