Pug, grog, fire, wedge, ball, wheel, coil, slip, throw, bat; if you arent familiar with ceramic vernacular you might notice the abrupt, Neanderthal-like language used to navigate the clay studio dialect. However, activating these one syllable words into an artistic process has proven to produce pristine and inventive aesthetics - some embracing the stone age, physicality of the sediment while others masquerade within the finer qualities. It is the choice of the maker to refine or reveal the primitive components of the medium. Consider the method of construction, glaze work, firing process and ideological concept in which the clay will be managed - all finished ceramics land somewhere on the creative gamut - it just depends on the intonation and interpretation determined by the speaker of the clay.
Coming up on May 21st, Rago Auctions will present their Modern Ceramics and Glass sale, offering a much anticipated list of ceramic artists whose drastic distinctions have widely contributed to the treatment of clay; pushing craft over the rims edge toward fine art. Elevating this ambitious arrangement is the inclusion of over two dozen pieces from the Allan Stone Collection, New York; the pinnacle of connoisseurship for Modern Art.
Lot 2500, Robert Arneson, "Tea is a Beverage Made by Soaking Tea Leaves in Boiling Water," Glazed earthenware, California, 1969; Estimate $8,000 - $12,000; Provenance: Allan Stone Collection, New York
Considered to be one of the most technically challenging objects to execute, due to the precise positioning of its various delicate attachments, stands the centuries old teapot. Developed in ancient China and commonly tied to Japanese tea rituals, the beauty of the teapot serves both a functional and cultural purpose. However, the seriousness that surrounds such an achievement for most ceramic artists was clearly not a concern for Robert Arneson, the father of the California ceramic Funk Art movement.
Through his quest to separate from the non-objectivity of the Abstract Expressionists in the 1960s, Arneson reworked recognizable items, either rendering them completely useless or projecting unexpected sexual connotations onto them. The brutality and humor reflected in Arnesons unorthodox treatment of clay is both highly effective and brave - it takes a deep understanding of a medium to dismantle it without cutting loose conceptual weight. Lot 2500, pokes fun at the elitist ideals tied to constructing a ceramic teapot in a seemingly "rushed" style - however, to the trained eye, this sculpture is a metallically toxic, compositional success brewing complete, structural dynamism.
Lot 2539, Gertrud Natzler & Otto Natzler, Small folded bowl, russet hares fur glaze, Glazed earthenware Los Angeles, CA; Estimate $1,000 - $1,500
As previously mentioned, it is the speaker of the clay, whose voice must interpret and pronounce such a malleable medium. Unlike Robert Arneson, whose tone is comparable to the garbage-can-banging musical, STOMP, the works of Gertrud & Otto Natzler oppositely read like the needle sharp recordings of Saturn's ambient rings.
The 37-year marriage of Gertrud & Otto Natzler both to each other and to clay, largely helped to revive the studio pottery movement in the early twentieth-century, which had been weakened by cheap, readymade manufacturing. The lovable duet worked masterfully on the elements of their interest; Gertrud would throw the paper thin vessels for Otto to blanket in hundreds of original glazes - in turn, developing an exquisite unity as seen in this deep orange hue and sharp edged example Lot 2539. For some, the meditative and natural beauty of working with clay is enough of a statement to accumulate a lifetimes worth of investigation, as Gertrud once commented, "In pottery, form is the content."
Lot 2510, David Gilhooly, Frog bust with laurel leaves (Napoleon Bonaparte) Glazed earthenware, California, 1970; Estimate $3,000 - $4,000; Provenance: Allan Stone Collection, New York
Thats one handsome...Frog? This amusing, fairytale take on the traditional bust by David Gilhooly is another one of the substantial offerings coming from the Allan Stone Collection, New York. Unsurprisingly, Gilhooly swung on the ropes of the Funk Art playground by assisting and studying under Robert Arneson at UC Davis in the 1960s. His most notable subject is of the amphibious kind, a visionary body of work he referred to as his "Frog World," where he would plant the little green creatures atop objects like teapots, vessels, frying pans, wedding cakes and other puzzling locations.
Gilhoolys high-gloss, imaginative endeavor added even more objective freedom to those working in clay during the mid twentieth-century; these sculptures act as satirical interpretations of society and cultural norms. As stated by Allan Stone Projects, the foundation recalls… " In a 1967 letter to Allan Stone, Gilhooly explained the series, "I envision the frogs on some parallel world identical to Earth in Space but not in time where the Frogs are the ones who have gained in ascendency…" Can you dig it? (Ribbit-ribbit)
Lot 2579, Toshiko Takaezu, Tall Moonpot with rattles, Glazed and incised stoneware, USA; Estimate $4,000 - $6,000
Tap, tap, tap - shake, shake shake. The coil and paddle technique of Toshiko Takaezu continues to echo within the hollowed bodies of her massive Moonpots. As a Japanease-Hawaiian native, Takaezu confronted both "form as subject" as well as harnessing solid abstract representations seen in her dramatic, glazed landscapes; a poetic element tied to her Asian heritage. Takaezu allowed her work to slowly evolve as part of her "dont plan" clay mentality, drawing comparisons to the systematic nature that occurred within her vegetable garden. She lifted her works out of the kiln with the same admiration and wholesomeness as she did when digging potatoes out of soil. She reflected on her repetitive process, where her quest for the "perfect" piece served as both motivation and a feared detractor, "..there is all these unknown things about the firing which makes it fascinating and intriguing and that keeps you going," she adds, "...and Im sure that Ive gotten some thats perfect and yet I dont want to admit that or I would stop - and what is perfection?"
The latter half of Takaezus career was spent as a professor at Princeton University as she masterfully worked out of her ceramic studio in rural New Jersey. During her lifetime, she was recognized as one of the most important modern ceramicists of her time and was granted the Living Treasure award by Honolulu, Hawaii in 1987. No matter how large her enclosed Moonpots would grow, Takaezus work retained an accessible quality as seen in Lot 2579. The comfortable desire to reach out and touch her work feels similarly to the impulse, if presented with the opportunity, to graze the hide of a Humpback whale; moving your hand across the surface with great wonder and respect.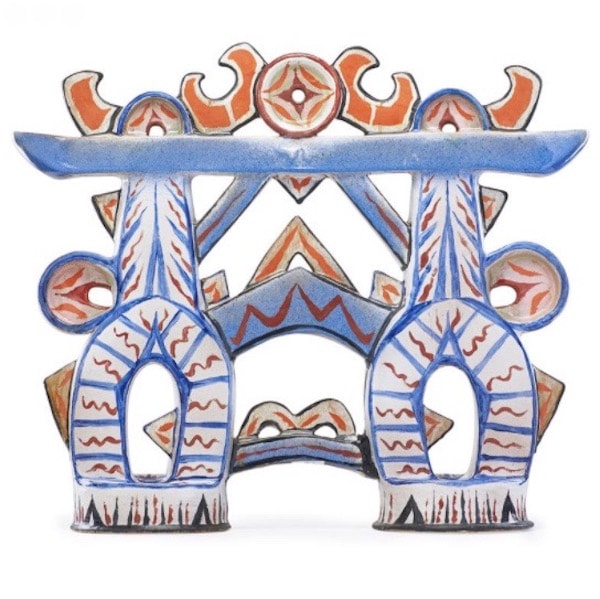 Lot 2556, Ka-Kwong Hui, Large untitled sculpture (Chinese screen), Glazed and hand-painted earthenware, USA; Estimate $1,500 - $2,000
At first glance, I was sure that the brilliantly colored plates, teapots, vessels and slab sculptures by Ka-Kwong Hui were the works of a rising star, a Contemporary artist who sensibly borrows from past traditions yet challenges and strikes down antiqued formalities. Although some of this was correct, my timing was a bit off. Born in China in 1922, Huis clay career and techniques evolved within the walls of many prestigious academies such as the Shanghai School of Fine Arts and Alfred University. The colorfully painted cutouts by Hui started gaining recognition in the mid-1960s partly due to his relationship and collaboration with Roy Litchenstein. Huis Pop-Art forms are considered to be the most successful in bridging the gap between fine art ceramics and craft.
As exemplified in Lot 2556, Hui chose to breath modernity into an ancient object, a Chinese screen, while also touching upon temple architecture, which he referred to as being, "strong in form" and relevant to his lineage as a Chinese potter.
There are many well versed, "speakers of clay" to discover in this upcoming catalog such as; Robert Turner, Paul Soldner, Peter Voulkos, Brother Thomas Bezanson, Hideaki Miyamura, Karen Karnes, Ken Price, Edwin & Mary Scheier and Beatrice Wood to name a few. When it comes to appreciating modern ceramics it is both helpful and appropriate to accumulate a three-dimensional view of the accepted, treatment of clay. Personally, it doesnt matter to me how loud or soft the artist is speaking - Im a "song" person not a "genre" person - if it has a good beat, Ill dance.
Click here to view the full catalog for Rago Auctions Modern Ceramics and Glass sale on May 21st.