For such a famous state, New York seems to struggle with being noticed. If you didn't grow up outside of the city, it takes a strong desire for urbanities to escape the congestion and explore the incredibly scenic and (believe it or not) friendly counties that surround the island of Manhattan. As a matter of fact, it's only 120 miles from the tip of Lady Liberty's nose to a place officially called "The Friendly City" - known as Hudson. Named after the Hudson River it lies east of, and its namesake explorer, Henry Hudson, the quaint city of Hudson is a haven for cozy attractions such as farmers markets, art galleries, floral design workshops, historic walking tours and fabulous antiques.
Settled firmly into the creative fabric of Hudson's local economy is Stair, an inviting auction house and gallery that hosts two sales per month and services a wide range of values. With over 150 years combined experience in the field, Stair has attracted an eclectic variety of consignments that are accepted for their intrinsic qualities as well as their substantial market values - several of their items have broken world records.
On September 28th, Bidsquare will serve as the online bidding partner for two of Stair's auctions, The Poster Sale (read more about it here) and their funky and affordable, Art & Design sale.
Curated to highlight a mix of styles that reflect how we live today, Stair will be offering a juxtaposition of furnishings, fine art and objects that can inspire a quick room-makeover or a future redecorating project. The bidding for each lot will start at $25 across the board!
Lot 15, Pair of Ico Parisi Chrome and Vinyl Chairs for Cassina; Estimate $6,000 - $8,000
There are plenty of chrome chairs to choose from if you want to move in a modern direction. This pair of Italian luxury chairs by Ico Parisi for Cassina will be offered along side two orange velvet club chairs by Karl Springer, a set of desk chairs by Michel Cadestin and Georges Laurent as well as a caned and ebonized chair by Harvey Prober, amongst many others.
Lot 46, Nepalese Wool Tiger Form Rug; Estimate $800 - $1,200
This rug roars! Watch out for Lot 46, a flattened and expressive Neaplese Tiger Rug that offers a fashionable and gilt-free way to call the wild side into your home. However, if you aren't opposed to animal hides, this catalog also features several calfskin rugs worth grazing upon.
Lot 176, Pair of Brass Articulating Wall Lights; Estimate $300 - $500
Allow us to extend your attention toward the lighting section, starting with these retractable wall lights. Easy to imagine hovering over a drafting table or a writer's keyboard, these brass lights would add an intellectual edge to any specialty space.
Lot 8, Francis Cohen Gillespie, Lydia's Vase (White Chysanthemums), Oil on board, 1981; Estimate $1,500 - $2,500
This hyper realistic painting perfectly ties together the mix-and-match personality that this auction catalog is going for. The complex patterning and added dimension, seen in the mirrors reflection, is waiting to breath life into the loneliest wall in your home.
Click here to view all Fine Art included in this catalog.
Lot 38, Peter Lane, Luster Glazed Pottery Jar; Estimate $300 - $500
With several features in publications such as Architectural Digest, installations around the world and an impressive list of clientele made up of leading designers and architects, Peter Lane is definitely an artist to add to your collection!
Click here to view all upcoming pottery from this catalog.
Register today to bid live, online in Stair's, Art & Design and The Poster Sale on September 28th!
Don't have a Bidsquare account? Sign up here!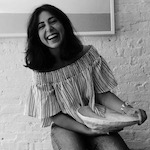 Jessica Helen Weinberg | Senior Content Editor at Bidsquare
Be in the know about upcoming auctions and exciting post-sale results by following us on Facebook and Instagram.