The autumn Asian Art season kicks off on September 6th at Cowan's Auctions in Cincinnati, OH. They will be offering over 200 objects from China, Japan and the Himalayan region in their Asian Art: Discovery Auction.
Lot 123, a Chinese Bronze Yan from the Western Zhou Period (1047-772 BC); Estimate $12,000-$15,000
One of the highlights of this sale is lot 123, a Chinese Bronze Yan from the Western Zhou Period (1047-772 BC). Used as a ritual food steamer for nobility, this vessel is elegantly proportioned with a large handled container supported by three legs.
With a fine greenish patina throughout, the elegant design is still present including large ox-form monster head taotie masks above the legs, and a band of stylized birds around the rim. These types of vessels are extremely rare and highly sought after by collectors of ancient Chinese bronzes.
This particular example formerly belonged to the esteemed collection of Phillip and Kay Cha. Owners of Asian House of Chicago, they were popular antique dealers in the Chicago area for the past forty years. This vessel carries an estimate of $12,000-$15,000.
Lot 205, a painting of an Old Farmer by Chinese contemporary art master Ma Xinle 馬欣樂(b. 1963); Estimate $15,000-$20,000
Also in the sale is lot 205, a painting of an Old Farmer by Chinese contemporary art master Ma Xinle 馬欣樂(b. 1963). Born in Xi'an, he trained in the prestigious Xi'an Academy of Fine Arts and Bowling Green State University in Ohio.
Ma is best known for his depictions of wild horses, but like the present example, he also specialized in painting scenes of Chinese rural life. Using traditional Chinese brushes and ink colors, his style is a synthesis of both Western and Eastern techniques. As a result, this elderly farmer has a very 'modern' appearance while exuding his wisdom. He is estimated at $15,000-$20,000.
Lot 94, a Chinese Celadon Jade Incense Burner; Estimate $2,000-$3,000
The Discovery Auction also features many jade objects, one of which is this Chinese Celadon Jade Incense Burner (lot 94). Relative to typical vessels, this example is of a good size with a width of 8 inches and a height of 5.75 inches.
The design is attractive in that it pays homage to Chinese Imperial archaistic examples from the 18th Century. Raised on three legs with monster handles and 'pawed' feet, the body is wonderfully decorated with lotus balls and scrolling vines throughout. The cover is surmounted by a detailed, carved chrysanthemum-form. This jade vessel is conservatively valued at $2,000-$3,000.
Lot 185, a Chinese Gilt Bronze Buddha; Estimate $1,500-$2,500
Finally at the Cowan's sale is lot 185, a Chinese Gilt Bronze Buddha estimated at $1,500-$2,500. This sculpture depicts the historical Buddha Shakyamuni. Seated on a lotus pedestal and with downcast eyes, he is in deep thought. His mudras (hand gestures) are highly symbolic – the left hand is in meditation, while the right is gesturing to the earth to witness his enlightenment.
This extremely attractive Buddha also has many intricate details. In addition to the figure's serene facial expression is his wonderfully designed 'patchwork' monastic robes. His robe has the appearance of square textile patches stitched together. This shows the viewer the extreme poverty the historical Buddha had to endure to achieve his enlightenment.
View the full catalog for Cowan's Auctions, Asian Art: Discovery Auction on September 6th.
Don't have a Bidsquare account? Sign up here!
Be in the know about upcoming auctions and exciting post-sale results by following us on Facebook and Instagram.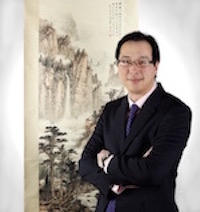 Anthony Wu is an Asian Art consultant, researcher, writer based in Toronto, Canada. After working eleven years as the Asian Art specialist at two of Canada's largest regional auctions, he started his own art advising firm where he consults for various auction houses, museums, and private clients in Canada and the USA. He is a certified Chinese Fine Art appraiser with the Appraisers Association of America.