Even though the historical Buddha lived during the 5th Century BCE, his image did not appear in artwork until approximately the 3rd Century AD. This was a slow development that originated in India, and through many centuries, traveled east across the Asian continent along the Silk Road to Nepal, Tibet, China, Japan and Korea.
In Buddhist art, the image of the Buddha was the most popular, but there were also depictions of bodhisattvas (a person who has reached enlightenment, but chose to stay on the earth to help others), Buddhist guardians, and spiritual teachers.
These images can take the form of sculptures, paintings and relics. Despite bearing the physical attributions of the Buddhist personalities, these objects are simply vessels that aid in prayers and teachings.
Buddhist sculptures in particular have an important status within Asian art. In addition to their intricate detail, unique positions and hand gestures, they also feature interesting visages that enhance the viewer's contemplation. Such is the case of a group of Buddhist figures up for sale during Skinner's Asian Works of Art auction on March 22.
Lot 255, Gilt-bronze Figure of Avalokitesvara, Sino-Tibet, 18th century; Estimate $8,000-$10,000
Lot 255 for example depicts Avalokitesvara, the bodhisattva of compassion. Seated on a double lotus base in a meditative post, the figure has a noble yet benevolent face. The downcast eyes and gentle smile say to the viewer, 'not to worry, everything will be ok', thus placing him or her more at ease. This figure has an estimate of $8,000-$10,000.
Lot 254, Gilt-bronze Figure of Manjushri, Sino-Tibet, 18th century or earlier; Estimate $8,000-$10,000
The same idea can be applied to a gilt bronze figure of figure of Manjushri, lot 254. Manjushri is one of the most important and oldest known bodhisattvas, and is associated with wisdom. His left hand is in the gesture of teaching, while his right hand wields a sword that cuts through ignorance.
While his pose is much more dynamic, the face is still stoic – his closed eyes suggest that the sword gesture is not threatening, but rather for Buddhist teachings. This figure of Majushri also has an estimate of $8,000-$10,000.
Lot 253, Gilt-bronze Figure of the Six-armed Mahakala, Sino-Tibet, 18th century; Estimate $25,000-$35,000
In contrast to the compassionate boddhistavas at Skinners is lot 253, a figure of six-armed Mahakala. He is one of the main Buddhist guardians whose role is to protect the Buddhist dharma (teaching).
This menacing figure stands in archer's pose on a Ganesha. His flanking arms hold Buddhist relics, while his front arms are mixing human organs in a skull cup. Mahakala's face is supposed to invoke fear – he has a gaping mouth full of sharp fangs, bushy eyebrows, and a third eye that can see everything. His red hair stands up similar to burning flames. This powerful guardian has an estimate of $25,000-$35,000.
Not to be overshadowed by Buddhist sculptures, the Skinner sale of Asian Works of Art also features wonderful paintings. One of the most impressive is an oil on canvas painting by Beijing born contemporary artist Ji Dachun 李大純 (1968- ). Ji is most famous for his whimsical depictions of figures that fuse Chinese and Western culture/techniques. Here, two figures dressed in mid 20th Century Chinese attire are staring at map. The colorful map contrasts the figures' serious black-and-white appearance. This fine painting has an estimate of $20,000-$30,000.
Lot 477, Pair of Kano School Screen Paintings, Japan, early 19th century; Estimate $4,000-$6,000
In the Japanese section of the sale is lot 477, a pair of Kano School six-panel screens. These lovely screens would have been used as room dividers. They depict the scholarly motif, the 'three friends of winter' (prunus blossoms, pine and bamboo). These three plants symbolise perseverance since they retain their leaves during the harsh winter months. The lyrical design is made more attractive by the ducks and a gold leaf ground. These screens are conservatively estimated at $4,000-$6,000.
Click here to view the full catalog of Skinner, Asian Works of Art sale on March 22.
Don't have a Bidsquare account? Sign up here!
Be in the know about upcoming auctions and exciting post-sale results by following us on Facebook and Instagram.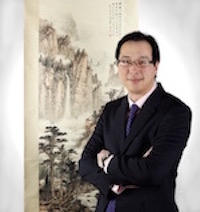 Anthony Wu is an Asian Art consultant, researcher, writer based in Toronto, Canada. After working eleven years as the Asian Art specialist at two of Canada's largest regional auctions, he started his own art advising firm where he consults for various auction houses, museums, and private clients in Canada and the USA. He is a certified Chinese Fine Art appraiser with the Appraisers Association of America.