The fall Asian Art auctions are well underway with multiple sales occurring during New York Asia Week! Not to be outdone, Leslie Hindman Auctioneers will be offering their own spectacular Asian Works of Art auction on September 17th.
This sale features over 600 objects from China, Japan, Korea, the Himalayan region, and India.
Lot 256, A Large Chinese Blue and White Porcelain Dragon and Phoenix Moonflask; Estimate $30,000 - $40,000
One of the star pieces from this sale is lot 256, a large Chinese Blue and White Porcelain Dragon and Phoenix Moonflask. Dated to the Late Qing Dynasty, this flask features a six-character Qianlong mark to its base and pays homage to earlier 18th Century examples. Its body contains an impressive design of an imperial phoenix and dragon surrounded by heavenly clouds, and the handles feature the heads of archaistic beasts.
This moonflask has a particularly interesting provenance in that it once belonged to Chicago civic leader, philanthropist and businessman Stanley Field (1875-1964). In addition to being the nephew of the great Marshall Field (1834-1906), Stanley was also the president of the Field Museum of Natural History for 58 years. This large moonflask was passed down to the current owner and carries an estimate of $30,000 to $50,000.
The Leslie Hindman sale is also offering 73 lots where the proceeds will benefit the funds for the Heritage Museum of Art. Located in Chicago's Chinatown, this museum features a diverse range of Asian objects that promote the continent's rich history and culture.
The majority of the pieces from this collection include furniture such as altar tables, chairs, cabinets, and beds. In addition, the diverse range of material also feature reference books, shop signs and ceramics.
Lot 30, A Chinese Zitan Throne Chair, Baozuo; Estimate $10,000 - $15,000
The highlight from the Heritage Museum collection is lot 30, A Chinese Zitan Throne Chair from the 19thCentury. This chair would have been made for an important official and features auspicious emblems such as bats and Buddhist emblems. The use of extremely rarezitan (purple sandalwood) adds to the chair's desirability despite its reasonable estimate of $10,000 to $15,000.
Lot 155, A Large Chinese Imperial Silk and Metallic Thread Carpet; Estimate $20,000 - $30,000
Other important objects from this auction include lot 155, a Large Chinese Imperial Silk and Metallic Thread Carpet. Estimated at $20,000 to $30,000, Chinese carpets of this size and importance rarely appear in the current market.
With the carpet's metallic threads, it is extremely fragile and few examples survive to the present day. The five characters at the top reads 寧壽宮備用(Ningshou Gong Beiyong), which suggests it was used in the 'Palace of Heavenly Tranquility' within the Forbidden Palace.
Lot 489, Cloisonné Enamel Figures of Qilin; Estimate $6,000 - $8,000
Lot 489 from the Leslie Hindman Asian Works of Art auction features a pair of Cloisonné Enamel Figures of Qilin from the 18th/19thCentury. These auspicious beasts feature the body of a horse, but the scales and head of a dragon. They are extremely decorative and its construction of copper wire, multi-colored enamels and bronze bodies would have required the work of a top craftsmen. The pair of qilin has an estimate of $6,000 to $8,000.
Lot 175, a Jain Sandstone Figure of Parshavanatha; Estimate $20,000 - $40,000
Finally, the highlight of the Indian section of the sale is lot 175, a Jain Sandstone Figure of Parshavanatha. This large sculpture depicts one of the most important historical Jain saints. Parshavanatha was supposed to have lived during the 8thor 9thCentury and was most known for developing the 'four restraints' – don't steal, don't lie, don't kill, don't own property – which became an essential teaching in Jain philosophy. This figure was acquired in Chicago prior to 1996 and has an estimate of $20,000 to $40,000.
Click here to view the full catalog of Leslie Hindman Auctioneers Asian Works of Art on September 17th.
New to Asian Art? Read 'A Beginners Guide: Collecting Asian Art with Anthony Wu' to learn more.
Don't have a Bidsquare account? Sign up here!
Be in the know about upcoming auctions and exciting post-sale results by following us on Facebook and Instagram.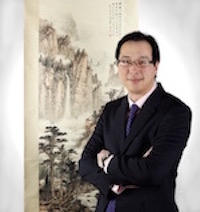 Anthony Wu is an Asian Art consultant, researcher, writer based in Toronto, Canada. After working eleven years as the Asian Art specialist at two of Canada's largest regional auctions, he started his own art advising firm where he consults for various auction houses, museums, and private clients in Canada and the USA. He is a certified Chinese Fine Art appraiser with the Appraisers Association of America.