Here at Bidsquare, we believe in putting our best foot forward - especially if that foot is gigantic, orange and able to accomodate your friends during movie night.
If you're the type that prefers to sink yourself into a vinyl sole, hunker down into the palm of a golden hand or likes to store your belongings in curiously shaped cabinets, then we have just the sale for you.
Lot 2157, Nicola L, Orange Foot Sofa, France, late 1960s; $2,500 - $3,500
On September 23rd, Rago will host their Modern Design auction featuring a rambuctious group of designs by makers such as Yves Boucard, Wendell Castle, Shiro Kuramata and Pedro Friedeberg as well as massive sculptures by Albert Paley. Headlining the sale will be a spectacular single-owner, fresh to market collection of Harry Bertoia works as well as over forty lots of Mira and George Nakashima works.
In this week's 'Bidsquare Picks' we'd like to revisit the rambunctious side of things and applaud the awesomely abnormal.
Lot 1256, Shiro Kuramata, Side One, Chest of Drawers, Italy, 1992; Estimate $8,000 - $10,000
Considered one of Japans most important designers of the 20th century, Shiro Kuramata maintained his imaginative approach to form and function in postwar Japan by applying a surreal and minimalist theory unto everyday objects.
In the 1970s and 1980s, Kuramata turned to new technologies and materials such as acrylic, glass and aluminum to further his exploration into gravity defying shapes. Inspired by Ettore Sottsass and the fun loving 'Memphis' aesthetics, Kurmata joined the group of Italian eccentrics, at its founding in 1981, and went on to create iconic works such as lot 1256, "Side One" featured in Rago's upcoming sale.
Lot 1167, Wendell Castle, Wall-hanging mirror with drawer, Scottsville, NY, 1977; Estimate $12,000 - $16,000
Since the beginning of his career, spanning over four decades, Wendell Castle consistently challenged the boundaries of functional design. Credited as the father of the art furniture movement, Castle's amoeba-like curves and whimsical woodworking skills directly impacted the evolution of modern design.
His recent passing on January 20, 2018 has elevated the awareness of Castel's superb and unique approach - making early, mid-century, works like lot 1167 even more coveted than ever before.
Lot 1168, Yves Boucard, Sculptural chest of drawers, Switzerland, 2000s; Estimate $4,500 - $6,500
When it comes bold shapes and colors, Swiss furniture designer Yves Boucard is definitely leading the charge. The carved and polychromed wooden chairs, chest of drawers and lamp featured in Rago's sale all seem to have tumbled out of the same wave of emotion. Seen above in lot 1168, Boucard adds an additional dimension of painted glass to even further emphasize the 'sculptural' half of this outlandish piece.
Lot 1173, Pedro Friedberg, Hand Chair, Mexico, 1960s; Estimate $6,000 - $8,000
Recognized as his best-known piece, the 'hand chair' is a prime example of the Mexican artist and designer, Pedro Friedberg's, surrealist take on furniture design. Can you just imagine all of the readily available Instagram opportunities you would have at your fingertips?
Click here to view all of Rago's upcoming catalogs on Bidsquare.
With new auctions added daily, we're always ripe for the pickin! Be sure to check into 'Bidsquare Picks' each week for a speedy look at our upcoming selections!
Don't have a Bidsquare account? Sign up here!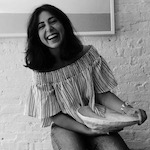 Jessica Helen Weinberg | Senior Content Editor at Bidsquare
Be in the know about upcoming auctions and exciting post-sale results by following us on Facebook and Instagram.