How exciting it must be to reimagine every day objects! For instance, consider the task of designing your own chair. How would you grapple with proportion, material, posture and style? Would it be important to get anything done in this chair? Or, is it best to knock down studious conventions for outlandish play? Remember, this is your chair, and in the cannon of furniture design it can become your legacy.
In this week's 'Bidsquare Picks' We're pulling together an assortment of all kinds of chairs like French chairs and India chairs and all those that deliver unsung achievements and equally recognized reinventions!
Lot 106, Jean Prouvé, 'Semi-Metal' chair, No. 305, France, 1950; Estimate $7,000 - $9,000
Finding useful solutions by creative means was destiny for French designer Jean Prouvé. In the early 20th century, Victor Prouvé, Jean's father, founded an Art Nouveau school that focused on handmade objects. Exposure to such an environment seems an encouraging foundation for a teenager interested in metalsmithing and craft. As seen in this pictured design, the Semi-Metal chair, No. 305, Prouvé continued to use his knowledge of metals to execute practical, democratic designs with materials such as steel, aluminum, wood and rubber.
Click here to view all designs by Jean Prouvé coming up in Wright's, Design auction on March 22nd.
Lot 146, Pierre Jeanneret, Armchairs from Chandigarh, France/India, c. 1953; Estimate $20,000 - $30,000
Considered his finest works, Pierre Jeanneret's designs made during the 1950s in Chandigarh, India are busting auction estimates right out of their seams. As seen in these spritely colored armchairs, Jeanneret's use of warm wood and rounded leather accents generates a comfortable and modern aesthetic. Perhaps, all of those years working with his famed cousin, Le Corbusier, had created a genuine visionary in Jeanneret - the design world is certainly seeing it now!
Click here to view all designs by Pierre Jeanneret coming up in Wright's, Design auction on March 22nd.
Lot 218, Chester Cornett, Folk Art Rocking Chair, Kentucky; Estimate $1,500 - $3,000
Chester Cornett often felt doomed. Born and raised to impoverished circumstances in the back hills of Letcher County, Kentucky, the inadequately educated and cognitively challenged folk artist would make a meager yet impassioned living off of his hand carved chairs. Cornett would barely make $80 per chair during the height of his career, yet enthusiasts of his work understood that they were buying one-of-a-kind masterworks. Never using glue or nails, Cornett simply combined his knife carving skills and knowledge of local trees to create his chairs. One of his works has been acquired by The American Folk Art Museum in New York City.
Click here to view all upcoming chairs in Cowan's Auctions, Fine and Decorative Art Including Americana: Live Salesroom Auction on March 10th.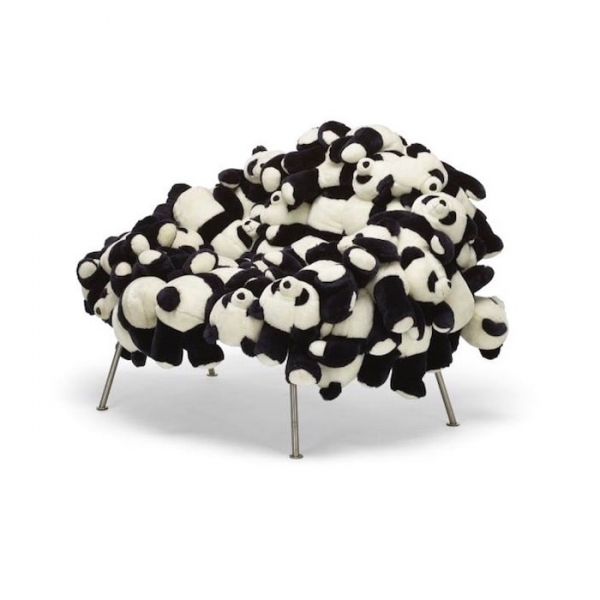 Lot 188, Fernando and Humberto Campana, Panda Banquette chair, Brazil, 2007; Estimate $20,000 - $30,000
Fernando and Humberto Campana are considered Brazil's foremost contemporary furniture designers. Inspired by their country's resourcefulness for repurposing found materials, the Campana brothers have become respected for their pensive and unexpected used of waste materials like rope, cardboard, plastic tubing, wire and, in this case, stuffed animals. Don't be fooled by its' cute upholstery, this chair has a starting price of $14,000.
Click here to view all chairs coming up in Wright's, Design auction on March 22nd. ​
Lot 141, Pair of Early 20th Century Bamboo and Rattan Armchairs; Estimate $200 - $400
Amongst all of the prominent figures in design featured on the platform this month, there are also unsigned pieces worth bidding on as well. Woven with bamboo and rattan, these American made armchairs are sturdy and thoughtfully patterned.
Click here to view upcoming chairs in San Rafael Auction Gallery's, Fine Art Furniture & Chinese Antiques Auction on March 17th.
With new auctions added daily, we're always ripe for the pickin! Be sure to check into 'Bidsquare Picks' each week for a speedy look at our upcoming selections!
Don't have a Bidsquare account? Sign up here!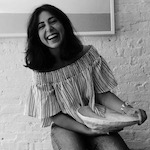 Jessica Helen Weinberg | Senior Content Editor at Bidsquare
Be in the know about upcoming auctions and exciting post-sale results by following us on Facebook and Instagram.