Although, it's always best to embrace change, as the colorful leaves of fall so elegantly remind us before gliding to the ground - there is also an undeniable comfort in noticing the things that happen to stay the same. Similar to the glee of knowing how an apple pie will soon be appearing on a kitchen counter or feeling that seasonal nudge to finish the novel that couldn't compete with summer's hype - there is an equal surge of anticipation when one returns to a seller in search of sensational antiques.
The salesroom at Pook & Pook was nearly full before the start of their first of two auctions on the weekend of September 14th-15th. Located in Chester County, Pennsylvania, Pook & Pook's auction gallery stands adjacent to their offices, which are stationed in an old stone inn built in 1761 - a very befitting settlement for an auction house highly regarded for their Americana, International and Decorative Art consignments. Their recent September auctions offered nearly 650 lots, with a heavy lean toward their familiar field of early American furniture. Along with a packed house, our Bidsquare bidders also gathered in large numbers to click and grab the first line of top-tier Americana and Folk Art acorns to touch the auction floor this season at Pook & Pook.
Lot 166, Southern Hepplewhite mahogany cellarette, ca. 1800; Sold for $18,750
Taking our number one spot that weekend, as well as Pook's second place honor, was a Southern Hepplewhite mahogancy cellarette with unusual spiral shell inlay at the tops of its legs. "It generated so much interest that every phone was engaged to bid on it," reports Pook to Antique and The Arts Weekly. Originally estimated at $2,000 - $3,000, Bidsquare took the prize for a competitive total of $18,750. That's more than eight times its low estimate!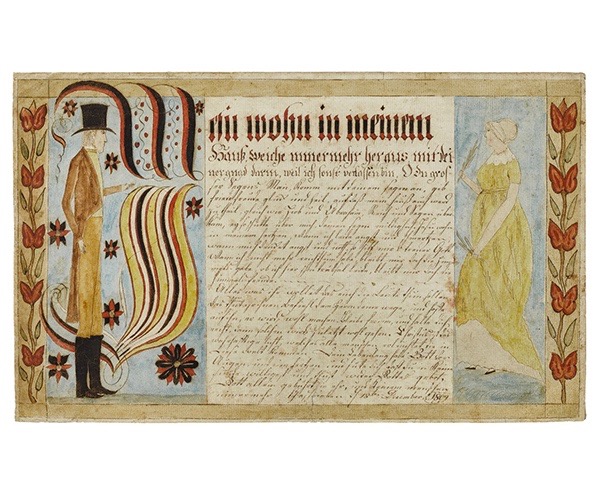 Lot 279, Southeastern Pennsylvania ink and watercolor vorschrift fraktur, dated 1809; Sold for $12,500
The highest win for a watercolor that weekend also went to Bidsquare for an impressive $12,500 - double its low estimate. This wonderful work on paper is flanked by a vibrant illustration of a gentleman in top hat with a long tailed coat and a woman in a long yellow dress with bonnet; just the right amount of whimsy to be found in the free-spirited, flatness of folk.
Click here to view all of the watercolors and drawings sold during 'Day-2' that weekend.
Lot 569, Ben Austrian, Oil on canvas of a hen with thirteen feeding chicks, ca. 1919; Sold for $13,750
Out of the eight paintings by Berks County artist, Ben Austrian, lot 569 was the strongest performer. The spritely scene of a mother hen feeding her newly hatched chicks achieved a result of $13,750, playfully pecking above its an estimate of $5,000 - $10,000.
Click here to view other works by Ben Austrian offered in this catalog.
Lot 150, New England maple one-drawer stand; Sold for $5,000
Additional items to sell through the Bidsquare platform during Pook & Pook's, Americana & International - Day One (09/14) auction includes Lot 150, New England maple one-drawer stand; Sold for $5,000 / Lot 173, Prior Hamblin School, Oil on board folk portrait; Sold for $4,750 / Lot 54, Rare large New England painted tavern table, late 18th c; Sold for $4,000 / Lot 72, Jacobean over upholstered oak armchair, ca. 1700; Sold for $3,500.
In Pook & Pook's, Americana & International - Day Two (09/15) catalog Bidsquare aquired Lot 506, Massachusetts painted pine tall case clock, dated 1756; Sold for $5,250 / Lot 523, Connecticut Queen Anne cherry slant front bookcase, ca. 1730; Sold for $4,750 / Lot 623, French patinated bronze of Henry IV as a boy, mid 19th c; Sold for $4,750 / Lot 249, Salem County, New Jersey watercolor fraktur graduation certificate for Richard Finley, ca. 1815
View Pook & Pook's upcoming catalog, The Collection of Paul & Rita Flack on October 13th featuring an assemblage of Pennsylvania folk art and antiques that took decades to build.
Don't have a Bidsquare account? Sign up here!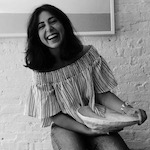 Jessica Helen Weinberg | Senior Content Editor at Bidsquare
Be in the know about upcoming auctions and exciting post-sale results by following us on Facebook and Instagram.