Have you ever tried avocado toast with a drizzle of honey? It might seem like an unusual combination at first, but once you tie them together, your tongue might get used to the confusion and start recognizing the taste of invention! The same goes for mixing-and-matching the decorative elements in ones home; different time periods, genres and patterns are all akin to the sweet, salty and bitter proportions that one can layer into a single, experimental bite.
On October 20th, Rago will host their Remix: Classic + Contemporary sale featuring a range of inventory from Art Nouveau silver vases by Tiffany & Co. to Murano glass 'Hat Lamps' and 18th century, George III furniture. Here at Bidsquare, when the remix appears, it signals a time to take risks - nobody wants to be bland!
Here's how we decided to relish in Rago's remix:
Lot 853, T.H. Robsjohn Gibbings for Widdicomb, Lounge Chair; Estimate $1,200 - $1,600
Considering that a 'Large Rare Mesa Table' by T.H. Robsjohn Gibbings just sold for $64,000 on Bidsquare this summer (Read 'Victory in Variation: Bidsquare's Top 5 at Rago!') I'd say that this 1950's lounge chair is a very laid back option to own something by the renowned British designer.
Click here to preview all of the upcoming chairs included in this catalog.
Lot 495, Rosamond Berg, At the Dock, Oil on canvas, 1995; Estimate $600 - $800
If we're still thinking of this catalog in terms of flavor choices, perhaps the selection of artworks can be the bread holding this stylish sandwich together. What are you in the mood for? You could go with a rustic ciabatta (Italian Old Masters portrait) or a delicate crumpet (John James Audubon print). We went with oyster crackers by reeling in this tranquil composition of drifting rowboats.
Click here to view all upcoming Fine Art in this catalog.
Lot 608, Pallucco Italia, Adjustable Fortuny Lamps, 2000s; Estimate $2,000 - $3,000
Founded in 1982, in Treviso Italy, the Pallucco Lighting Company has always subscribed to an artful way of directing their designs. The Fortuny floor lamp, executed by Pallucco in 1985 comes from the 1907 design by Mariano Fortuny whose design revolutionized stage lighting by creating a new indirect lighting option. The base comes from a camera's tripod, with adjustable legs, while the lampshade is reversed and able to orientate and tilt as an instrumental tool.
Click here to view additional lighting options included in this sale.
Lot 607, George III Style Japanned Chest of Drawers, England, 19th c; Estimate $800 - $1,200
Here's some of that honey we were talking about earlier! Take the old and re-imagine something new by tossing ornately decorated furniture into the mix. This antique chest of drawers offers a unique combination of bold colors with sweet scenes of chinoiserie.
Click here to sift through the different centuries of drawers waiting to be pulled from the auction block.
Lot 392, Shell Oil Plaster Casting, Mid 20th c; Estimate $500 - $800
Now we're cooking with gas! Settled somewhere between a stone garden sculpture and a vintage gas station sign, this white plaster casting of the Shell Oil Company logo adds just the right amount of unpredictable pep to our plate!
Now it's your turn. Show us how you can twist up your taste by picking your favorite items, posting them to Instagram and tagging us @bidsquare. Get started by visiting Rago's Remix: Classic + Contemporary catalog, coming up on October 20th!
Don't have a Bidsquare account? Sign up here!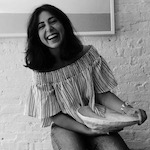 Jessica Helen Weinberg | Senior Content Editor at Bidsquare
Be in the know about upcoming auctions and exciting post-sale results by following us on Facebook and Instagram.