New to Bidsquare is Stunning Arts Gallery and Auction from Toronto, Canada. On November 24th, they will feature their Estate Asian Art Auction. This sale will showcase over 200 lots of Chinese Art including paintings, jade carvings, porcelain, furniture, jewelry, and Buddhist sculptures.
Lot 194, Li Keran, Waterfall, Watercolor on paper; Estimate $50,000-$80,000
The top item from this auction is lot 194, a depiction of waterfall by Chinese modernist master Li Keran (1907-1989). Trained by the renowned Lin Fengmian (1900-1991), Li was an instructor at the Central Academy of Fine Arts in Beijing where he taught traditional Chinese painting fused with Western techniques.
Li was mostly known for his depictions of buffalos and boats, but his landscapes also caught the attention of Chinese art institutions and collectors during the mid 20th Century. In 'Waterfall' we see a rare and early depiction of his landscape subject with its multiple planes and near abstract depiction of the mountains. This painting carries an estimate of $50,000-$80,000.
The Stunning Art Gallery and Auction sale contains many pieces of porcelain. The highlight by far is lot 138, a Chinese copper-red dragon vase with a Kangxi mark and of the period (1662-1722).
Estimated at $50,000-$80,000, this rare vase was acquired in Hong Kong by an important local Toronto collector. It features an attractive profile with a design of a copper-red dragon floating on a cluster of hidden oceam waves. These types of pieces would have been made in the imperial kilns at Jingdezhen.
Lot 68, Brown Glazed Bowl, Qianlong Mark and Period; Estimate $4,000-$6,000
Another interesting piece of porcelain is lot 68, a brown glazed bowl. It has a very unusual café-au-lait ground and is dated to the Qianlong Period (1736-1795) of the Qing Dynasty.
This bowl came from the estate of Sear Hang Hwie Pao (1937-2009), one of Canada's leading dealers of Chinese porcelain and works of art. His antique store, Pao & Moltke Ltd., was a fixture in Toronto's trendy Yorkville area from the 1980's to early 2000's. This bowl has a conservative estimate of $4,000-$6,000.
Lot 114, Blue, White, and Puce Enameled Bowl, 19th c; Estimate $1,500-$2,000
Lot 114, a blue, white and puce enamelled bowl, is another good example of Qing Dynasty porcelain. Dated to the 19thCentury, it comes from the estate of a former Canadian civil servant.
This bowl features a very pleasant design of the eight Doaist immortals. Each of the figures is large, detailed, and friendly in their depiction. They each carry their trademark attributes and are presented out on a very rare puce enamelled ground. This bowl has an auction estimate of $1,500-$2,000.
Lot 92, 18k Mounted White Jade 'Dragon' Bi Disc, 19thc; Estimate $2,000-$4,000
In the jade category is lot 92, a white jade 'dragon' bi disc. The disc is based on earlier examples from the Han Dynasty 19thCentury and contains the carving of a noble dragon on its surface.
The jade disc's extremely white color and excellent condition makes it attractive for current jade collectors. It was purchased by a Toronto collector from Pao & Moltke during the 1980's and has an estimate of $2,000-$3,000.
Click here to view the full catalog of Stunning Arts Gallery and Auction, Estate Asian Art Auction on November 24th.
Don't have a Bidsquare account? Sign up here!
Be in the know about upcoming auctions and exciting post-sale results by following us on Facebook and Instagram.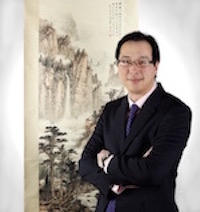 Anthony Wu is an Asian Art consultant, researcher, writer based in Toronto, Canada. After working eleven years as the Asian Art specialist at two of Canada's largest regional auctions, he started his own art advising firm where he consults for various auction houses, museums, and private clients in Canada and the USA. He is a certified Chinese Fine Art appraiser with the Appraisers Association of America.