There is an unmistakable buzz that begins to ripple through the city once dawn sets over the Park Avenue Armory, hours before the opening of The Salon Art and Design show. Those of us who roam the exhibition early (while vacuums collect last-minute crumbs and spotlights are tightened just a touch) can taste the fantasia of anticipation emanating off of the exquisite assembly of objects waiting to be admired.
Representing the world's finest galleries in historical, modern, emerging, and contemporary furniture, as well as late 19th through 21st-century art, the Salon Art and Design retains a level of refinement and invention that leaves something for every taste, mood, and style. It is filled to the brim with unexpected "aha moments" and familiar favorites; a superb Warhol soup box hangs adjacent from an ancient marble statue of Hercules while taxidermy chickens and glowing butterflies light up their assigned tabletops.
The Salon Art + Design 2018 boasts one memorable environment after the next. There is a lot to see. So, if you're looking to play a little high-end bingo with your friends...here are 15 things to find at this year's show!
1. Friedman Benda | New York
Jonathan Trayte [British, b. 1980] , Weekend Special, 2018 , Powder-coated steel, stainless steel, birch plywood, marble, animal hide, fabrics, upholstery, light fitting | 60.75 x 75 x 35.5 inches
2. Modernity | Stockholm
Rug "Hästhagen" designed by Märta Måås-Fjetterström for MMF AB, Sweden. 1923. L: 340 cm/ 11' 2 1/4 ''/ W: 228 cm/ 7' 6 ''
3. Gallery FUMI | London
Tuomas Markunpoika, Contra Naturam Bookshelf, Tadelakt Plaster, Unique
4. Galerie BSL
Pia Maria Raeder, Sea Anemones 11-12 | 2017 | Handcrafted: Sea Anemone 11, Floor Light Sculpture, 4,000 Light Grey Lacquered Beech Rods, White and Smoked Grey Blown Glass, Polished and Texturized Patinated Bronze, H 64.5 x L 26.5 W 19 Inches | Sea Anemone 12, Floor Light Sculpture, 4,000 Light Grey Lacquered Beech Rods, White and Smoked Grey Blown Glass, Polished and Texturized Patinated Bronze, H 77.25 x L 23.75 x W 19 inches
5. Adrian Sassoon | London
Kate Malone, Woven Moon Jar, Crystalline-glazed Stoneware, 2018. H 21 cm (8 1/4") D 30 cm (11 3/4")
6. Patrick Parrish | New York
Tim Mackaness "Frog Dining Table", USA, 1970s, 30 x 66 x 54
7. Priveekollektie Contemporary Art | Design
Alex Chinneck, From the knees of my nose to the belly of my toes, Pigment print on Canson Infinity Edition Etching Rag paper, 100 x 140 cm, 2018
8. Giustini / Stagetti | Rome
Campana Brothers, Abbraccio Armchair, 100% Mohair wool, perspex, H (back) 86 / H (seat ) 47, 2018
9. Maison Gerard | New York
Zelouf and Bell, Stella'd, Contemporary Vertical Bar Cabinet, Ireland, 2017
10. R & Company | New York
Sebastian Errazuriz, Chicken Lamp, Taxidermy chicken and electrical components, USA, 2018
11. Twenty First Gallery | New York
Babled Emmanuel, Osmosi Furniture 5, Console, Carrara C Marble, Hand Blown Murano Glass, 2013
12. Thomas Fritsch Artrium | Paris
Jean Derval, 3 Cones Vase, Blue enamelled ceramic, H 19.09" W 10.24" D 8.27", 1958
13. Moderne Gallery | Philadelphia
George Nakashima, King-Sized Headboard with Butterfly, 1989
14. Heller Gallery | New York
Tobias Møhl, 7 Part Black Twill Collection, Glass/wood/lighting fixture, 2016
15. Wexler Gallery | Philadelphia
Judy McKie, Baboon Bench, Painted Bronze, 1999
___________________________________________________________________________________________
Don't have a Bidsquare account? Sign up here!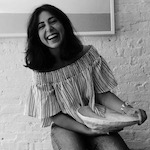 Jessica Helen Weinberg | Senior Content Editor at Bidsquare
Be in the know about upcoming auctions and exciting post-sale results by following us on Facebook and Instagram.